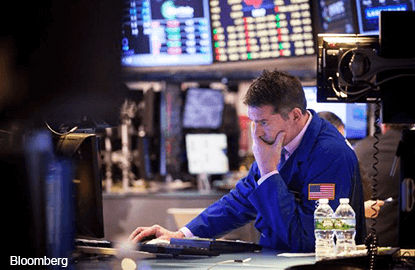 SINGAPORE (Dec 1): The biggest challenge investors will face in 2017 is to find yield at reasonable risk. This was the view expressed by Nannette Hechler Fayd'herbe, global head of investment strategy at Credit Suisse, in a Thursday release.
The financial services holding company today published its 2016 Investment Outlook, in which its investment experts have suggested that financial markets are likely to remain challenging in the year ahead.
For example, global gross domestic product (GDP) growth has been forecast to accelerate only slightly next year from 3.1% to 3.4%, while most asset classes are expected to generate low returns in 2017 with a slight rise in inflation and some monetary tightening.
"The investment environment remains difficult and political events are again likely to trigger some turbulence in 2017," warns Credit Suisse's global chief investment officer (CIO), Michael Strobaek.
However, he adds that market corrections are likely to offer "selected opportunities" that investors should seize:
1. US financials, including junior subordinated debt, are still favoured as a source of return as rising yields and steepening yield curves are beneficial for financial sector profitability. This is underscored by a Trump administration, which according to Credit Suisse, is likely to incline toward less – rather than more – regulation in the financial sector.
2. Healthcare and technology sector equities are highlighted by Credit Suisse for their sound fundamentals, while they also have the most to gain from a likely US repatriation tax break. While healthcare offers some of the strongest earning trends globally, Credit Suisse believes technology is still growing strongly in areas such as cybersecurity, robotics and virtual reality (VR).
3. Infrastructure-oriented stocks, especially construction and construction-exposed industrials, are also favoured by Credit Suisse's investment experts. They believe such stocks will "provide significant stimulus in several large economies in the coming years" in combination with the increased political will for fiscal expansion and a growing need to renew infrastructure.
4. Currency changes are expected to occur in favour of the US dollar and Japanese yen. The former is expected to gain ground in view of rising US interest rates, fiscal expansion and a potential repatriation of deferred US corporate taxes. The latter should recover from undervalued levels although the euro may suffer from a focus on political risks in 2017, adds Credit Suisse.  
5. Emerging market (EM) hard currency bonds remain attractive for their yield and diversification, but their returns in the year ahead will remain dependent on country and sector selection as EM bonds have already seen a strong rally in 2016.
Meanwhile, Credit Suisse says Asia can look forward to stable growth in the year ahead with the region likely to expand by 5.9%, underpinned by its structural transition from manufactured exports to services-based consumption. China, in particular, remains "on course for a soft landing".
The investment bank reckons the ongoing recovery in global commodity prices should underpin China's industrial profits, which should in turn support the labour market and consumer spending – while the property sector is likely to remain buoyant.
Credit Suisse believes a "supportive combination of firming economic growth, reasonable valuations and improving profitability" suggests that emerging Asian equities should perform well in 2017, possibly even outperforming their global EM counterparts.
"Our more favourable view on Asia reflects our improving view on China, where we believe the domestic economy – particularly the services sector – should surprise to the upside," notes John Woods, CIO Asia Pacific.