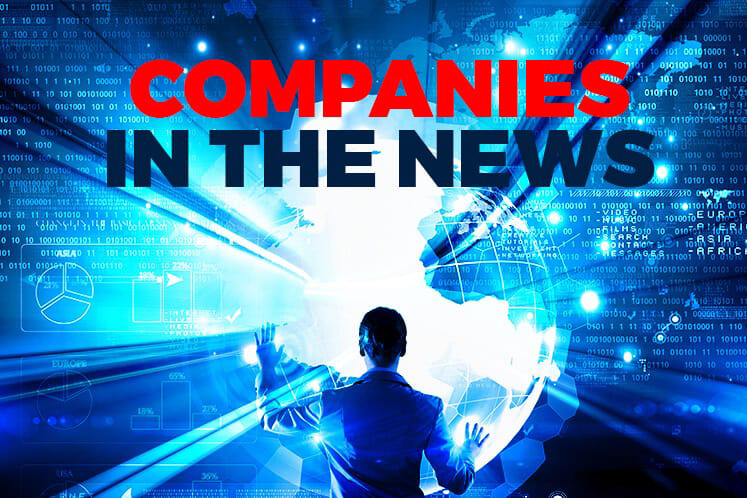 KUALA LUMPUR (Jan 16):  Based on corporate announcements and news flow today, companies that may be in focus on Thursday (Jan 17) may include the following: Hengyuan Refining Co Bhd, CIMB Holdings Group Bhd, Hibiscus Petroleum Bhd, Barakah Offshore Petroleum Bhd, Kawan Food Bhd, JAKS Resources Bhd, Star Media Group Bhd, Scomi Group Bhd, Scomi Energy Services Bhd, My EG Services Bhd (MyEG), Aturmaju Resources Bhd and mTouche Technology Bhd
Hengyuan Refining Co Bhd has approved the full fund release amounting to US$66.4 million (RM273 million) for the H2GEN project, which will supply its refinery with 30 tonnes per day of hydrogen.
The project will be executed within its refining complex in Port Dickson.
CIMB Group Holdings Bhd's 98.43%-owned subsidiary CIMB Thai Bank PCL's president and CEO Kittiphun Anutarasoti is taking voluntary personal leave from all his positions in the banking group due to personal reasons.
"Kittiphun submitted a request for voluntary personal leave until March 31, 2019 from his position as president and CEO, as well as a member of the board and its committees, which the CIMB Thai board has approved," CIMB said.
Kittiphun, who has been at the helm of CIMB Thai since Oct 19, 2016, was recently in the news in Thailand in relation to a probe by Krungthai Bank  — where he used to work — into previous loans extended to a coal mining company, Energy Earth. According to press reports, the findings made serious allegations against him, relating to misconduct and fraud.
A source told theedgemarkets.com today that Kittipphun is taking personal leave to fight these allegations. He used to be a high-ranking executive at KTB overseeing the corporate banking business.
Hibiscus Petroleum Bhd said that as of Dec 31, 2018, the gross proved plus probable reserves (2P reserves) and the gross contingent resources (2C resources) of oil in the North Sabah Fields were estimated at 55.3 million stock tank barrels (MMstb) and 85.7 MMstb respectively.
"Its unit SEA Hibiscus Sdn Bhd holds 50% participating interests in the North Sabah PSC and is the operator of the North Sabah Fields. Petronas Carigali Sdn Bhd holds the remaining participating interests in the North Sabah PSC," it said.
Barakah Offshore Petroleum Bhd's unit has won a five-year contract to service Petrofac (Malaysia-PM304) Ltd's oil and gas fields offshore Peninsular Malaysia.
It said the contract, awarded to its unit PBJV Group Sdn Bhd for the years 2018 to 2023, includes Pan Malaysian maintenance, construction and modification works for structures and facilities for the client's oil and gas fields.
The contract's total value is not fixed and will depend on the actual scope based on work orders to be issued by the client from time to time throughout the contract duration, which is effective for five years from July 17, 2018.
Kawan Food Bhd may face a margin squeeze this year, due mainly to a yearly depreciation of some RM20 million on its newly-commissioned Pulau Indah facility.
Managing director Timothy Tan said the company will be launching innovative products and ramping up sales to mitigate the slight dip expected in its profitability this year.
"We moved in [to our Pulau Indah facility] in July last year, and we have shut down our two factories in Shah Alam by end-December. We are still trying to increase our output. The utilisation rate is not at an optimum yet.
"Our earnings before interest, taxes, depreciation, and amortisation might remain the same, but profit after tax will go down, because of depreciation of the new factory. The cost (of the factory) is about RM200 million. We have to ramp up our sales," he said.
JAKS Resources Bhd has released the payment on a bank guarantee of RM50 million to Star Media Group Bhd, marking the end of a dispute between the two parties that has been ongoing for almost a year.
JAKS said its unit JAKS Island Circle Sdn Bhd (JIC) released the payment to Star Media on Jan 9, following the dismissal by the Federal Court of JIC's application for leave to appeal, and after consultation with its legal advisors.
As JAKS has 51% equity interest in JIC, RM25.5 million will be charged off in the financial statements of the group for its fourth financial quarter ended Dec 31, 2018.
Scomi Group Bhd has still not paid  RM28.44 million of the RM64.33 million it borrowed from its 65.64%-subsidiary Scomi Energy Services Bhd.
This was after Scomi Group paid RM300,000 cash and transferred property valued at RM6.5 million, said Scomi Energy said in response to queries by Bursa Malaysia on the matter.
Scomi Energy also clarified that the interest rate on the advances is 7% per annum, while no late payment charges have been imposed on the advances.
My EG Services Bhd says it has received the government's nod for the renewal of its courier service licence for a three-year period, which will allow the company to expand its e-fulfilment service.
The renewed licence effective from Jan 1 this year to Dec 31, 2021, and is renewable upon expiry.
Aturmaju Resources Bhd has entered into a Memorandum of Understanding with Yes's Comm. Enterprise Sdn Bhd (YESS) to collaborate in a new retail business model and to supply the latter's five retail outlets with an inventory tracking system.
It indicated the formalising of an agreement could result in a deal providing RM20 million in annual revenue for the company.
The system aims to accurately map inventory assortments against consumer preferences and seasonal trends across YESS' operations and outlets.
Digital marketing and media services group mTouche Technology Bhd has paid US$5 million (RM20.56 million) in exchange for rights to sell special edition books in Asia Pacific countries, under a sports memorabilia collection brand called the Iconic Global Sports Collection.
mTouche said its unit mTouche (HK) Ltd has inked an exclusive distribution rights agreement with Australian firm TIG Asia Pty Ltd, which itself was previously appointed as having worldwide marketing rights for the products.