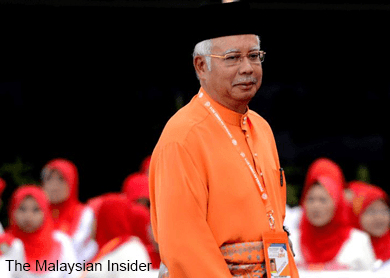 (December 17): In a rare show of defiance, an Umno grassroots leader has demanded that Prime Minister and party president Datuk Seri Najib Razak should step down before the next general election to rejuvenate the party.
In an open letter, Umno Taman Chempaka information head Syed Rosli Jamalullail said the party had become weak and was losing not only Malay support, but also voters of Barisan Nasional's component parties, especially from the Chinese and Indian communities.
"If Datuk Seri truly loves Umno and Barisan Nasional, the best thing is to step down.
"Help us to become strong again by leaving," the branch leader said in the letter.
"We did not mean to insult Datuk Seri but we feel that it is better that you step down voluntarily before the 14th General Election."
He also said that he did not want to "elaborate" further for fear of being sued, adding that he could not afford to be held liable.
He also thanked the prime minister for his efforts, but added that Najib had become a liability.
Syed Rosli was one of two Umno members who had challenged Khairy Jamaluddin for the Youth chief post last year. During the contest, he had called Khairy a "Bangladeshi" just because the youth and sports minister was not born in Malaysia.
Voices of discontent has been growing within the Malay party, with Batu Kawan Umno division deputy chief Datuk Khairuddin Abu Hassan lodging a police report on the controversial state sovereign fund 1Malaysia Development Fund (1MDB).
In his report last week, Khairuddin had called for a "detailed and comprehensive" investigation, urging the authorities to interrogate 1MDB's directors as well as representatives of any company implicated in its scandal.
In an interview with The Malaysian Insider, Khairuddin had denied that he was part of an internal plot in Umno to weaken the party president and prime minister.
Najib is the chairman of the 1MDB advisory council.
Khairuddin's action has caught the attention of top party brass, with Umno secretary-general Datuk Seri Tengku Adnan Tengku Mansor advising him to retract the report, while Penang Umno distanced itself from Khairuddin's action, saying that he acted on his own.
1MDB – Najib's brainchild – is Malaysia's second sovereign wealth fund after Khazanah Nasional Bhd.
The company had recently come under much scrutiny after several opposition leaders highlighted the fund's massive debts, dubious land deals and secrecy over its transactions.
Former prime minister Tun Dr Mahathir Mohamad had also publicly criticised Najib and questioned the fund, asking Putrajaya to explain how 1MDB benefited Malaysians, as it incurred a RM38 billion debt within just five years of its operations. – The Malaysian Insider