This article first appeared in The Edge Malaysia Weekly, on December 10, 2018 - December 16, 2018.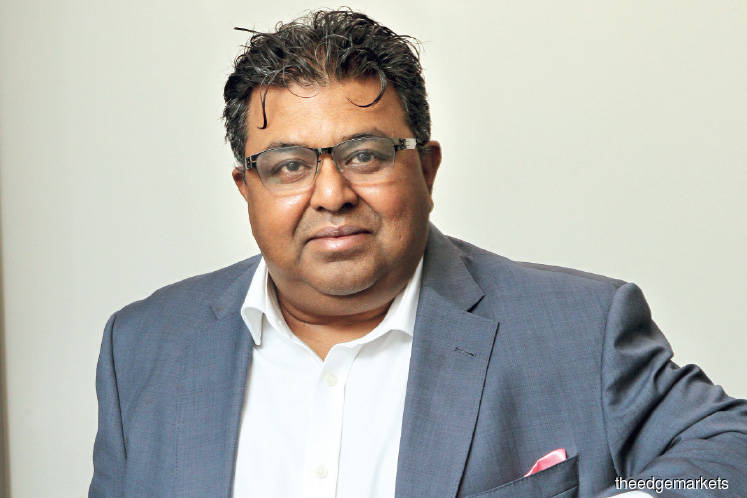 IT has been a tough couple of years for Sarawak Cable Bhd's shareholders. At present, the stock is hovering near multi-year lows. It closed last Thursday at 24 sen — a 67.8% decline over the past year — for a market capitalisation of RM76.1 million.
That is a far cry from its last peak of RM1.82 in January 2016. While most of its woes last year — which ended with its first full-year loss in at least a decade — are now resolved, the company's expected rebound to the black this year remains uncertain.
The thorn in Sarawak Cable's flesh remains its power and helicopter services segment, which has seen wider losses so far this year despite earlier expectations of it breaking even by mid-2018.
When contacted, managing director Datuk Ahmad Redza Abdullah acknowledges that the company's Eurocopter EC225 Super Puma, the largest of its nine-helicopter fleet, remains the key issue.
"Through no fault of ours, we were unable to generate any income from the EC225. Yet, we are legally obliged to honour all financial commitments," he says.
"This, in turn, resulted in a ripple effect on the entire group's cash management. Nevertheless, our finance team has worked tirelessly to ensure all obligations are met."
To recap, Sarawak Cable had bought the EC225 for RM100 million. It took delivery of the brand new helicopter in April 2016.
In the same month, an EC225 was involved in a high-profile crash in the North Sea, killing 13 oil workers on board. That led to a grounding order for all EC225s by the European Aviation Safety Agency in June 2016, which is still in force, says Ahmad Redza.
"Upon completion of investigations into the accident, we were informed by the manufacturer that certain parts needed to be replaced. As all EC225s worldwide were affected, this process took longer than anticipated," he adds.
In turn, the situation derailed the company's earlier expectations of resolving the EC225 cash flow problem by mid-2018, or year end at the latest.
Ahmad Redza confirms that Sarawak Cable may even consider selling the helicopter if its target price is met, though he did not clarify further on the valuation.
The delay in the EC225 generating income is holding up Sarawak Cable's turnaround plan this year. It is the only helicopter in its fleet currently not leased out.
In the nine months ended Sept 30 (9MFY2018), Sarawak Cable's power and helicopter services division posted a loss of RM24.74 million on revenue of RM14.59 million — wider than the RM20.69 million loss in the previous corresponding period.
Its power and cable business registered a profit of RM22 million in 9MFY2018, compared with RM45.1 million a year ago. Its sales of galvanised products and steel structures segment, however, incurred a loss of RM104,000 for the same period, compared with a profit of RM249,000 a year ago.
Overall, the company recorded a net loss of RM9.88 million as revenue slipped 30.35% y-o-y to RM573.83 million in 9MFY2018. In comparison, its net loss in 9MFY2017 was RM32.84 million.
As for its balance sheet, the cash flow strain has also put its planned de-gearing on hold, with gross gearing still at 2.17 times as at Sept 30, similar to where it was nine months ago.
With the helicopter woes, Sarawak Cable seems to be heading for a second consecutive year in the red unless it manages to close the gap in the fourth quarter.
In FY2017, the company posted a net loss of RM36.3 million as revenue fell 21% y-o-y to RM1.02 billion, a three-year low.
The helicopter business aside, the company has been making good progress in resolving the challenges that contributed to its losses last year.
Among others, its 275kV transmission line project in Pengerang, Johor, is now completed, barring some rectification work that should be done by year end, says Ahmad Redza.
To recap, the RM257 million contract — awarded by Petroliam Nasional Bhd (Petronas) in December 2014 — was originally slated for completion in July 2016. However, it was plagued by cost overruns and prolongation costs.
The troubled project was a key factor in Sarawak Cable's RM47.62 million pre-tax loss at its transmission line construction segment last year amid a 70.67% y-o-y drop in revenue.
"Petronas and Sarawak Cable have resolved all outstanding issues, including liquidated ascertain damages and variations in various settlement agreements. We believe that this project is behind us and should not be construed as a factor that may impact the group in the future," says Ahmad Redza.
The group's 11mw mini-hydroelectric power plant venture in Indonesia has also hit a snag due to "delinquent subcontractors and a host of other issues involving suppliers and local geographical factors", he adds.
However, the issues are being resolved and the project is on course for completion by the middle of next year. It was originally targeted for commercial operations by November 2018.
All things considered, can Sarawak Cable still return to the black in FY2018? When asked the question, Ahmad Redza is cautious but says the company is looking forward to a clean slate next year.
The company's cable segment has been performing well so far, he says, despite policy changes such as the return of the Sales and Services Tax.
"The market was in a state of flux from April to July. It has since settled and our cable sector has recovered beyond our expectations. Today, our book order remains in excess of RM550 million and will continue to grow," he adds.
"Notwithstanding this, the group, as a whole, will expect some impairment and provisions in due course. It is our stand that the company should commence a new and clean business from 2019 onwards whilst accepting the financial position of our legacy years."
Save by subscribing to us for your print and/or digital copy.
P/S: The Edge is also available on Apple's AppStore and Androids' Google Play.