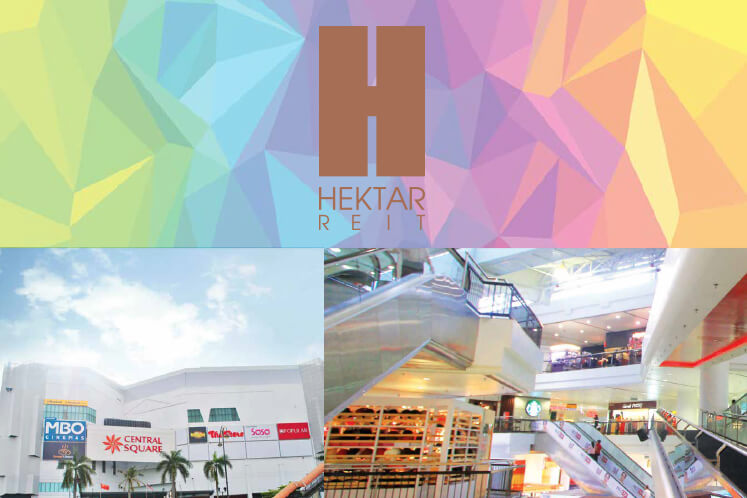 KUALA LUMPUR (April 16): Hektar Asset Management Sdn Bhd (Hektar) has announced a dividend of 9.01 sen per unit for its Hektar Real Investment Investment Trust (REIT) for the financial year ended Dec 31, 2018 (FY18).
Chief executive officer Datuk Hisham Othman said Hektar REIT recorded revenue of RM135.1 million for FY18, up 7.6 percent compared with the same period in the preceding year, while net property income rose to RM78.7 million, a 6.8 percent increase.
"For the 12 months ended Dec 31, 2018, the realised income was recorded at RM42.3 million which was 5.3 percent higher compared with the FY2017 results," he said in a statement today.
Hisham added that the positive result was supported by strong portfolio performances, particularly from assets outside the Klang Valley, buoyed by the post-refurbishment asset enhancement initiatives in the Kedah malls and positive rental reversion growth for the assets in Melaka and Muar.
"The addition of Segamat Central Shopping Centre to the asset portfolio in 2017 has boosted the portfolio's overall performance.
"With the acquisition, the number of assets under the portfolio numbers six shopping centres which are valued at RM1.2 billion, catering to a market catchment of 3 million shoppers," he said.
He added that the company is actively looking into internal strategies within each mall to identify value creation opportunities and reduce operating costs as the property market has softened over the years.
"Overall, we are pleased that rental reversions throughout the portfolio reached a positive 5.4 percent, mainly through strong double-digit performance growth in our malls in Melaka, Muar, Kulim and Sungai Petani. Overall, the portfolio is recording growth and that is the benefit of having a well-diversified portfolio within Hektar REIT," he concluded.