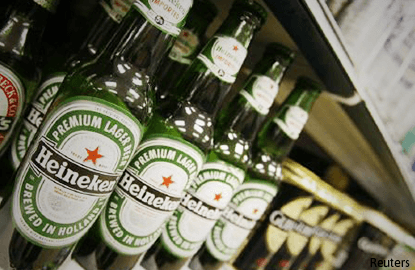 BRUSSELS (Jan 20): Heineken, the world's second largest brewer, said on Friday it was in talks regarding a possible deal for the Brazilian operations of Japan's Kirin Holdings Co Ltd.
Brasil Kirin operates 12 breweries and was created in 2011 after Kirin paid 6.3 billion reais (US$1.97 billion) for Brazil's Schincariol brand.
Heineken said in a brief statement that discussions were ongoing and that there could be no certainty that an agreement would be reached.
Kirin said it continued to focus primarily on expanding in Brazil, but was considering alternatives, including a strategic partnership or sale.
"We are considering every option, including a discussion with Heineken," a Kirin spokesman said.
The company has lost market share in Brazil with sales down last year while a weakened Brazilian real raised the price of some raw materials.
Japan's Nikkei business daily reported that Heineken would pay around 100 billion yen (US$872 million) for the business.
Such a price would reflect the current weak state of the Brazilian market which would allow Heineken to become the second largest brewer in Brazil at a relative bargain.
Andrew Holland, beverage analyst at Societe Generale, said he believed Heineken's main incentive in looking to expand in Brazil was to become a stronger rival in a heartland of AB InBev just as the latter has pushed into Heineken's markets elsewhere.
"I think that's the paramount consideration. It needs to stack up financially as well, but if you're sitting in Amsterdam with a map of the world with pins in it, you're mindful this would be helpful in terms of expanding the options available," he said.
Heineken established a presence in Latin America's biggest country through its 2010 acquisition of the brewing business of Mexico's FEMSA. Its main beer there is Kaiser, with the Heineken brand also gaining market share.
Brazilian beer sales are dominated by AB InBev, the world's largest brewer, which holds some two-thirds of the market.
After AB InBev paid nearly US$100 billion for rival SABMiller Kirin rival Asahi spent US$10 billion last year buying European assets from AB InBev.
Heineken struck a 403 million pound (US$497 million) deal last month to buy and break up British pub group Punch Taverns.
(US$1 = 114.6400 yen)
(US$1 = 3.1960 reais)
(US$1 = 0.8111 pounds)