This article first appeared in City & Country, The Edge Malaysia Weekly, on October 21, 2019 - October 27, 2019.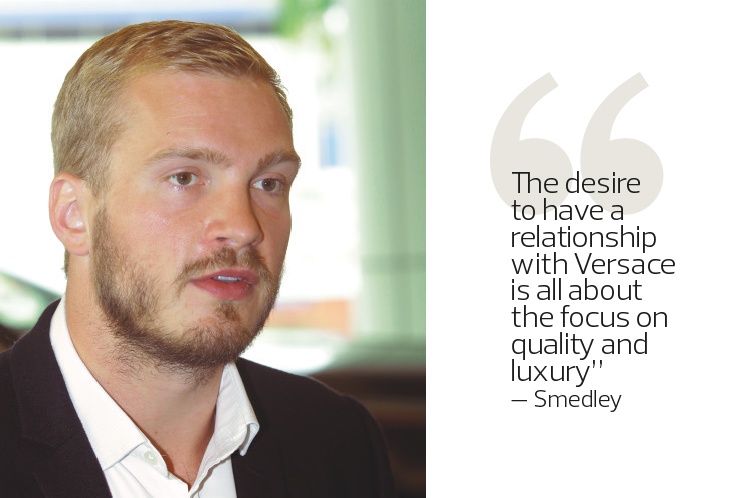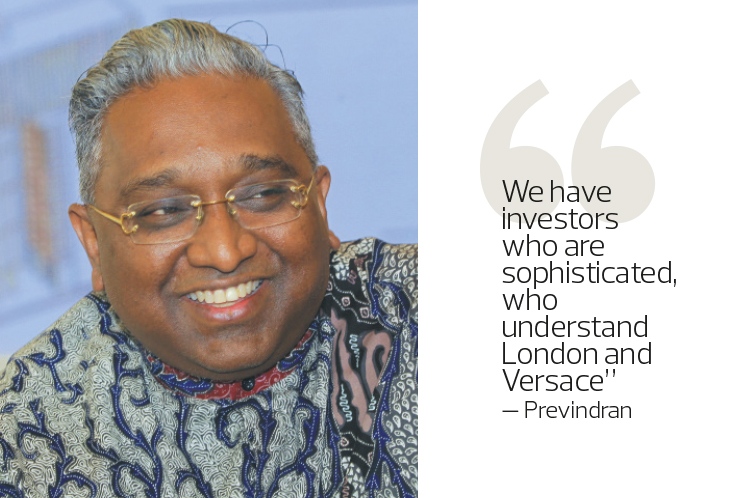 What happens when a leading Middle Eastern luxury developer and a world-famous luxury fashion and lifestyle brand come together? The most luxurious branded residences in London, says Damac Properties vice-president of agents acquisitions Thomas Smedley.
Damac is partnering Versace Home to build Damac Tower Nine Elms in Nine Elms, London. The luxury development will feature interior design by Versace Home.
Damac was established in 2002 and has since delivered more than 26,000 homes. It has more than 37,000 units in progress as well as 10,000 hotel rooms, serviced apartments and hotel villas across United Arab Emirates, Saudi Arabia, Qatar, Jordan, Lebanon, Oman and the UK. Versace was founded by Gianni Versace in 1978 and has been under the artistic direction of Donatella Versace since 1997.
The building was designed by Kohn Pederson Fox, and Chris Blandford Associates Ltd came onboard as the landscape designer.
"The desire to have a relationship with Versace is all about the focus on quality and luxury. Our chairman, Hussain Sajwani, values this kind of brand association and we wanted to be able to create the best quality of interiors in London. Everything that Versace stands for and we stand for link up very nicely," says Smedley.
Smedley was in town for a preview of Damac Tower Nine Elms hosted by preferred marketing agent in Malaysia, Zerin Properties.
Damac Tower will be Versace's first branded apartment in Europe. The 50-storey development will comprise 353 units of studios, one-, two- and three-bedroom apartments with built-ups starting from 550 sq ft to over 3,000 sq ft (penthouses). It has a 999-year leasehold tenure.
"Prices will start at £850,000 (RM4.47 million) and go all the way to £14 million for the penthouses," says Smedley.
According to Smedley, Versace was involved in every part of the design process, from the Versace icon-influenced mosaic walls in the spa to the intricate Greek key inlay of the bedroom doors.
"There are little styling notes and nuances that come through in some of the patterns on the flooring, light fixtures and so on. The interiors are all lightly Versace-styled. If the purchasers want the whole Versace look, they can buy furniture packs with different styles for their units," says Smedley.
Damac has collaborated with Versace Home for Damac Residences Jeddah on the Jeddah Corniche and Damac Tower Beirut in Lebanon. The former is a 46-storey award-winning development  that was delivered in 2015 and has 935,330 sq ft of total built-up. The latter has 28 storeys and built-up of 407,580 sq ft. It was delivered in 2017.
Damac Tower Nine Elms is scheduled to be completed in the second half of 2020.
A familiar location
By now, most Malaysians have heard of Nine Elms, thanks to Battersea Power Station (BPS), which is owned by the consortium of S P Setia Bhd, Sime Darby Property Bhd and the Employees Provident Fund. Aside from BPS, Nine Elms is also home to the New Convent Garden Market and the US embassy. Damac Tower Nine Elms is located between Vauxhall and Battersea.
"Nine Elms is a regeneration area. It runs all the way from Vauxhall Underground down to BPS. This has always been a central location but back then, it was mostly warehouses and factories. These are being cleared out and lots have been redeveloped," says Smedley.
According to Damac, the 195ha Vauxhall, Nine Elms and Battersea opportunity area is a riverside district and Central London's biggest area of regeneration. Nine Elms will have homes for an estimated 30,000 new residents and create 25,000 new jobs. The new Northern Line extension and the Crossrail project are expected to further enhance its transport links with the rest of London.
"Embassies have relocated to this area. There are offices, residential and retail units in the area. Damac Tower is literally around the corner from Vauxhall Underground, and if you walk across the bridge, you're already in Westminster.
"Damac Tower is, in my opinion, the most luxurious residence in the area. There are obviously quality developments, but having the Versace element makes it the most luxurious," says Smedley.
As part of its regeneration, there will be cafés, bars, restaurants, a public space and cultural attractions along almost 3km of the Thames River frontage, and a new 50-acre linear park will run through the area. Not far from Westminster, a new pedestrian and cycle bridge spanning the Thames will connect Nine Elms with Pimlico.
Damac Tower Nine Elms will have 8,010 sq ft of communal gardens and all apartments will have winter gardens. Residents' facilities are located on the 23rd and 24th floors and include a state-of-the-art gym, swimming pool and jacuzzi, as well as outdoor sun deck terrace. There will also be a 24-hour concierge and valet parking, which according to Smedley, is very rare in London.
Damac Tower Nine Elms will have four floors of Grade A office space as well as retail space.
"We are retaining these spaces to make sure that we will have really high-quality tenants," says Smedley.
Construction of the tower is being undertaken by global construction company Multiplex, whichhas completed and ongoing projects in Europe, the Middle East, Asia and the Americas.
'A cosmopolitan safe haven'
The ongoing Brexit talks and the possibility of a no-deal exit from the European Union have caused uncertainties in the market.
"Obviously, Brexit is an interesting process that is going on at the moment, but I think it is an opportunity for foreign buyers due to the currency exchange. The pound has dropped against the US dollar and other currencies. That makes London a much more attractive option, even taking into account the uncertainty at the moment.
"Recently, employments and salaries have been up in the UK year on year and above the inflation rate for the first time in a few years. There's this uncertainty within the marketplace but there are more jobs and salaries are rising. London is still one of the world's three or four [major?] capitals," says Smedley.
Zerin Properties managing director and CEO Previndran Singhe adds, "I get the feeling from the UK and Malaysia that there seems to be more certainty now that Brexit is going to happen. That's what investors want."
Smedley notes that all markets are cyclical and London has been on this curvature before. Prices have dropped and we have revised our pricing, which opens up an opportunity for the buyers.
"London is a cosmopolitan safe haven. There is a huge growing population. It has every type of job, and key areas like Nine Elms are completely changing the whole dynamic of that part of London," he says.
According to Damac, the UK has a strong legal structure and robust asset protection, offers a world-class education system, boasts a multicultural society, is centrally located between Asia and the US, and its market is underpinned by a fundamental demand for supply.
For Previndran, it was a no-brainer for Zerin Properties to take on this project.
"Firstly, for Damac to see Malaysia as a platform for global investors is very good. We have investors who are sophisticated, who understand London and Versace. It is also the delivery partner. A company can say it is going to build a Versace branded residence, but can it follow through? It's the trifecta of product, location and developer for us," says Previndran.
As for Smedley, the development is one that is close to his heart. A Londoner himself, Smedley worked for 16½ years in real estate in the capital before moving to Dubai, where he is based now.
"London is my home and I used to live in and around Battersea. So, I know the area really well. It is one of the great spots in London because you are so close to everything but you still have the space. To be able to live on a high floor in a building like Damac Tower Nine Elms and have this magnificent view of London is incredible," concludes Smedley.