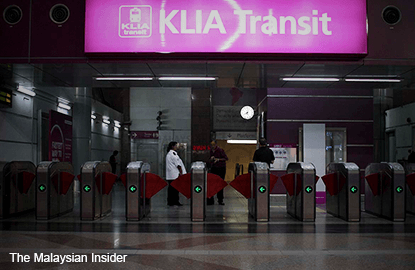 (Dec 3): The extra money that Imanina (not her real name) can save for her children's education will now be used to cover the increase in public transportation fares, as she travels daily on the Express Rail Link (ERL) and KTM Komuter to get to work.
The 38-year-old civil servant said the increased ERL fare from next month would affect her monthly expenses, as she used the ERL from Salak Tinggi station to Bandar Tasik Selatan station before changing to the Light Rail Transit (LRT) network to go to the Putra World Trade Centre.
"I spend around RM600 monthly to commute to work using public transport, now with the increase in ERL fare my spending will be between RM800 and RM900.
"For ERL alone, I spend about RM16 daily but after this it will be around RM25. The difference is almost RM10 daily but if you multiply it to monthly or yearly cost, the money that is supposed to be saved for my children's education is used to cover the increase.
"It is better if the money is spent for my children's education than on transportation," she told The Malaysian Insider, when met on her journey back home from work.
Express Rail Link Sdn Bhd (ERL) on Monday announced that effective January 1, the fare for a one-way trip between KL Sentral and KLIA/klia2 will increase by RM20, from its current RM35 to RM55.
The announcement comes on the heels of reports that toll rates for PLUS highways are likely to go up next year, two months after toll rates for 12 highways in the Klang Valley were increased recently.
In a separate statement late yesterday, ERL defended the 57% fare increase saying, the approved new fare was RM64 but the company chose to offer the service at a discounted rate of RM55 instead.
For the high-speed train, discounts up to 20% are available when using certain credit cards, and ERL is in discussion to expand the list.
Users of the Touch 'n Go card will save 10% during the promotion period and travellers can also save RM10 by purchasing return tickets between KL Sentral and the airport.
Imanina said people like her who opted to reside outside Klang Valley depended on public transport, and the increase in fares would be a burden on the working class group.
"If you take the train early in the morning, you can see that those who use the trains are cleaners. How much do they earn? The increase will definitely affect those who don't earn much," she said adding that even taxi fares from KL Sentral to PWTC have gone up at least 41%.
"Nowadays, even if you earn around RM4,000, it is still not enough if you have children."
For Heidzir Jamaraji, 37, a frequent user of ERL from Putrajaya to KL Sentral, the increase in ERL fare means he might have to fork out an extra RM186 per month to cover his daily commute from his house in Putrajaya to his workplace in Damansara, and back.
He said after calculating the overall cost, he perhaps needed to change his mode of transportation as he would be spending around RM1,276 monthly starting next month.
"I will need to use my own vehicle as the monthly cost for using public transport is more expensive and it seems like public transport in Malaysia doesn't help much to reduce people's burden," Heidzir said.
Anne Chin, 24, from Segambut Dalam said the increase in the ERL fare would definitely burden young people like her who have just started working.
"At the moment, I spend RM180 for ERL alone, even the current fare is already expensive," said the IT trainee who works in Putrajaya.
"After the increase, my overall spending to travel to work will be around RM400, because I also use KTM and bus.
"For a fresh graduate like me, it will be hard to be independent financially, and it is unlikely that we will be able to own a place or car in the near future," she said. – The Malaysian Insider