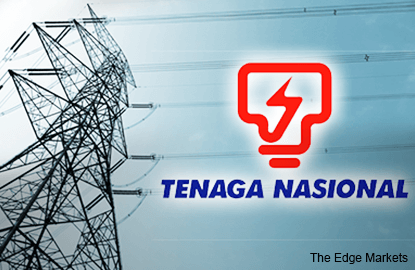 This article first appeared in The Edge Financial Daily, on March 15, 2016.
KUALA LUMPUR: The heatwave pushed the one-day electricity demand to above 17,175mw last Wednesday. However, analysts doubt that more households switching on air-conditioners for longer hours would lift Tenaga Nasional Bhd's (TNB) sales revenue much, considering the current change of economic climate is not expected to augur well for manufacturing activities.
Still, the stock is on most analysts' recommendation list and fund managers see it as the more appealing one among FBM KLCI component stocks.
Electricity consumption growth is very much in tandem with the economic growth, said analysts. Given the anticipated slower gross domestic product (GDP) growth to 4% to 4.5% this year — the slowest pace since 2008, hence they opined that the decline in manufacturing output is likely to affect the power demand this year.
CIMB Investment Bank Bhd analyst Xiao Jun Saw told The Edge Financial Daily that for one, the peak demand, which showed the one-day consumption high, was just that of a single day and not an overall electricity consumption growth.
"Furthermore, the new peak demand was just less than 2% higher from the previous peak, which was recorded in 2014. This also means that there was no growth in 2015 in terms of peak demand," he said.
He said that for TNB to achieve a significant earnings upside, electricity consumption needs to continue growing stronger. "But for electricity consumption from its bigger segments — being household and commercial — to grow higher at this juncture might seem unlikely, in this economic climate," he said.
According to TNB's statement last Friday, the biggest one-day demand for electricity in Peninsular Malaysia previously occurred on June 6, 2014, when 16,901mw was consumed. It breached the 17,000mw mark last Wednesday, setting a new record. For the record, peak demand in the financial year ended Aug 31, 2015 (FY15) clocked in at 16,822MW, occurring in April of that year.
Another analyst concurred that the current hot weather is just a temporary effect, noting that given the annual electricity consumption growth is usually in the range of 2% to 3%. To achieve better revenue and earnings growth, TNB needs to better manage its fuel cost and power plants to ensure higher efficiency.
That said, analysts forecast double-digit growth in TNB's profit for FY16. According to Bloomberg, the consensus forecast that the utility would achieve a net profit of RM6.87 billion, which is 12.3% higher against RM6.12 billion in FY15. Earnings per share (EPS) are expected to expand to RM1.18 in FY16 against RM1.08 the year before.
For FY15, electricity sales grew by 2.11% to RM41.72 billion, with unit demand growth being 2.2%.
Phillip Capital Management Sdn Bhd's Ang Kok Heng said that while it is unlikely for electricity consumption as a whole to fall year-on-year, a softer economy could prompt industries to operate plants at shorter hours or close them down altogether for a period.
Nonetheless, he viewed TNB's valuation being still attractive compared with other blue chips on Bursa Malaysia. "You can say that the power industry is recession-proof. And in Malaysia, the sector is dominated by TNB. So essentially, any growth in demand will go to the group."
Based on consensus forecast EPS of RM1.18, TNB shares are trading at a price-earnings ratio of 11.4 times on yesterday's closing of RM13.44.
TNB's share price has staged rebound after it hit a low of RM10.40 in late August to a high of RM13.60 in February.