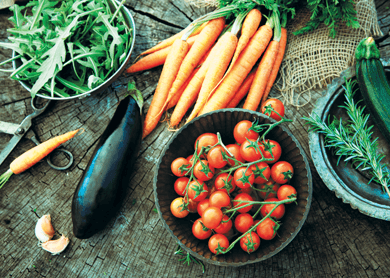 Beginning tomorrow, the holy month of Ramadan is a time of trial and contemplation. It is no secret that the fasting month requires discipline and strength throughout the day, and proper nourishment at night. However, with the wide range of bazaar picks and buffet offers available, it is easy to overeat once you break your fast. Eating during Ramadan can, however, be done the healthy way and could just influence you to lead a more nutritious and balanced life. If you are not cooking up a storm at home, try these healthier options that will leave your appetite and body extremely satisfied once you tuck in. 
Restaurants
Opika Organic 
LG 105-106, lower ground floor, 
One Utama Shopping Center, 
Lebuh Bandar Utama, PJ
(03) 7732 2581
www.opikaorganic.com 
Inspired by the Nordic food movement, Opika Organic is both a market and a restaurant. Pika means express in Finnish, making it a quick go-to place in town for organic food and products. As the Nordic lifestyle is known for its healthy living and fresh cooking methods, Opika brings to its customers sustainable and affordable meals. The food at Opika is made using slow-cooking techniques, raw and fresh vegetables, and carefully sourced ingredients. On the menu, expect to see hearty meat dishes, such as Swedish style meatballs, with vegetarian options also available for favourites, like fried rice and ratatouille pasta. If you feel like something local to break your fast, the restaurant serves nasi ulam with free-range ayam percik and spicy fried rice. 
Simple Life 
LG-232A, lower ground floor, The Gardens Mall, Mid Valley City, KL
(03) 2202 1328 
www.simplelife.com.my 
Simple Life serves up healthy and nutritious meals made with natural and organic ingredients. Founded by health conscious chef Tracy Ngo, Simple Life wants to encourage people to lead a diet consisting of vegetarian food and promote an environmentally friendly lifestyle. The emphasis here is low sugar and high fibre meals without compromising on taste. Seeking to trump the belief that healthy foods are bland and raw, the Simple Life serves a tasty range of local and western dishes to satisfy customers. Diners can enjoy famous dishes minus the use of coconut milk, like vegetarian asam fish, organic bean curd hotpot and Nyonya laksa with brown rice ramen or bee hoon. Another worthy mention is the nasi lemak, which is completely vegetarian, and is made with extra virgin coconut oil, brown rice together with carrots and cabbage for the sambal. 
Ashley's by Living Food 
11 Jalan Telawi 3, Bangsar Baru, KL 
(017) 325 3663 
www.ashleys.my 
Ashley's is the first spin-off of Menara Tan & Tan's Living Food bistro. Located in Bangsar Baru, the restaurant is named after the chef, and offers up an impressive menu of local and western dishes. Geared towards extremely healthy eaters, Ashley's prides itself on serving home-cooked style food to its diners. The menu pays homage to Malaysian cuisine, albeit with healthier versions, such as vegan laksa, vegan nasi kerabu and a 'flexitarian' chicken rendang. Other notable mentions include the quinoa sushi and ratatouille congoogly. The restaurant also accommodates people who have special dietary needs, which makes it great for anyone who is gluten-averse or vegan. 
Food Delivery Services 
Dish by Ili 
www.facebook.com/dishbyili 
[email protected] 
If eating out is too much of a hassle for you, why not try a food delivery service that supplies fresh and tasty meals. Specialising in home-made wholesome food for large groups, Dish by Ili posts a new menu every week on its Facebook and Instagram pages. Served and delivered in a tiffin, the menu includes local delights like spice roast chicken and ikan bakar to Western picks like grilled salmon with dill and lemon. Dish by Ili can also cater to people with specific dietary requirements, like gluten-free or vegetarian. For now, Dish by Ili's delivery areas are limited to specific areas within the Klang Valley as the business is still expanding. Set lunch and dinner orders are delivered from Tuesday to Thursday, while special orders are between Friday and Sunday. Orders must close at 5pm and payments must be made by 6pm the day before deliveries are made.
Culinary Capers 
(03) 2093 5789 
www.culinarycapers.com.my  
www.facebook.com/culinarycapers 
Culinary Capers is geared towards people who want to lead a more health-conscious life. This food delivery service serves customers with special "dining boxes", which are cleverly packed with the main part of the dish separate from its condiments. Started by Geeta Lachmandas Jayabalan, Culinary Capers aims to teach people how to lose weight the right way, while still leading a healthy and energetic life. The menu of Culinary Capers changes weekly but offers a wide variety of food, including local dishes like nasi lemak and nasi briyani. Aside from food delivery services, Culinary Capers also conducts cooking classes and workshops. The weekly menu is posted on its Facebook page.
This article first appeared in The Edge Financial Daily, on June 17, 2015.