This article first appeared in The Edge Financial Daily, on December 24, 2019.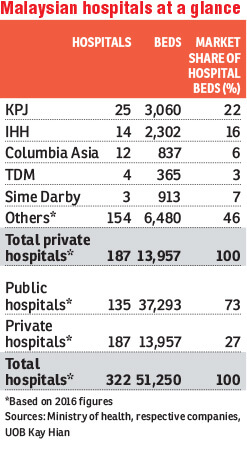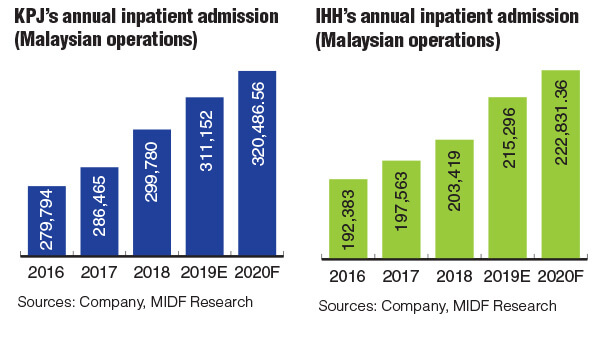 KUALA LUMPUR: The domestic healthcare sector is anticipated to enjoy a boost from Putrajaya's "Malaysia Year of Healthcare Travel 2020" initiative — held in conjunction with the Visit Malaysia Year 2020 — which seeks to attract more medical tourists to the country.
"By the end of 2019, medical tourism is estimated to generate RM1.8 billion in revenue, which translates into a growth of 20% year-on-year (y-o-y). We expect the growth trajectory will continue in the year 2020, resulting from: i) more intensified promotion in conjunction with the Malaysia Year of Healthcare Travel 2020; and ii) weaker local currency," MIDF Research said in an outlook note dated last Tuesday.
Notwithstanding that, the sector is expected to continue to enjoy resilient growth, supported by growing healthcare expenditure, ageing population, rising affluence, rising medical insurance, and increased life expectancy. "We expect to see demand for quality healthcare services to continue to grow," MIDF said.
On that note, MIDF said local listed private healthcare providers, namely IHH Healthcare Bhd and KPJ Healthcare Bhd, are expected to do well and remain resilient despite business headwinds, supported by their domestic markets.
For the cumulative nine-month period of financial year 2019 (9MFY19), IHH enjoyed a revenue growth of 17% y-o-y, while KPJ saw a 7% growth. Their operating profits also grew at a double-digit rate on a y-o-y basis following adherence to Malaysian Financial Reporting Standard 16's new lease accounting standard, which normally results in a positive impact on operating profit as lease expense would be replaced by depreciation and interest expense.
"The commendable performance was driven by the increase in inpatient admission for both IHH and KPJ's Malaysian operation to 161,472 patients (up 9.2% y-o-y) and 233,364 patients (up 5.6% y-o-y) respectively, which highlight the growing demand for private healthcare. The aggressive opening of brownfield developments for both operators would further accelerate the revenue growth rate going forward," MIDF said.
Going forward, MIDF is expecting annual inpatient admission for IHH to grow 3.5% in 2020, while KPJ's will rise 3% (see chart).
MIDF said IHH's latest acquisition, Fortis Healthcare Ltd, has reported an operating profit before tax for the third consecutive quarter as of third quarter of financial year 2019 (3QFY19), thanks to a disciplined turnaround plan by the new management. In addition, it noted that IHH's management has taken active efforts to further reduce the foreign exchange (forex) impact on Acibadem Healthcare Group's non-lira borrowings, which resulted in a significant reduction in the forex loss incurred for 9MFY19 of about RM980 million.
Meanwhile, Gleneagles Hong Kong's continuous ramp-up of operational beds has contributed to a narrowing loss of RM39 million for 3QFY19 from RM49 million registered for 3QFY18, it said. "We are positive about these developments as we view that there are long-term growth opportunities in India and Greater China given that these markets are largely underserved," said MIDF.
Overall, analysts generally remain positive about the sector. "Domestically, we believe that demand for quality healthcare will be sustained given the healthy operating statistic recorded by both premium healthcare providers like IHH and KPJ. With the growing demand, these companies' sterling performance and operations excellence will continue to accelerate in line with their expansion plans. In addition, the government's move to review past practices in the healthcare industry is not expected to negatively impact locally established and operated pharmaceutical players," MIDF added.
IHH is MIDF's top pick for the sector, with a "buy" call and a target price (TP) of RM6.78. "We like IHH for its: i) geographically diversified revenue base; ii) robust balance sheet; and iii) strategic expansion plans," said MIDF. "The proposed acquisition of Prince Court Medical Centre (PCMC) [by IHH] will further escalate the growth of medical tourism for IHH, given that PCMC is highly regarded internationally. The hospital was named one of the world's best for medical tourism in 2019 by Medical Travel Quality Alliance," it said.
IHH, it added, experienced a 28% y-o-y increase in medical tourism contribution to its Malaysia segment, with Indonesians making up about 60% of medical tourists, while the remainder are mainly from China and the Middle East regions.
Affin Hwang Capital also has IHH on "buy", but with a lower TP of RM6.20 as it lowered its earnings forecast for the company by 11% to 15% for FY19 to FY21, mainly to factor in start-up losses from Gleneagles Chengdu (opened in October) and Gleneagles Shanghai (to open in late-2020). "On a positive note, we expect IHH to continue to record healthy inpatient admission numbers, narrowing start-up losses in new hospitals," Affin Hwang analyst Chua Yi Jing said in a note dated Dec 11.
Affin Hwang, meanwhile, has KPJ on "hold" with a TP of 97 sen, as the research house is cautious about inpatient volume growth for the hospital operator, in view of weak consumer sentiments, as KPJ mainly serves the mass market. "For the hospital space, we prefer the premium private healthcare providers where demand is relatively more resilient as the consumer sentiment index still remains below its optimum threshold," Chua added.