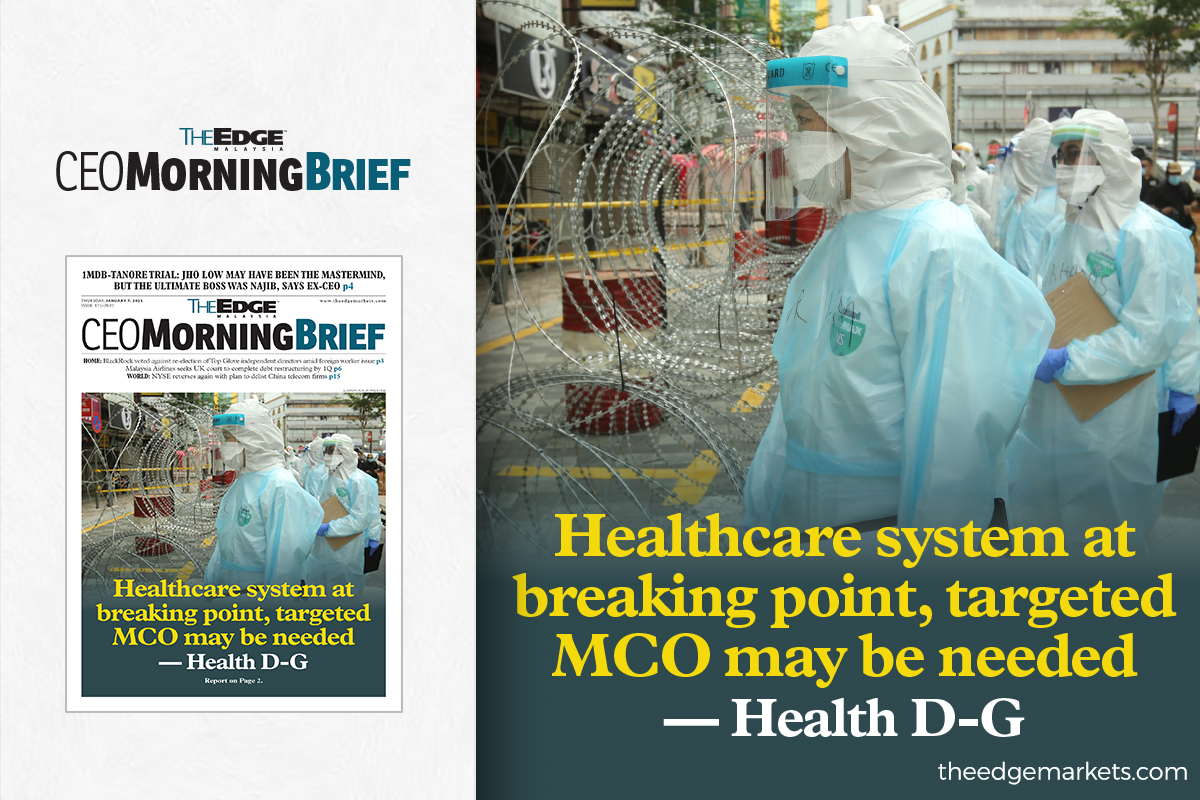 KUALA LUMPUR (Jan 6): Malaysia may consider a more targeted approach of the Movement Control Order (MCO) as the country's healthcare system is at breaking point, the Health Ministry said today.
The healthcare system is currently struggling to cope with the large number of Covid-19 patients, said the Health director-general Tan Sri Dr Noor Hisham Abdullah.
"This is a very challenging time for the Ministry in terms of our healthcare system as we have a large number of patients. Our healthcare system has been pressured and [we are] at a breaking point now because cases are increasing everyday so we may not be able to accommodate patients in our facilities.
"[We are looking at] how we can enhance our healthcare but the best thing to do would be not only enhance our healthcare system, but also to reduce the load," said Dr Noor Hisham at a press briefing today.
He said the country needed a circuit breaker, stressing that a more "targeted" approach of the MCO is needed to bring down the number of Covid-19 cases.
"We need a circuit breaker to bring the [daily] cases down from the 2,000 level.
"We may consider that the red zone States and green zone States would have different strategies. It is a more targeted approach.
"Rather than [imposing one common rule for] the whole nation like what we did for MCO (movement control order) on March 18 last year. I think now our strategy will change and we will be more localised and targeted in terms of implementation.
"Discussions [with the National Security Council] are still ongoing and we will make some decisions as soon as possible," added Dr Noor Hisham.
On Monday, the director-general announced the emergence of 14 Covid-19 clusters caused by inter-state travel and social activities since the relaxation of the MCO on Dec 7.
He said five clusters in the country involved people who travelled between States. The five clusters are the Intan, Semambu and Tembok Mempaga clusters in Pahang, the Seragam Chepa cluster in Kelantan and the Ehsan Ibol cluster in Perak.
Dr Noor Hisham added that another nine clusters that emerged since Dec 7 were triggered by social activities.
These are the Gerbang Pongsu cluster in Perak, the Lintas Seraya cluster in Sabah, Sungai Redan (Johor), Maringkan (Sabah), Cassia Diamond (Penang and Selangor), Paginatan (Sabah), Sungai Burong (Selangor and Negeri Sembilan), Kupi-Kupi (Sabah) and Bandar Impian (Johor, Kelantan, Perak).
Malaysia today reported a record high number of 2,593 new Covid-19 infections, bringing the total number of cases in the country to 125,438.
Read also:
Covid-19: Malaysia marks record high daily new cases at 2,593 with four deaths 
13 new clusters detected, highest number recorded so far — Health D-G