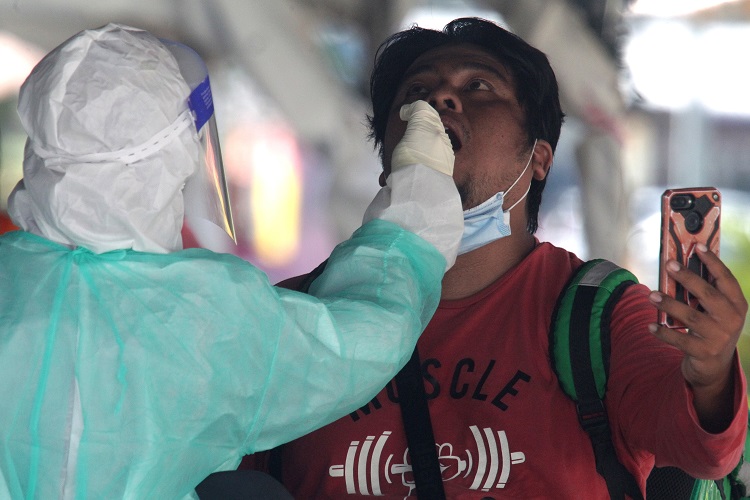 PUTRAJAYA (May 14): Health director-general Datuk Dr Noor Hisham Abdullah has dismissed calls for mass-scale Covid-19 testing across the country, saying it could prove ineffective as the people who have undergone the test would still be exposed to the virus in their community.
Noor Hisham continues to favour the targeted approach in Covid-19 testing that the Ministry of Health (MoH) has taken since the imposition of the first phase of the Movement Control Order (MCO), noting that it has successfully "flattened the curve".
"With the testing capacity that we have, we will still focus on targeted groups rather than test everyone (for the virus). If we were to test everyone, the next question is how often do you test?" he said during his daily press briefings on the Covid-19 situation in the country here today.
"If you test everyone and then isolate them, that's fine. But [if you don't isolate them], they are still exposed to the virus in these communities," he added.
The DG was responding to a question by theedgemarkets.com on whether the ministry is now considering to widen its scope of Covid-19 testing given that there are now less areas placed under the Enhanced MCO, with only four red zone areas left in the country.
"This is where we look into high impact, reasonable cost and good outcome; this is our strategy, rather than test, test, test everyone and not know how frequently we want to test them.
"So although we have the testing capacity available, we are not embarking on the test, test, test everyone," he added, referring to the World Health Organization's call for mass testing to tackle the coronavirus pandemic.
Noor Hisham said MoH has now boosted its daily maximum Covid-19 testing capacity to 26,673 tests per day. Most recently, the testing capacity was increased with the addition of the National Cancer Institute, bringing the total number of labs across the country able to do Covid-19 testing to 45.  
He added that his ministry conducted Covid-19 tests on 25,106 samples yesterday, commanding a 94% utilisation rate of the testing facilities.
Towards the end of last month, the MoH reached its target of 16,500 Covid-19 tests per day, which it initially said would be achieved by mid-April. Since then, the MoH has continued to pull in more efforts to further increase its maximum daily testing capacity.
In comparison, Singapore was reported to have ramped up its coronavirus testing to 40,000 a day.
When the pandemic first started, Malaysia's daily testing capacity was only 3,500.
Stay home. Get the news from theedgemarkets.com.