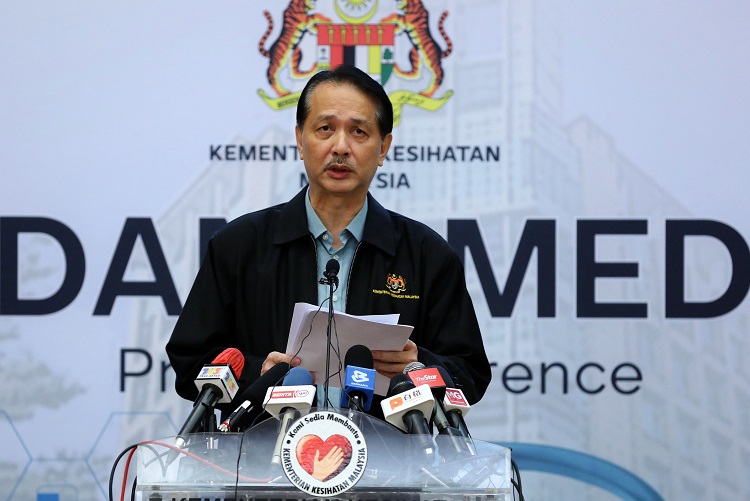 KUALA LUMPUR (April 23): The government confirmed today that it is in talks with two companies from China that are developing a vaccine against Covid-19 to have clinical trials done in Malaysia. 
"Yes, there are two companies from China, and other countries as well," health director-general Datuk Dr Noor Hisham Abdullah said when asked on the matter at his daily Covid-19 media briefing. 
"We are still in the process of discussing with them," Noor Hisham said.
"We have to look into the details. We are undergoing certain discussions now with them, so hopefully we will have a fruitful discussion and we can actually have Malaysia [as part of the research]," he added. 
As the Covid-19 pandemic rages and governments step up protection measures, pharmaceutical companies and research labs around the world are working at full tilt.
There are currently no approved vaccines or medication for the pandemic, which has killed more than 185,000 people worldwide so far.
However, China has been recently reported to have approved early-stage human tests for two experimental coronavirus vaccines as it battles to contain imported cases and prevent a second wave of Covid-19. 
The experimental vaccines were said to be developed by a Beijing-based unit of Sinovac Biotech and by the Wuhan Institute of Biological Products, an affiliate of state-owned China National Pharmaceutical Group, state news agency Xinhua reported.
It was also reported that last month, Beijing gave the green light to another clinical trial for a coronavirus vaccine candidate developed by the military-backed Academy of Military Medical Sciences and biotech firm CanSino Bio. 
Yesterday, Noor Hisham said that the health ministry is open to helping other countries undertake clinical trials for the development of a Covid-19 vaccine, in hopes that Malaysia will be prioritised once a viable vaccine is found.
He also pointed out that Malaysia may not have the capability to develop the vaccine, but it may be able to help manufacture the vaccine once the formula is developed. 
Meanwhile, Science, Technology and Innovation (Mosti) Minister Khairy Jamaluddin had said on Tuesday that Malaysia has identified several countries with which it is open to forming a collaboration and strategic partnership in the development of a vaccine for Covid-19.
The countries include China, the UK, South Korea, India, Bosnia and Russia.
Khairy said some of the countries had already contacted Malaysia to express interest in collaborating on clinical trials for the Covid-19 vaccine once ready.
Stay home. Get the news from theedgemarkets.com.