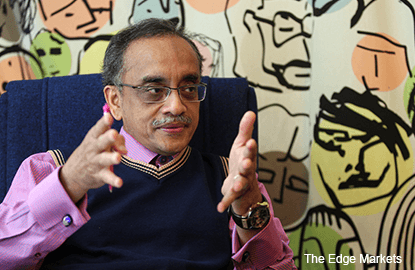 This article first appeared in Personal Wealth, The Edge Malaysia Weekly, on Nov 16 - 22, 2015.
Does hypnotherapy work? How?
The most important question that needs to be asked is, does hypnotherapy really work? Although there have been countless studies done on the therapy's effect to relieve pain, anxiety and stress, none have actually produced a concrete, scientifically explained answer.
However, several studies have suggested that hypnosis may be a good solution to health conditions such as Irritable Bowel Syndrome (IBS). In one particular study by Wendy M Gonsalkorale and Peter J Whorwell, which was published in 2005, the researchers monitored 204 patients for up to six years. The study revealed that 71% of the patients gave positive reports following hypnotherapy. In addition, 81% of the patients said they maintained their improvement over time. The improvements reported by most of the patients could not be attributed to other treatments because fewer than one in 10 used other treatments following the hypnotherapy they received.
"The evidence that hypnotherapy is effective in the management of IBS is now so persuasive that it has recently been suggested 'that the skills of the hypnotherapist should be made routinely available to patients with functional gastrointestinal disorders'," reads the excerpt of the study's conclusion. 
Why is this therapy effective in managing IBS? Menon says the reason behind it is that the smooth muscle in the stomach responds very well to suggestion. "Generally when we have IBS, we feel bloated or tight. The way we use hypnosis is that we create images of calmness or comfort. We find that the smooth muscle in the stomach responds to that." 
Daniel says hypnotherapy is also helpful in stress management to prevent mental illnesses. According to the World Health Organization, depression will be the leading cause of morbidity in the world in a matter of three to four years. "It will replace cardiovascular disease as the No 1 problem. There is a lot of depression anxiety around here. Now, hospitals invest in sickness, which is the end result of stress, because it is a multibillion-dollar business. No one talks about wellness now," he says. 
Daniel says when one suffers palpitations, numbness, shallow or rapid breathing, or there is an increase in blood pressure, or migraines, people will always go to the doctor but find out that there is nothing wrong with them. "These are symptoms. Your aim is not to treat the symptoms. When they get really anxious, they go and see all the doctors. After they have finished 'doctor shopping', they end up here. 
"That is why you should go for hypnotherapy. When you relax, you manage your stress. Pain also comes down, so it helps with pain management and all sorts of pain."
While there is an abundance of clinics offering services, there are some with gimmicky testimonials. Consumers are advised to check and see if the hypnotherapist is credible.
Menon says patients should ask the therapist a series of questions beforehand, such as where they were trained, how long their training was, how many years they have been qualified and by whom is their professional body recognised. Another way, she adds, is to trust your instincts. 
"When you call a therapist, talk to him and see if he gives you satisfactory answers. If you feel comfortable with his answers and his qualifications check out, then you probably have a therapist you can work with," says Menon.
She adds that in a therapeutic alliance, there has to be two-way rapport as the only person who can fix the patient's problem is the patient himself, therefore he would need someone he can feel comfortable with and trust to share his emotions with and acquire skills from. 
In addition, for hypnotherapy to work, it is important that the patients understand what they are in for and give their full consent. Before any session, Daniel gives his patients questionnaires to answer, with validated screening instruments to know the details of the patient. In the first session, he will explain to them what hypnotherapy is, what it can do and what it cannot. 
"People come in here with ideas like, 'You repair me, then I'll go off'. I have to clear all the misconceptions. If they fully understand, then they can be a better recipient of the hypnosis suggestions," he says.