This article first appeared in The Edge Financial Daily, on September 4, 2018.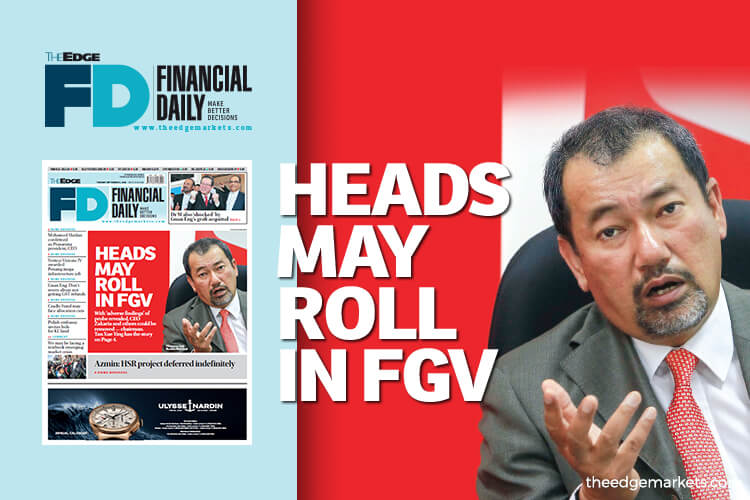 KUALA LUMPUR: Heads may roll in FGV Holdings Bhd after "adverse findings" of forensic investigation into the plantation giant, started early this year, were revealed.
Speaking to the press yesterday, FGV chairman Datuk Wira Azhar Abdul Hamid did not rule out the possibility of removing the group's chief executive officer (CEO) Datuk Zakaria Arshad and other top management officers in view of the findings of the investigation. However, he stressed that any actions to be taken will have to wait until the finalised legal opinion is issued.
"There is always that possibility.
"The highest level of responsibility for the management of the company is with the board. If the company is not managed properly, then these things need to be reviewed and actions need to be taken. We are going through that painful process right now," said Azhar, who has been the chairman for a year.
On Aug 28, FGV announced investigations into four out of six transactions had been completed and showed "adverse findings". These included the RM628 million acquisition of Asian Plantations Ltd in 2014, investment in FGV Cambridge Nanosystems Ltd and the acquisition of luxury condominiums of The Troika in Kuala Lumpur City Centre.
Several of its board members and top management officers were under investigation for transactions and investment decisions undertaken previously, Azhar confirmed.
"I cannot name [any] individuals, but yes, I think it is safe to say — and if I do not say this, I am not being honest — that the individuals involved range from board members to management employees," he said.
He added that civil actions will be taken, if and when appropriate, after receiving legal advice on the completed investigation, which can be expected in several weeks' time from now. The full report on all six investigations, meanwhile, can be expected by year end.
The press conference yesterday was held in the absence of Zakaria and chief financial officer Ahmad Tifli Mohd Talha, who were abroad in Turkey for a board meeting there.
Zakaria did not answer a phone call from The Edge Financial Daily yesterday to seek his comment.
According to Azhar, the duo were aware of the press conference at the FGV Academy.
Others present at the briefing were independent directors Datuk Dr Salmiah Ahmad, Dr Mohammed Nazeeb P Alithambi and Datuk Mohd Anwar Yahya.
Salmiah and Mohammed Nazeeb are also members of FGV's three-man Special Board Committee (SBC), which is chaired by Azhar. The SBC was formed as part of FGV's immediate turnaround plan besides the Transformation Office helmed by Syed Mahdhar Syed Hussain.
On the group's plantation business, Azhar said, the group will remain focused on improving its operations and sustainability, which includes an aggressive replanting exercise across some 15,000ha of its estates every year besides improving overall agronomic practices.
"Even when we go through this process, what is more important to us is the turnaround plan. We cannot be focused on just 'taking actions'; the group needs to be taken care of.
"With the potential that we have, there is no reason why the FGV group cannot make a profit before tax of at least RM500 million to RM600 million a year," he said.
FGV intends to achieve fresh fruit bunches (FFB) production of 4.65 million tonnes and 5.6 million tonnes in financial year 2018 (FY18) and FY19 respectively. The targeted FFB yield is 17 tonnes per ha this year, and 20 tonnes per ha for FY19.
As of the first half of FY18 (1HFY18), FFB production stood at 1.98 million tonnes with a yield of 7.23 tonnes per ha.
The group posted a net loss of RM21.9 million for 1HFY18, compared to a net profit of RM38.96 million a year ago, while revenue declined 17.45% to RM7.04 billion from RM8.53 billion.
"The enhancement of agricultural practices has already started, but it will take a while to take effect. I am quite confident that by 2019, we will start seeing some improvements," Azhar said.
FGV's share price has shed nearly 12% year to date to close at RM1.49 yesterday, with a market capitalisation of RM5.44 billion. The closing price was barely one-third of its initial public offering price of RM4.55 in June 2012. The group's cash coffers had shrunk to RM1.64 billion as at June 30, 2018, from as much as RM5.68 billion as at Dec 13, 2012.