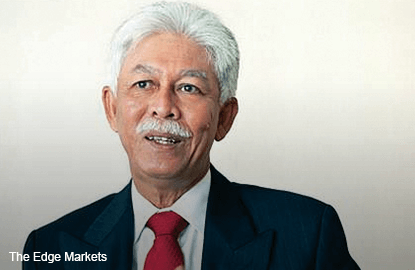 This article first appeared in The Edge Financial Daily, on November 18, 2015.
KUALA LUMPUR: Tan Sri Hassan Marican, former president and chief executive officer (CEO) of national oil company Petroliam Nasional Bhd (Petronas), has been named recipient of the Oil & Gas (O&G) Council's 2015 Lifetime Achievement Award.
The award will be presented to Hassan by the O&G Council, which is the most senior and influential network of O&G executives in the world, at the Annual Awards of Excellence Dinner to be held today in London, the United Kingdom.
Slated to be Europe's largest O&G awards dinner welcoming 1,000 executives, the event recognises the year's best-performing companies and executives, and those who have achieved excellence, pioneered new frontiers, inspired others throughout their activities, and achieved growth in challenging markets.
Hassan helmed Petronas from 1995 until his retirement in February 2010. He is the current chairman of Singaporean companies SembCorp Marine Ltd, Singapore Power Ltd and Pavilion Energy Ltd.
He is a director of the Regional Economic Development Authority of Sarawak, and also holds directorships in Sarawak Energy Bhd, SembCorp Industries Ltd, Lambert Energy Advisory Ltd and MH Marican Advisory Sdn Bhd.
Hassan is also a senior international adviser of Temasek International Advisors Pte Ltd, a subsidiary of Temasek Holdings Pte Ltd. He holds an honorary doctorate from the University of Malaya and is a fellow of the Institute of Chartered Accountants in England and Wales.
His past directorships from 2010 to 2012 include MISC Bhd, Engen Ltd, Petronas, Malaysia-Thailand Joint Authority, Bank Negara Malaysia and the International Centre for Leadership in Finance.
Past winners of the O&G Lifetime award include senior adviser to the UK government and former chairman and CEO of Wood Group Sir Ian Wood (2014 recipient), Chevron Corp senior adviser Martin Lovegrove (2013), and BG Group plc chairman Andrew Gould (2012) and its former chief executive Frank Chapman (2011).