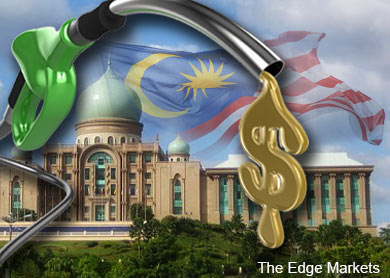 PUTRJAYA (Nov 21): The prices of RON95 petrol and diesel will be fixed by managed float mechanism effective next month. However, this does not mean that the government will abolish fuel subsidy totally, said Domestic Trade, Cooperatives and Consumerism Minister Datuk Seri Hasan Malek.
 
When contacted, Hasan told theedgemarkets.com that the government decided to adopt the managed float mechanism as the crude oil prices are low now. However, it will review the decision accordingly when the international crude oil price reverses its downtrend and heads up again.
 
He reiterated that today's announcement on the implementation of a managed float mechanism on the pump prices of RON95 and diesel does not mean that the government will abolish petrol subsidy altogether from next month.
 
When asked on the subsidy rationalisation programme, the minister said a study on the mechanism is still ongoing.  
 
"We are in the process of studying it now. There are 28 companies that have come out with different proposals, which would be studied by a panel of experts and the ministry," said Hasan.
 
Hasan also said the implementation of the managed float mechanism and subsidy rationalisation scheme were in place so that the government has more options to manage the subsidy bill.
 
The Ministry's announcement today on the implementation of managed float mechanism has caused confusion on whether the Federal government has decided to scrap petrol subsidy abruptly.
 
Hasan was quoted by Bernama as saying that there will be no more subsidy for RON95 and diesel from Dec 1 onwards.
 
"Consequently, from Dec 1 onwards there will be no more subsidy for these two fuel products anymore as the world market price is lower than the price at the pump," he was quoted as saying.
 
"This means that if the price of crude oil increases, the price of RON95 will also increase and vice-versa," he added.
The current price of RON95 is RM2.30 per litre, which is 25 sen cheaper than RON 97 - the non-subsidised pertrol. The pump price of diesel is at RM2.20 per litre.
 
Hasan explained that the retail price of the petroleum products in Malaysia was determined by the Automatic Pricing Mechanism (APM) since 1983. The government would fix the retail price at a certain level so that changes of the product cost will not affect the retail price, he added.
 
For instance, he said, the average price of RON95 at the international market from Nov 1-19 this year was RM2.27 per litre, as compared with the pump price of RM2.30.
 
Hasan said the price of RON95 on Dec 1 will depend on the average global oil price for the whole of November.
 
"The government will monitor the world oil price from Nov 20-30 and the real volume that will determine the retail price of December," he said.
 
As of Nov 20, the global crude oil price has slipped to US$75.81 per barrel.