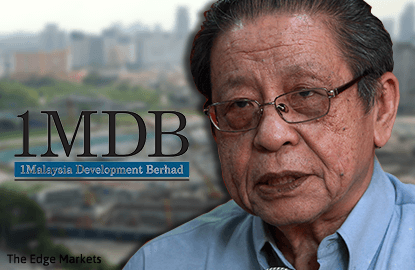 KUALA LUMPUR (May 27): DAP's Lim Kit Siang today questioned if Bank Negara Malaysia (BNM) given  a new deadline for 1Malaysia Development Bhd (1MDB) to repatriate RM7.76 billion of its funds remitted abroad or if 1MDB could keep them overseas.
In a statement today, Lim who is DAP Parliamentary Leader and MP for Gelang Patah, said the announcement by BNM governor Datuk Muhammad Ibrahim that the central bank has closed its case against 1MDB, at a time when global monetary watch-dogs as in Singapore and Switzerland  had just started to take action against money-laundering and other corruption offences related to 1MDB,  was the first black mark for the new Bank Negara chief.
"Where is Bank Negara's much touted transparency and accountability when it refuses to reveal what was the compound fine which had been paid in full by 1MDB for failing to comply with Bank Negara directives issued under the Financial Services Act 2013 which, among others, include a requirement for 1MDB to repatriate US$1.8 billion (about RM7.76 billion) of its funds remitted abroad following the revocation of the three permissions granted by Bank Negara to 1MDB in 2009, 2010 and 2011?" he said.
Lim also questioned as to why BNM was keeping its compound fines on 1MDB secret, while it was public knowledge that the Monetary Authority of Singapore (MAS) had imposed a fine of S$13.3 million on the Singapore branch of BSI  for 41 breaches of its requirements while the Swiss Financial Market Supervisory Authority (FINMA) had ordered the "disgorgement" of "illegally generated profits" of US$95.6 million from BSI, apart from the separate orders of the Singapore and Swiss financial authorities for the closure of the Singapore branch of  BSI and the 143-year-old mother bank in Switzerland.
"Was the compound fine imposed by Bank Negara on 1MDB RM10,000, RM100,000, RM1 million, RM10 million, RM100 million or more?
"Surely, the Malaysian people are entitled to know from Bank Negara what is this compound fine?" he said.
Lim added that furthermore, as a fully-owned government company, Malaysians were also entitled to know from 1MDB, the Finance Ministry and the Prime Minister, Datuk Seri Najib Razak what was the compound fine 1MDB had to pay Bank Negara, as this payment had to be borne by the Malaysian taxpayers.