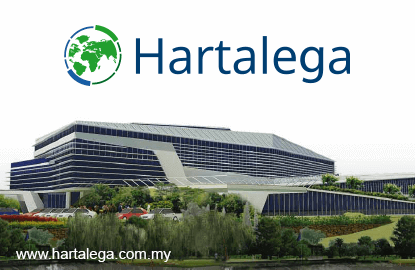 Hartalega Holdings Bhd
(July 3, RM8.85)
Maintain hold with a higher target price (TP) of RM8.72: In view of an intensifying pricing competition within the nitrile segment and Hartalega's growing natural rubber (NR) product mix, we believe the group's margins are likely to continue their downward trend. Nonetheless, the group's aggressive expansion plans should fuel earnings growth. In addition to its original equipment manufacturer (OEM) business, Hartalega plans to focus on own-brand manufacturing (OBM) gloves in emerging markets. 
As the market leader (in terms of nitrile market share and profit margins), we believe that Hartalega's margins will most likely decline as the pricing premium for lightweight nitrile/nitrile butadiene rubber (NBR) gloves narrows with increased industry capacity. Furthermore, its growing exposure in the NR glove segment should be a drag on margins. Nevertheless, we expect better economies of scale from the group's next-generation glove complex (NGC) and a favourable operating environment to help cushion any sharp margin erosion. 
The first phase of the NGC already has 10 lines in place, while two of its plants (Plant 1 and 2) should be ready for full commercial production by the first quarter of 2016 (1Q16) with a total of 24 lines. The group is also looking to speed up the completion of its entire NGC project by 2020 (from 2022). We understand that the group has already started the construction of Plants 3 and 4 (total of 24 lines), which are expected to be completed by July 2016.
Hartalega continues to focus on emerging markets such as China and India due to the strong growth potential for gloves in these regions. We understand that the group will be using its OBM gloves to penetrate these markets as it plans to grow its OBM segment. Its product mix in the NR segment is expected to grow as these markets have a preference for NR gloves based on their lower costs.
After taking into account the group's accelerated expansion plans, we raise our financial year 2016 (FY16) to FY18E (estimate) earnings by 4.3% to 7.9%. Hence, we raise our 12-month TP to RM8.72 from RM8.56, based on an unchanged 22 times price-earnings ratio for calendar year 2016E (+1 standard deviation above its 3-year historical mean).
We maintain our "hold" rating. At this juncture, we believe that Hartalega shares have priced in the group's superior earnings growth prospects for FY16 to FY17E. However, we continue to view Hartalega as a long-term play given its strong fundamentals and superior technology in the NBR segment. — Affin Hwang Capital, July 3
This article first appeared in The Edge Financial Daily, on July 6, 2015.