This article first appeared in The Edge Malaysia Weekly, on March 4, 2019 - March 10, 2019.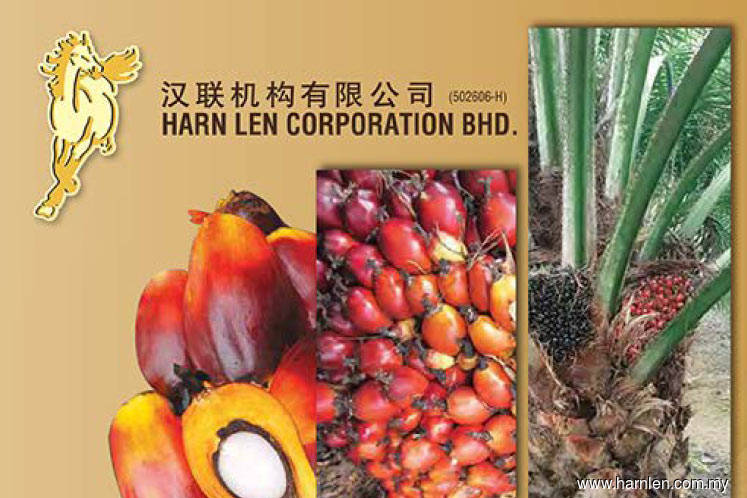 JOHOR-based Harn Len Corp Bhd is the latest mid-sized plantation company to dispose of its estates, following in the footsteps of Pinehill Pacific Bhd and United Malacca Bhd.
The Edge understands that Harn Len had placed a newspaper ad last week for a collective sale by tender of two of its oil palm estates in Keratong, Pahang — the 5,229.5-acre Senang Oil Palm Estate and 5,249.7-acre Lian Hup Estate. The latter includes a palm oil mill with a capacity of 40 tonnes of fresh fruit bunches (FFB) per hour.
It is not immediately known how much Harn Len intends to sell these assets for, but the price is not likely to be lower than recent transactions of similar estates. For example, Pinehill Pacific announced that it was disposing of its 8,999.13-acre land in Daerah Hilir Perak to United Plantations Bhd for RM413.57 million in cash last September, which works out to about RM46,000 per acre. The disposal was to enable the group to repay its bank borrowings and for the development of its remaining plantation land in Kalimantan Barat, Indonesia.
In January, United Malacca said that it had signed three agreements to dispose of several pieces of plantation land in Melaka and Negeri Sembilan, with an aggregate land area of about 2,523 acres (1,021.06ha) for RM175.15 million, or around RM67,000 to RM70,000 per acre. The disposal was to raise funds for its venture in Sulawesi, Indonesia.
Are estate disposals the trend among mid-sized plantation players?
CIMB Investment Bank regional head of agribusiness research Ivy Ng does not think so. "We do not see it as a trend but rather the challenges faced by smaller plantation players in some of their estates, due to the lack of scale and other issues.
"The low crude palm oil (CPO) prices may have prompted them to look for buyers to buy their estates. They [potential buyers] may look at the estates as opportunities to expand their existing acreage in Malaysia," she tells The Edge.
Public Investment Bank research analyst Chong Hoe Leong opines that it would make commercial sense for small plantations to dispose of their assets if there is potential for development.
"It would be good to monetise the land if it is located near development areas. For example, the Johor Premium Outlets were built on plantation land — in this sense, monetising it as a shopping mall creates more value [than operating it as an estate]," Chong says.
As for Harn Len, the group is disposing of its plantations in Pahang, thus exiting the industry in Peninsular Malaysia. It will now concentrate on its Sarawak plantations and oil mill operations, says managing director Low Quek Kiong.
"We are looking at monetising the asset but at the right price. The cash proceeds will be utilised to bring down short-term bank borrowings and trade payables, strengthen our cash flow position, fund the expansion of our core [plantation] business and to acquire the right assets when the opportunity arises. The excess cash will also enable us to execute our dividend policy once it is ready", he tells The Edge.
As of Dec 31 last year, Harn Len had a cash balance of RM1.43 million, with short-term borrowings of RM56.6 million.
After selling off its Pahang estates, Harn Len will be left with about 37,000 acres of plantation land across Sarawak, with the profile of its cultivated oil palm trees at 61% prime (8 to 19 years old), 16% young (4 to 7 years old) and 22% immature (less than three years old).
On the decision to exit Peninsular Malaysia and focus on Sarawak where plantation players face issues such as Native Customary Rights to land and sustainability concerns, which includes the cultivation of oil palm on peat soil, Low says that the group has a capable team to manage the situation.
"Though there are concerns on Native Customary Rights to land in Sarawak, the company has been able to deal with them amicably. We have a strong management in Sarawak to tackle native issues," he says.
"Furthermore, we also have a capable and experienced team on the ground to handle peat soil. We have been in Sarawak for 16 years and we are comfortable and confident with the business environment. The group's plantations will be fully MSPO (Malaysian Sustainable Palm Oil) certified this year."
He adds that the group is on the lookout for new oil palm estates, which could bring synergies to its Sarawak operations.
Like all plantation players, the movement of CPO prices would dictate Harn Len's revenue growth prospects for this year. The group reported a net loss of RM21.17 million in 2018, against a net profit of RM6.12 million in 2017 on lower CPO and palm kernel prices. Revenue for the period declined by 43% to RM185.73 million.
"We are seeing a recovery of the CPO price, with a significant rebound from the lowest in November last year. We foresee prices holding at the current trading of RM2,100 per tonne and increase marginally moving in to the second quarter, should the inventory level reduce further.
"Besides that, we are looking forward to see the results of our operational excellence initiatives in regard to improvements on FFB yield per hectare for our plantation division, oil mill throughput hours and output for oil mill division and other cost-saving initiatives across the group. Overall, the business outlook for Harn Len this year is positive, and we foresee that our results will be back on track in the same year" says Low.
Based on its annual report for financial year ended Dec 31, 2017, Harn Lern's estates had a CPO extraction rate of 20.05%, which was above the national average of 19.72%. Its FFB yield of per mature hectare of 15.997 tonnes was however lower than the national average of 17.89 tonnes.
Save by subscribing to us for your print and/or digital copy.
P/S: The Edge is also available on Apple's AppStore and Androids' Google Play.