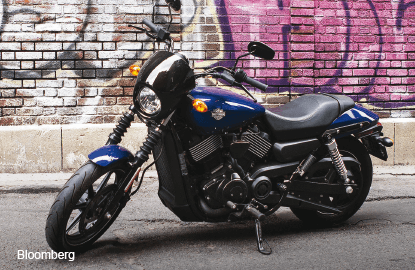 This article first appeared in The Edge Financial Daily, on September 28, 2015.
Here's a twist: Harley-Davidson's most dynamic markets today are outside of the nation that conceived, birthed and reared its dominance.
Last year, 36.2% of the brand's motorcycles sold abroad, primarily in Asia, up 4% over 2013, according to data from IHS Polk.
One bike in particular has seen impressive growth in the East, with year-on-year sales up by double digits worldwide. The Harley-Davidson Street 750 has the best sales and highest growth rate in Asia of any Harley model ever.
The 2016 Street 750 belongs to the first, and currently only, Harley model family to be made outside the United States — manufacturing of the Street series of 500 and 750 engines is split between the American Midwest and India, depending on the destination country. The dual locations make for significantly quicker delivery times in Asia and the Pacific.
It also helps that, according to Harley, the Street 750 was concocted with the express purpose of appealing to "international urban" buyers in love with Americana.
"We made a concerted effort five or six years to begin to reach these buyers," Jennifer Hoyer, a Harley-Davidson spokesman, told me. "Urban environments require something more agile than what you need for the open road — you need to be nimble and have good torque to get around traffic."
Liquid power
I am urban — New York City qualifies, no? I fall in the "young" age category for defining motorcycle buyers. And I am a woman. All of which is most convenient: It lands me squarely in the target demographic for American Street 750 buyers. And after riding the US$11,299 (RM49,716) Indian Scout earlier this summer, I was curious to see how this US$7,549 bike would compare. 
The Street 750 is the larger engine version of the two Street models Harley offers, the US$6,849 Street 500 being the other. When they debuted last year, the pair were Harley's first all-new models in 13 years and its first lightweight motorcycles since the Sprint in the 1970s.
Harley's Street 750 comes with a liquid-cooled 749cc V-Twin engine that is similar in architecture and timbre to the one found in the popular V-Rod series. The liquid-cooling part is important — it's more comfortable than air-cooling for riding in stop-and-start traffic (it doesn't get as searing hot along the pipes), and it has a stronger torque thrust from the get-go. It's just the sort of thing you want for surging past those popped-collar bros idling in BMW 3-Series sedans across the traffic lane.
The Street 750 does not fall in the standard Harley size range, but its 57.6hp delivery is as constant as you would expect from such a vaunted brand. Its six-speed box supports the system well; gear it right and you will hit 60mph (96.56kph) in 4.6 smooth seconds.
Pushing through side streets in Manhattan's Chinatown at night, the Street 750 felt casual and relaxed, with a willing throttle but no aggression to its rounded running demeanour. (Looking for edge? Look elsewhere.) It is nimble and quick enough off the line for daily city driving. Winding through Brooklyn past delivery trucks and around cavernous potholes felt more like a game than a challenge. But the brakes can feel spongy compared to more aggressive bikes — anything from Ducati, say. It's an expected difference, and something appropriate to the mild demeanour of this bike, but it's important to note.
As it happens, those brakes are brand new for the 2016 model, as are the rotors, a freshly ergonomic rear brake pedal position, a wider clutch lever, improved wire harness routing and the hot coolant indicator light. The updates serve to make the Street 750 simple and fun to use in the city and on light highway riding. While the Scout feels better when cruising, this is something you could keep and ride all the time, if you wanted, and be happy about it.
New riders, same family
In fact, buy something else entirely if you're mostly expecting to cruise.
This is not a long-legged, lean-back, lazy-boy ride. Although to my mind it feels slightly heavier, at 489 pounds (221.81kg) it's actually 69 pounds lighter than the Indian Scout, with foot pedals that place your knees up nearer to the gas tank than bigger cruisers. (If you are comparing it on the Harley line, the Street 750 is 73 pounds lighter than the better-looking Iron 883, which falls at 562 pounds.)
I liked that novel feel of the foot pegs because it made for better heads-up positioning and easier egress as I jumped on and off around town during the course of the day. But don't expect the standard Harley stretch-and-slump posture on the slim Street 750. This is not a highway king.  
Or queen. You might be interested to know that for the past seven years, Harley has sold more motorcycles to women than any other brand. Last year, it owned 64% of the entire women's motorcycle market, which has continued to increase incrementally for years, according to data from the Motorcycle Industry Council.
Harley sees that space as another sales opportunity, and the Street 750 is the ticket to accessing growth there, too. So, it has mid-mount controls that sit slightly forward of the narrow chassis, and a seat that is only 25.4 inches (64.52cm) off the ground. That makes it more accessible to shorter riders, for example, women. (Some would say that seat is too soft for long-term rides; I would say it's just fine for the purpose of this bike, which is to excel on short- and mid-length day trips.) 
So far, so good; seven out of every 10 Americans who buy a Street are buying a Harley for the first time, according to IHS Polk.
Classic Harley style
I do not care for the Street 750's overall styling, though it is arguably the most relevant of the brand's repertoire to younger buyers.  
Compared to bikes like the Yamaha Star Bolt, Royal Enfield Continental and Triumph Continental, the Street 750's high handlebars, swooped fat seat and weird headlamp cover don't look dynamic enough to capture the imagination of design-focused riders.
In the same vein, like it or not — I know a lot of you won't, but, hey, sometimes the truth hurts — the brand's reputation for oversized, loud motorcycles and oversized, obnoxious riders still works against it for attracting anyone who wants to feel Steve McQueen-cool on a motorcycle. Those cafe racer acolytes will default to Ducati's Scrambler or even a possible upcoming BMW Scrambler when they want something new to ride.
That said, particular components of the Street 750 are great, like the single 3.5-inch dial at the centre of the handlebars. It pulls its weight working single-handedly as an odometer, tripmeter, and LED indicator for lights, oil pressure, turn signals, engine diagnostics and fuel, among other things.  
Happily, you will find enough black on the standard Street 750 to satisfy even the most devoted emo — goth teen — or Manhattanite adult.
There are blacked-out fork gators with skinny black seven-spoke cast aluminium wheels, 17 inches in the front and 15 inches in the rear. The single exhaust, blacked-out fins, mini-bullet turn signals and black speed screen make the bike look closer to a cafe racer than any other modern Harley. And a blackened engine is always lovely to look at: Carefully tucked and contained under that teardrop tank, it is the heart, guts and muscle of the bike wrapped in one.
Oh, and I know you have been waiting — the sound. The Street 750 growls low and guttural, like a grizzly reassuring her cubs. The tone may not quite warm the heart (via the ears) of riders inclined to Italian engineering or British aesthetics. But it will beckon like a siren for those who, whether here or abroad, want to join the Harley family. 
If you are so inclined, this one's for you. — Bloomberg