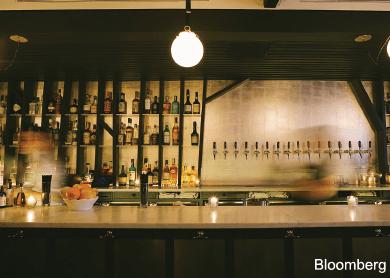 ON a recent trip to Portland, Oregon, I found myself standing around a crowded bar called Bushwacker, shoulder-to-shoulder with some burly, bearded beer guys intently sipping and dissecting small pours of straw-coloured liquid.
I was in town for the annual Craft Brewers Conference, but this wasn't beer that I was tasting. It was dry, crisp, hard cider at the country's first cider-only bar, which opened in 2010.
Since then, bars such as Capital Cider in Seattle, Upcider in San Francisco and Urban Orchard in Asheville, North Carolina have restored the beverage to its original place on the American table, propelling it into a new phase of popularity.
Cider was, after all, the drink this nation was originally built on, with Johnny Appleseed planting orchards for hard cider production all across the country.
But post-Prohibition, many cider orchards and breweries were abandoned or destroyed. Now, with roughly 350 cider producers in the United States — most of whom make small-batch ciders — the drink has never been more popular.
According to an IRI market-research report, cider is currently the fastest-growing segment of beer and malt beverage marketing, with sales increasing 75% in 2014. Granted, most of those sales were from mass-produced ciders like Strongbow, Smith & Forge, and Hornsby's, but hey, you've got to start somewhere.
"Nationwide, cider is often viewed as a sweet, gluten-free alternative to beer," says Ben Sandler, co-owner of the month-old Wassail, Manhattan's cider-centric bar and restaurant that opened in April on the Lower East Side. "People think of it as a sugary alcoholic beverage, on par with wine coolers."
"But that's not real cider," Sandler says, "and those aren't the types of cider that we're interested in."
The types of ciders you will find at Wassail — those "real" ciders, like the ones I was sampling with the beer nerds at Bushwacker that afternoon — are terroir-driven examples made on farmsteads among orchards, often tasting like unadorned expressions of the apples grown in their respective regions.
Imagine the tang of a ripe, tart apple resting on old leather, or the smell of a dense apple orchard, a cool fall breeze blowing through the gnarled branches and fruits rotting softly underfoot. Ahhh ... breathe it in.
Like biodynamic wines, many good ciders are naturally fermented, produced with minimal interference and low technology.
Most are clean and dry-tasting like a crisp white wine, but sometimes they're unfiltered with a funky, farmhouse ale-like undercurrent from wild yeast strains. Some even take cues from craft beer, spending time in bourbon or wine barrels or getting steeped with whole-cone or pelletised hops (a technique known as dry-hopping).
These modern ciders appeal more and more to serious beer and wine enthusiasts.
Back home in New York a few weeks later, I visited Sandler and Jennifer Lim, his business partner and wife, at their new cider house, located appropriately enough on bustling (wait for it) Orchard Street.
"We'd been developing the idea for a couple of years at our other bar, the Queens Kickshaw," says Lim, "and we knew that an all-cider place would be something unique. We heard about Upcider and Bushwacker and thought, New York City deserves a full-on, geeked-out cider bar."
Cider has routinely received curt treatment in New York. On restaurant menus it's usually an afterthought, relegated to a small corner on the last page (if available at all). And at bars it's the thin, pale beverage poured into a fingerprint-smudged shaker pint — served flat and insipid — that no one ever really wants to drink if they don't have to.
Wassail flips this script, putting serious ciders as the focus in a wine bar-like atmosphere. There are six by-the-glass pours (from a selection of rotating bottles) and more than 50 other large-format bottles available, in addition to a dozen varieties on draft (5- to 12-ounce pours, served in Champagne coupes or white wine-style glasses).
Lim and Sandler's list includes varieties from more far-flung places like Switzerland, Italy, and even Chile. But at its core are modern American ciders, most from regions up and down the Eastern Seaboard.  
As a fan of Finger Lakes wines, I was excited to find ciders from that area, such as Eve's, Black Diamond, and RedByrd. I also recognised some of my favourite ciders from the Hudson Valley, like Aaron Burr and Wayside, as well as varieties from further south, including Foggy Ridge in Virginia and Millstone in Maryland. Bottles start at US$15 (RM54) and range up to US$88, for the Maley Cidre du Mont Blanc from Valle d'Aosta, Italy.
Because of their broad, unobtrusive flavours — often with a hint of fresh lemon peel and bright acidity —and clean, dry finishes, many of these ciders pair well with food. In fact, Wassail serves a full menu composed of vegetable dishes like cauliflower with black garlic and cashews, or leeks with spaetzle, garlic scapes and truffles.
At Wassail you can see that cider has come a long way, that it's no longer tossed off as a second-rate beverage. And there are other indicators that this could be the year of cider in New York. Places such as Gramercy Tavern, Eleven Madison Park and Terroir now have cider lists more than 20 bottles deep.
And Brooklyn-based Rowan Imports, an all-cider distributor, is serving the city with more than a hundred options from all over the US and Europe.
Some ciders are better cold, others at room temperature. As a rule of thumb, I think of sparkling natural ciders as great spring and summer drinks because they benefit from being chilled down, ice-cold, in a big Champagne bucket and served in either elegant coupe glasses or petite tumblers.
On the other hand, I treat still (non-carbonated) ciders like red wines and serve them just below room temperature, swirled in a voluminous wine glass, alongside a savoury bite of pungent cheese or musky cured meats.
As the cider warms in its glass, complexities and nuances unfurl, developing and changing with almost every sip. — Bloomberg
This article first appeared in The Edge Financial Daily, on May 25, 2015.