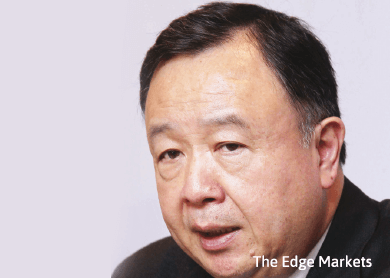 KUALA LUMPUR: Hap Seng Consolidated Bhd is expecting its operating profit to grow 20% in the financial year ending December 2015 (FY15).
"We are growing all our businesses ... which over the last five years have seen almost 20% growth in operating profit every year. So, we should be able to achieve it this year [as well]," its managing director Datuk Edward Lee Ming Foo told reporters after the group's annual general meeting yesterday.
He said the property division will be a strong "locomotive" that will drive the company's revenue growth moving forward, as its properties are located in prime locations.
"We don't see any problems catching up with  our performance last year," he said, adding that there are at least two property launches in the pipeline in the Klang Valley and five others in Sabah.
Hap Seng's (fundamental: 1.3; valuation: 2.1) property segment contributed 24.7% (RM932.1 million) to the group's revenue in FY14, compared with 14.8% (RM517.7 million) in FY13.
In its first quarter ended March   (1QFY15), revenue for the property segment rose 64.6% to RM288.69 million from RM175.39 million in 1QFY14. Net profit, however, fell 10.6% to RM122.73 million from RM137.24 million in the previous corresponding quarter. This is due to the sale of some non-strategic properties in 1QFY14.
"We have about 1,900 acres (768.90ha) of land bank. Ongoing property projects have a gross development value (GDV) of RM1 billion, while those in the planning and development stage amount to RM3 billion over the next three years," he said, adding that 80% to 90% of the group's planned projects are residential properties.
Lee said Hap Seng is aggressively looking for land bank in the Klang Valley as only 160 acres of its total land bank are located in the area, with the remaining 91% in Sabah.
"We are confident this year will be better because we have a lot of property developments in Sabah as well," said Lee, adding that its plantation land, also mostly in Sabah, is undervalued as it is still being held at historical costs.
Lee, however, assured that Hap Seng will not neglect the growth of its plantations, as it is keen to expand its plantation business.
Hap Seng, which is one of the primary authorised dealers of Mercedes-Benz vehicles, also saw a turnaround in its automotive segment with an operating profit of RM10.5 million in FY14 from an operating loss of RM18.1 million FY13.
Lee said this was due to improved sales, which were boosted by the increasing popularity of Mercedes vehicles among the younger generation. Mercedes-Benz Malaysia said it saw its best monthly sales ever in May with 1,143 units, more than double the 544 units a year ago.
Hap Seng's counter, which fell to a low of RM3.67 on Feb 24, has been on an upward trend lately. It closed up three sen at RM5.06 yesterday, up 37.9% from Feb 24, for a market value of RM11.33 billion.
This article first appeared in The Edge Financial Daily, on June 5, 2015.