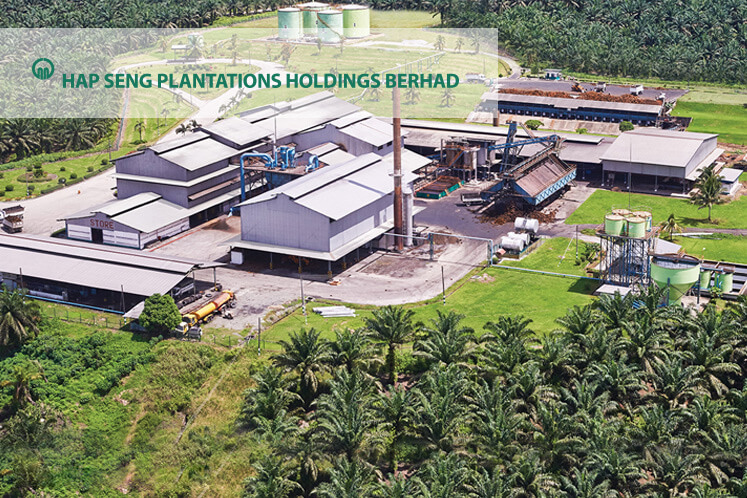 KUALA LUMPUR (Aug 28): Hap Seng Plantations Holdings Bhd's net profit for the second quarter ended June 30, 2018 (2QFY18) slumped 85% to RM3.94 million from RM26.31 million a year ago, on lower revenue as a result of lower average selling prices and sales volume of crude palm oil (CPO) and palm kernel (PK).
Quarterly revenue was down 19% to RM107.88 million from RM133.51 million in 2QFY17, its quarterly results filing today showed. Earnings per share for the quarter retreated to 0.49 sen from 3.29 sen.
Hap Seng said the average selling price per tonne of CPO for the current quarter was RM2,460 compared with RM2,897 in 2QFY17, while PK prices fell to RM1,822 in 2QFY18 compared with RM2,142 in 2QFY17.
CPO sales volume for 2QFY18 was at 37,791 tonnes, 3% lower than the year-ago quarter, while PK sales volume declined 15% on-year to 7,391 tonnes. The lower sales volumes were mainly due to lower production.
For the first half of its financial year ending Dec 31, 2018 (1HFY18) Hap Seng Plantations recorded a 61% drop in net profit to RM19.42 million from RM50.35 million a year ago, while revenue fell 18% to RM229.08 million from RM277.61 million.
On prospects, Hap Seng Plantations said the financial crisis in Turkey which caused the Turkish lira to plunge recently is raising fears of a contagion effect in European and emerging markets' currencies and may affect demand and prices of palm oil.
The group added that India, which is one of the largest importers of palm oil, has been affected by the weakening of its currency and tightening of credit. Hence, it imposed higher import duty which resulted in lower palm oil imports, which has adversely affected palm oil exports from Malaysia.
"In addition, palm oil prices are expected to be under pressure due to high palm oil inventories. Although Malaysia's palm oil inventories level has declined to 2.21 million tonnes at end of July 2018 from the end of last year of 2.73 million tonnes, Malaysia's palm oil inventories remained high compared with the same period last year of 1.78 million tonnes.
"Overall, the global macroeconomic factors affecting the palm oil market will continue to influence the group's prospects for the current financial year ending Dec 31, 2018.
"Based on the foregoing, group results for the current financial year ending Dec 31, 2018 are expected to be lower than the previous financial year," the group said.
Hap Seng Plantations shares closed down 2 sen or 0.88% today to RM2.25 and for a market capitalisation of RM1.79 billion.