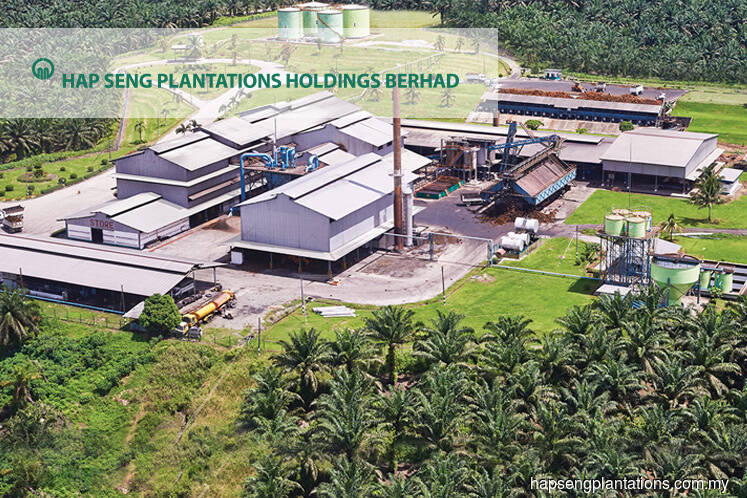 KUALA LUMPUR (Feb 21): Hap Seng Plantations Holdings Bhd and Kretam Holdings Bhd both said trading in their shares has been suspended from 9am today, pending the release of a material announcement.
In a filing with the stock exchange this morning, Hap Seng Plantations said Bursa Malaysia Securities had approved the group's request for the suspension of its share trade up to 5pm today.
"The request for suspension is made under subparagraph 3.1(b) of Practice Note 2 on Requests for Suspension of the Main Market Listing Requirement of Bursa Securities," read the filing.
Similarly, Kretam Holdings Bhd had also announced this morning in a bourse filing the suspension of its share trade with effect from 9am today, pending a material announcement.
Both Hap Seng Plantations and Kretam are Sabah-based plantation companies.
In May 2017, Hap Seng Plantations' managing director Datuk Edward Lee Ming Foo said the group was looking at expanding its plantation acreage in Sabah.
As at financial year ended Dec 31, 2016 (FY16), Hap Seng Plantations has five groups of estates and a total land area of 40,279 hectares (ha) in Lahad Datu, Tawau and Kota Marudu.
Based on Kretam's latest annual report for FY16, the group has a plantation land area of about 26,843 ha worth some RM617.32 million. And of the total land area, about 18,425 ha are matured areas, also located mainly in Lahad Datu, Tawau and Sandakan.
Hap Seng Plantations' milling operation is undertaken by four mills with a combined capacity of 180 tonnes of fresh fruit bunches (FFB) per hour. Kretam, meanwhile, has three oil mills with a total capacity of 135 metric tons (mt) per hour, a refinery with a capacity to process 1,500 mt of crude palm oil per day, a 300-mt per day biodiesel plant, and a 30,000 mt per annum fertiliser plant.
Kretam's share price has been on the rise since the start of the year, when it was trading at 53.5 sen on Jan 2. At its closing price of 84 sen yesterday, Kretam is valued at a market capitalisation of RM1.96 billion. At the current level, the group is trading at about 2.08 times its book value.
Hap Seng Plantations — which has been trading between the 52-week range of RM2.45 and RM2.73 — last closed at RM2.56 prior to the share trade suspension, valuing the group at RM2.05 billion.