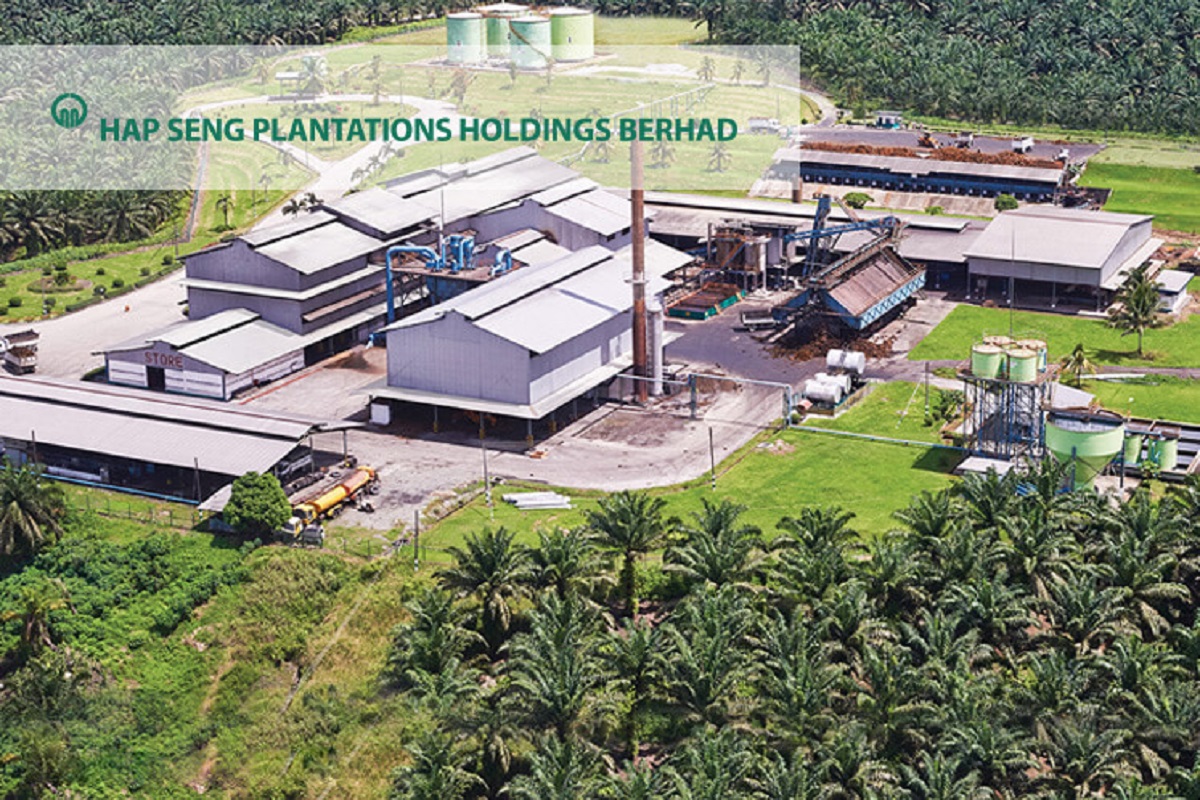 KUALA LUMPUR (Feb 24): Hap Seng Plantations Holdings Bhd saw its net profit in the fourth quarter ended Dec 31, 2020 (4QFY20) increase by 47% quarter-on-quarter (q-o-q) to RM36.95 million from RM25.08 million.
In a bourse filing, the planter said a combination of higher commodity prices and sales volume led to the increase. 
It noted that average selling prices for crude palm oil (CPO) and palm kernel (PK) were at RM3,148 per tonne and RM2,027 per tonne in 4QFY20 — 14% and 30% higher q-o-q from RM2,753 per tonne and RM1,560 per tonne respectively.
For 4QFY20, its CPO sales volume was 2% higher at 41,842 tonnes from 41,057 tonnes in 3QFY20, while PK sales volume rose 4% q-o-q to 9,343 tonnes from 9,020 tonnes, thanks to favourable inventories movements.
Earnings per share rose to 4.62 sen from 3.14 sen previously.
The planter declared a second interim dividend of 5.5 sen per share, payable on March 24. In contrast, it declared a two sen dividend in 4QFY19. This brings total dividends declared for FY20 to seven sen per share, from 2.5 sen in FY19.
Hap Seng Plantations' revenue was up 19% at RM153.27 million from RM128.9 million in 3QFY20.
On a year-on-year (y-o-y) basis, the group saw its net profit rise 19% from RM31.17 million, while its revenue was up 23% from RM124.86 million. Earnings per share rose from 3.9 sen in 4QFY19.
Fresh fruit bunch (FFB) production in 4QFY20 was 5% lower y-o-y due to the seasonal yield trend, while extraction rates were affected by wetter weather conditions in its most recent financial quarter.
Its latest quarterly net profit brings its FY20 net profit to RM90.3 million, up 187% from RM31.45 million in FY19. Full-year revenue was 12% higher y-o-y at RM467.6 million compared with RM418.6 million.
On its prospects, the planter noted that FFB production is likely to recover in the second quarter of 2021 (2Q21) as weather conditions normalise, leading to higher CPO supplies.
It noted that CPO prices are likely to be lower in the near future as demand from India decreases while supply rises. However, a decline in prices could be mitigated by the lower global supply of soyoil affected by the drought effect of La Nina on soybean crops in Argentina, Brazil and Paraguay.
Hap Seng Plantations noted that it does not face critical manpower shortages which may impact FFB harvesting.
"It has also implemented various stringent measures in its operations to curb the spread of the Covid-19 infections. In addition, the Malaysian government has recently announced the planned rollout of the National Covid-19 Immunisation Programme from end-February 2021 which is expected to rein in the Covid-19 pandemic. As such, it is unlikely that the pandemic would impact the FFB production of the group.
"Overall, the group expects its results for the financial year ending Dec 31, 2021 to be influenced by movements in commodities prices and the uncertainties in the global economic environment caused by the prolonged Covid-19 pandemic," it said.
Shares in Hap Seng Plantations closed unchanged at RM1.86, valuing it at RM1.49 billion. It saw 93,200 shares done.