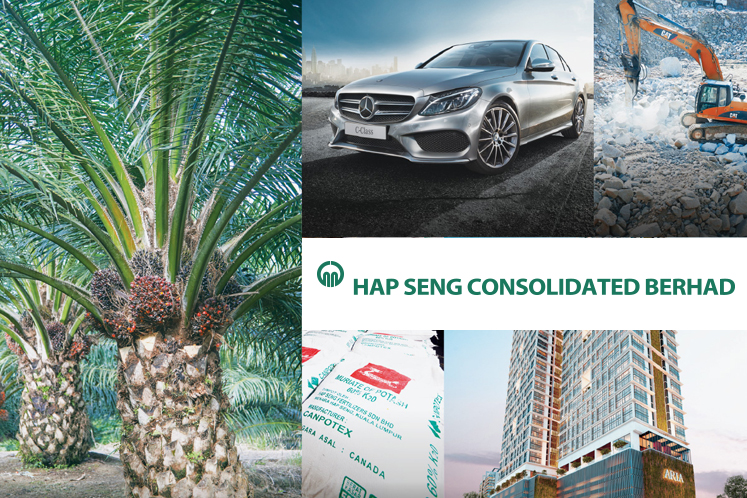 KUALA LUMPUR (May 16): Minority shareholders of Hap Seng Consolidated Bhd have been advised to vote in favour of its disposal of financial services unit HSC Sydney Holding Ltd and a 20% stake in its money lending unit Hap Seng Credit Sdn Bhd for a combined RM1.68 billion, to Hong Kong-based Lei Shing Hong Capital Ltd.
Independent adviser Affin Hwang Investment Bank Bhd deemed the two proposals as "fair" and "reasonable" and are not detrimental to shareholders.
In an independent advice circular filed with Bursa Malaysia today, Affin Hwang said it is of the view that the sale consideration for HSC Sydney Holding of RM771.16 million is fair, as the implied price to book ratio (PBR) based on the proforma unaudited consolidated net asset (NA) of HSC Sydney Holding as a Dec 31, 2017 of 3.11 times is above the average PBR of the HSC Sydney Holding comparable companies of 2.02 times.
Affin Hwang also said the sale consideration for Hap Seng Credit of RM906 million is fair, as the implied PBR based on the audited NA of Hap Seng Credit as at Dec 31, 2017 of 3 times is above the average PBR of the Hap Seng Credit Comparable companies of 1.90 times.
"Accordingly, we recommend that (shareholders) vote in favour of the resolutions pertaining to the proposals to be tabled at the forthcoming extraordinary general meeting (on May 30)," said Affin Hwang.
Hap Seng shares closed up one sen or 0.1% at RM9.77 today, with 291,400 shares done, bringing it a market capitalisation of RM24.32 billion.