This article first appeared in The Edge Malaysia Weekly, on July 1, 2019 - July 07, 2019.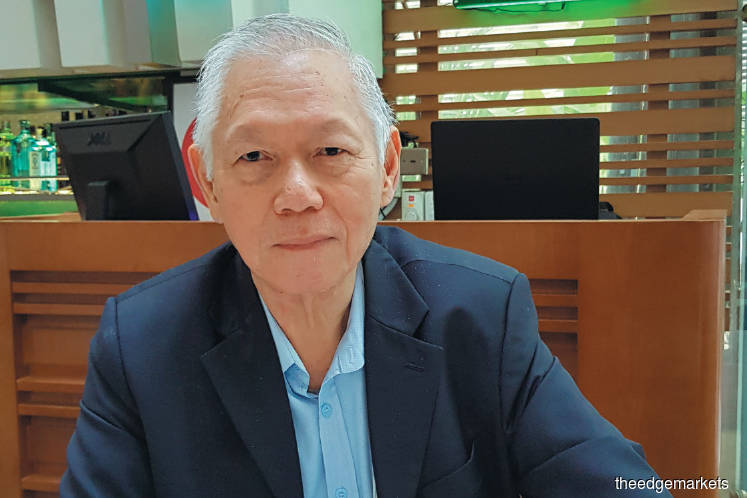 Chang, founder and CEO of Calm Oceans, is the inventor of the MCP, which will be commissioned by partner company Handal Resources. Photo by Kang Siew Li/The Edge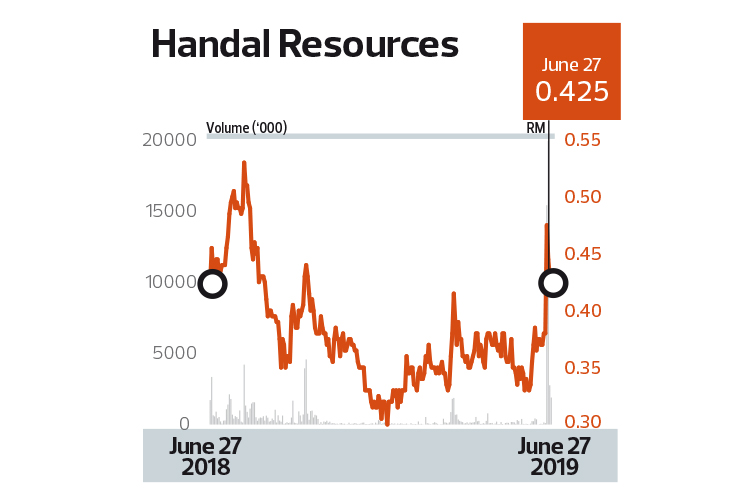 HANDAL Resources Bhd has pushed back its goal of turning a profit by a year due to a kitchen-sinking exercise by its new shareholders in the current financial year.
The integrated offshore services provider now expects to turn a profit in the financial year ending June 30, 2021 (FY2021), instead of its previous goal of FY2020.
According to Handal group managing director Sunildeep Singh Dhaliwal, the group is evaluating the possibility of more write-down on the value of an oil rig that is still under construction this financial year, which is classified as asset held for sale.
"We expect the group to post a loss in FY2019, hit break-even in FY2020 and, thereafter, turn a profit in FY2021," he tells The Edge in an interview.
Handal has been posting yearly losses since FY2016. It recorded a net loss of RM11.12 million on revenue of RM65.02 million for the cumulative 15 months ended March 31, 2019. The group is changing its financial year-end from Dec 31 to June 30, which means its FY2019 financial statements will cover a period of 18 months.
Sunildeep, who took the helm at Handal last August, says the group is still keeping to its target of hitting a market capitalisation of RM500 million by 2022, more than six times its market value of RM74.66 million last Thursday.
Year to date, Handal shares have risen 34% to close at 42.5 sen on Thursday.
Last Monday (June 24), the company received a boost when it snagged a RM360 million contract from Petronas Carigali Sdn Bhd to supply a water injection mobile oil production unit (MOPU).
The contract marked Handal's comeback to the big league, Sunildeep says.
He is confident of winning more of such contracts, and estimates supplying up to five MOPUs over the next few years by targeting independent oil companies, such as Hibiscus Petroleum Bhd and EnQuest, to utilise the MOPUs for small or marginal field developments.
The latest contract jacks up Handal's order book to some RM950 million, which will provide earnings visibility to the group until 2027.
Sunildeep says the group's current tender book is RM1.5 billion, including the provision of offshore crane maintenance and repair services.
The group is partnering Singapore-based offshore oil and gas (O&G) company Calm Oceans Pte Ltd to provide the MOPU to Petronas Carigali, as well as for future contracts.
Calm Oceans founder, chairman and CEO Brian Chang says he invented an offshore mobile platform called mono-column platform (MCP), which is relocatable unlike conventional permanent production mediums.
Under the partnership with Handal, the MCP will be 51%-owned by Handal while Calm Oceans owns 49%.
"Calm Oceans will provide the engineering, construction and any support for this kind of structure to the industry. I am told that the number of oil fields in Malaysia that need improvements in oil recovery is more than 100 and that water injection is the way to go.
"But the problem is if oil companies were to install a permanent platform on the field, what if no oil is recovered? With the MCP, if oil is recovered from the field, oil companies can then install a permanent platform and the MCP can be relocated to operate in another field," explains Chang.
Even so, it is up to Petronas Carigali to decide how long it wants the MCP to be used on its marginal fields, says Sunildeep. "The MCP is unique in that it can also be used as a permanent platform and is American Bureau of Shipping (ABS) Class. (On whether more MCPs will be used by Petronas Carigali) we have to see what its contracting strategy in the future will look like," he adds.
Sunildeep emerged as a substantial shareholder of Handal in July last year through a 7.31% stake held by Borneo SeaOffshore Sdn Bhd.
Borneo SeaOffshore was founded more than 10 years ago by Sunildeep and his partner, Yamani Hafez Musa, to provide O&G support services.
As at May 14, Sunildeep and Yamani's equity interest had risen to 14.85% via Borneo SeaOffshore and its holding company, SeaOffshore Capital Sdn Bhd.
In April, Handal announced its proposed acquisition of a 51% equity interest in Borneo SeaOffshore Engineering Sdn Bhd (BSOE) from SeaOffshore Capital in a deal worth RM25.5 million, which comes with a profit guarantee of RM5 million for FY2020 and an outstanding order book of RM215.4 million. After the proposed acquisition, which is slated for completion in the third quarter of this year, SeaOffshore Capital will own 31.55% of Handal — just short of the 33% threshold required to trigger a mandatory general offer.
Asked whether there are plans to acquire the rest of BSOE, Sunildeep says: "Not now. Once we increase our market capitalisation, then it is possible."
It is worth noting that Wah Seong Corp Bhd group CEO Chan Cheu Leong has been accumulating Handal shares in the open market since becoming a substantial shareholder in May last year. His stake stood at 11.49% as at Nov 5, 2018.
What piqued his interest? "There is a lot of potential in the company. [It has] the people and the right business strategy. The most important thing now is to execute the plan. Most companies fail because of execution capabilities," Chan tells The Edge.
Noting that he is only a passive investor in Handal, Chan adds that he "invests in companies where there is a future. I can see there have been a lot of changes in Handal".
On whether Wah Seong will explore the possibility of working together with Handal, he remarks: "If it is good for both companies at the end of the day, then yes."