This article first appeared in The Edge Financial Daily, on November 19, 2018.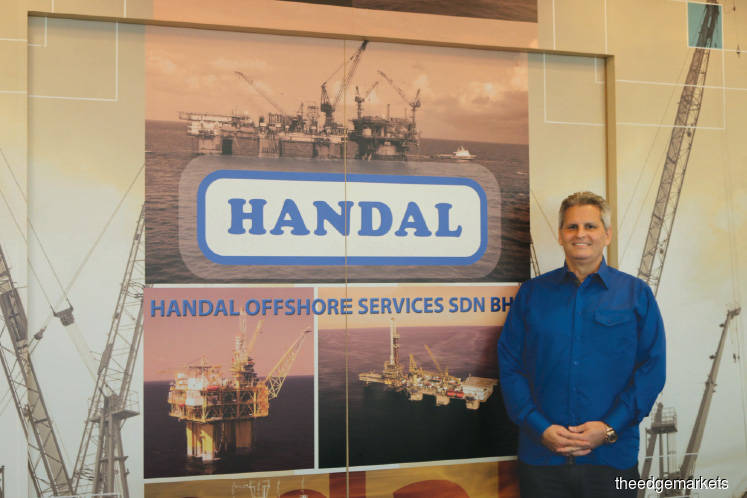 KUALA LUMPUR: Offshore crane services provider Handal Resources Bhd is looking at Sabah and Sarawak for expansion as the group strives to grow its order book so that it can return to profitability by the targeted financial year ending Dec 31, 2020 (FY20).
The move is part of its turnaround plan, which the group is still putting together and intends to present to its board of directors by the end of November, Handal Offshore Services Sdn Bhd chief executive officer Zaini Yunus told The Edge Financial Daily in an interview.
Even though the plan is still in its preliminary stages, growing the group's order book — besides its ongoing cost rationalisation — is an obvious issue the group realises it needs to work on, according to Zaini.
Handal reported its second straight year of losses in FY17, as its customers' capital spending continued to be low amid a challenging oil and gas sector. Although revenue fell 23% year-on-year to RM63.64 million from RM83.11 million, it managed to narrow its net loss to RM2.43 million from RM13.57 million.
But in the cumulative first six months of FY18, the group's net loss widened to RM1.9 million from RM636,000 in the year-ago corresponding period — despite revenue rising 11% to RM29.1 million from 26.24 million — mainly as it incurred higher administration and operating expenses, and higher depreciation and amortisation costs.
The group is currently undergoing cost rationalisation and has already laid off 30 workers or about 10% of its workforce, in a bid to improve operational efficiency at lower costs, Zaini said. On top of that, the group announced in August that it was cutting executive directors' pay by 30%, while other ancillary benefits would also be reduced, to give rise to estimated cost savings of RM2.5 million per annum.
Zaini gave the assurance that the cost rationalisation exercise will not affect the group's expansion plan into East Malaysia, which is targeted to be effected by next year. The rationalisation, he said, will in turn result in a more structured, optimised and efficient group-wide operations.
As at Sept 30, the group's outstanding order book stood at about RM82.1 million, which it expects to last it until FY20. At present, it has tendered for some RM67 million worth of jobs.
With a new management at its helm, the group expects its planned venture into Sabah and Sarawak can be expedited, with a job from one of the states anticipated to come in by next year.
Handal executive director Joel Emanuel Heaney said the new management's direction is to gain as much network as possible in East Malaysia and that the new faces on the group's board — including new group managing director Sunildeep Singh Dhaliwal, who was appointed on July 30 and is experienced in the provision of aviation services in Sabah — will certainly help it do so.
The 44-year-old Sunildeep, who is co-founder and executive director of Borneo Seaoffshore Sdn Bhd, helped turn around Sabah Air Aviation Sdn Bhd's helicopter business when he was executive director and chief operating officer of the company.
Currently, Sunildeep has a 14.25% stake in Handal. He first emerged as a substantial shareholder of Handal with a 7.314% stake in end-June after acquiring the stake via Borneosea Offshore Sdn Bhd from the open market.
He took over the managing director post from Mallek Rizal Mohsin, who remains on the group's board as executive vice-chairman. At the same time, the group's founder and executive chairman Datuk Mohsin Abdul Halim was redesignated as non-independent non-executive chairman. Also appointed as new independent and non-executive directors were Jacqueline Fong Yean Yee, Terry Biusing, Tan Sri Dr Mohd Munir Abdul Majid, and Tengku Baderul Zaman Ibni Sultan Mahmud.
"My focus now is work with the new management to pursue work in Sabah and Sarawak. I think if all our dreams come true, we will have an equal amount of cranes placed there (East Malaysia) as we have in Peninsular Malaysia, [so] we will double the revenue, income and capacity — provided we win the jobs we are bidding for," Heaney added. The group currently owns about 18 cranes.
On Aug 1, The Edge Financial Daily reported, quoting Sunildeep, that the group was keen to participate in an upcoming tender for crane rental in Sabah and Sarawak worth about RM50 million to RM70 million from Petronas Carigali Sdn Bhd. The contract is believed to be for a term of two to three years.
"We also want to go overseas, to Vietnam, Myanmar and Saudi Arabia for starters. In Saudi Arabia, we have started talking to Saudi Aramco to look into the possibility of overhauling the state-owned oil company's existing cranes," Sunildeep added.
Handal shares closed unchanged at 37.5 sen last Friday, valuing the group at RM60 million, a sharp contrast to its initial public offering price of 72 sen a share. Heaney said the group's current share price is undervalued, and said it should trade between 65 sen and 72 sen a share instead. The group's trailing 12-month net asset per share is at 59 sen.