This article first appeared in The Edge Malaysia Weekly, on June 17, 2019 - June 23, 2019.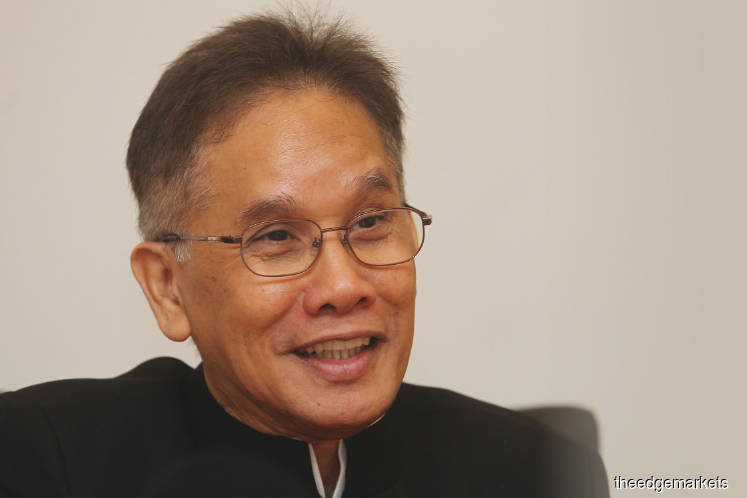 Halim: We are in court. We are not going to pay [as] these claims are false. Photo by Suhaimi Yusuf/The Edge
SEVERAL parties and companies in Kazakhstan have sought legal redress against CaspiOilGas LLP, owned by Malaysian businessman Tan Sri Halim Saad, documents viewed by The Edge indicate.
As at early June last year, there seemed to be more than 50 creditors owed about US$14.84 million (RM61.86 million) in total. However, that sum could be outdated with settlement agreements and interest charges kicking in.
CaspiOilGas's main problem seems to be with Industrial Energy Alliance LLP, which is owed US$2.27 million (RM9.46 million). The company is controlled by Kairat Kadyrovich Almukhametov, who is said to be a powerful and well-connected individual in Kazakhstan.
Some of the larger creditors include AtyrauMunaiGasGeology-Drilling LLP, which is owed US$3.42 million, 
KazDuCo Services LLP (owed US$2.87 million), PUS Prikas-piskoe Upravlenie Stroitelstva (US$2 million) and Continental Industrial Supply and Services LLP (US$1.61 million).
However, while CaspiOilGas has been taken to court, it seems Halim, as a shareholder, is not automatically liable.
Sources familiar with the matter, some of whom are linked to Halim, reiterate that the issues are largely with Industrial Energy Alliance. According to those close to Halim, among the allegations are that the company did not fulfil its contractual obligations, but that is disputed by others also well-versed with the issue.
 
Halim and Kairat
"We are in court. We are not going to pay [as] these claims are false," Halim says said when contacted by The Edge about the claim by Industrial Energy Alliance.
Meanwhile, Kairat, via a WhatsApp message from Kazakhstan, said, "He (Halim) signed the mediation agreement approved by the court, in which I decreased my claims from US$11 million down to US$2.5 million, and he agreed to pay this money."
He added, "We did a lot of work for him, based on which the subsoil use contract for CaspiOilGas was extended."
Subsoil use rights in Kazakhstan with regard to oil and gas are granted through an auction or via direct negotiations with the national company, online research indicates.
Sources familiar with Halim question the claims. "If he can invest US$250 million in CaspiOilGas, what is US$14 plus million to him?"
One source familiar with Halim adds that the person responsible is a former general manager who awarded Industrial Energy Alliance a contract, and that he has since been terminated.
"From what I know, they (Industrial Energy Alliance) didn't do their duty as per the contract," he said in a phone conversation, but this cannot be verifed. The other source familiar with the situation, however, said Halim has his own reasons as to why he is reluctant to pay the US$14 million.
As these events are happening in Kazakhstan, the court documents are not in English, making it difficult to piece things together.
The Edge also viewed a letter from Datuk Berikkazy Seksenbayev, co-chairman (Kazakhstan) of the Malaysia-Kazakhstan Business Council, to co-chairman Datuk Loo Took Gee on the issues involving CaspiOilGas in Kazakhstan. It stated that CaspiOilGas' debts is about US$26 million, mentioned Sumatec Resources Bhd, and raised questions on the identity of Markmore Central Asia BV's shareholder.
The letter from Seksenbayev included, among other things, a news article on the issues involving CaspiOilGas and applications by its employees to the Kazakhstan authorities to protect their rights.
It had been reported that Markmore Central Asia holds the entire participatory interest in CaspiOilGas, but there appear to be some issues on the shareholding and the status remains unclear.
 
The Sumatec link
Sumatec, a company with links to CaspiOilGas, had at end-June 2017 announced to Bursa Malaysia that CaspiOilGas was awarding US$55 million (RM236.5 million then) worth of contracts to Industrial Energy Alliance.
According to news reports, the contracts were to repair and rejuvenate 12 oil wells and for the construction of six deep exploratory or appraisal wells. Another contract was awarded to PUS Prikaspiskoe Upravlenie, a party that has sought legal recourse against CaspiOilGas as well.
Sumatec has for many years been linked to CaspiOilGas. In early March 2012, Sumatec inked a joint-venture agreement with Markmore Energy (Labuan) Ltd and its unit CaspiOilGas to carry out all operations relating to the production of oil from the Rakushechnoye Oil and Gas Field. In return, Sumatec would get 100% of the profits for the first two million barrels of oil produced, and thereafter, 50%.
To recap, Markmore Energy (Labuan) is the ultimate owner of the Rakushechnoye oil and gas field in Kazakhstan. Markmore Energy (Labuan), meanwhile, is wholly owned by Markmore Sdn Bhd, which in turn is almost entirely controlled by Halim.
However, in October 2017, Sumatec proposed to acquire Markmore Energy (Labuan) for US$370 million or RM1.55 billion in a cash and share deal from Markmore, and announced several corporate exercises.
This came as a surprise as the oil price had fallen from a high of US$146 per barrel in July 2008 to a low of just below US$28 per barrel in January 2016.
However, in March 2018, Sumatec and Markmore Energy (Labuan) sought to alter the terms. At end-April 2018, when Sumatec's annual report for FY2017 was released, it stated that, "Due to the prolonged low oil prices in 2015, the company (Sumatec) jointly with CaspiOilGas, decided to defer all major capital expenditure for the field, including the planned new well development projects so as to maximise the value of the oil reserves to be exploited in the future when the global oil prices improve."
Sumatec fell into the cash-strapped Practice Note 17 category at end-April 2018 and has yet to make any significant attempt to revive its fortunes.
On April 15 this year, Sumatec sought an extension of time to submit a regularisation plan and is in the midst of negotiating its case with Bursa.
Halim surfaced as a substantial shareholder in Sumatec in May 2013 and was appointed executive vice-chairman in March last year. By December 2016, he controlled 19.96% of the company, but sold down his holding and ceased to be a substantial shareholder in January this year.
Sumatec closed last Friday at one sen, giving it a market capitalisation of RM42.5 million.