This article first appeared in The Edge Financial Daily, on September 28, 2018.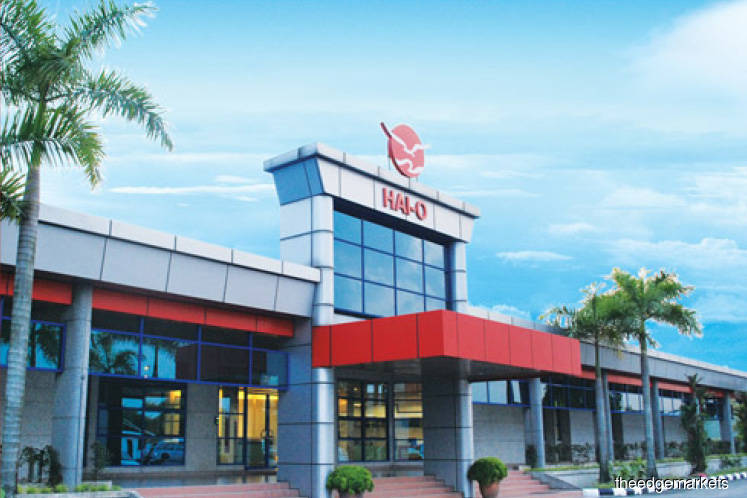 Hai-O Enterprise Bhd
(Sept 27, RM3.80)
Maintain buy with a lower target price (TP) of RM4.76: Hai-O Enterprise Bhd reported a net profit of RM11 million for its first quarter for financial year ending 2019 (1QFY19). The quarterly net profit dropped by -32.4% quarter-on-quarter (q-o-q) and -38.4% year-on-year (y-o-y). Likewise, the group recorded quarterly revenue of RM80.1 million, which decreased by -27.6% q-o-q and -35.7% y-o-y
1QFY19 net profit was below our and market expectations, accounting for 10.1% and 11.5% of our and consensus full-year net earnings forecast respectively. We deem the result below our expectations although 1Q is seasonally weaker (1Q net profit traditionally accounts for around 15% of actual full-year net earnings).
The group recorded a lower revenue no thanks to the slowdown in business activities of multi level marketing (MLM) members during Ramadan fasting month and Hari Raya festive season, along with a lower member recruitment rate post-14th general election (GE14).
A lower profit before tax and profit before tax margin (PBT/PBT margin) (- 37.8%/-1.8ppts) was recorded mainly due to higher marketing and branding costs incurred for the newly launched fashion and lifestyle products.
The better revenue recorded from the wholesale division was offset by the lower revenue from MLM and retailer divisions. Moreover, the lower PBT of -37.5%, as a result of lower revenue registered in MLM and retail divisions, coupled with higher marketing costs incurred.
The group will continue to embark on several marketing programmes, in the likes of creating brand awareness through social media platforms and a series of advertising campaigns for its new beauty brands and lifestyle related range of products.
The group will promote its premium Chinese medicated tonics and expand into non-alcoholic products. Besides, the Group will expand its neighborhood medical hall network.
The group is banking on its half-yearly sales campaign which will be carried out in the next quarter to boost its sales.
Despite a slow start for the year, we remain positive on Hai-O and believe that the group is able to achieve better revenue for its 2QFY19 due to resumption of sales from MLM division (especially after the Ramadan fasting month and lower member recruitment rate post-GE14), along with higher sales from the retail division driven by its sales campaign during 2QFY19. Besides, we expect the group to record a higher gross profit margin q-o-q and y-o-y mainly attributable to enhancement of operational efficiency pursuant to digital marketing and distribution.
Risks include: 1) Higher marketing and advertising of new products under the MLM division, and 2) lower revenue due to weak consumer sentiment post implementation of sales and services tax.
We reduce our earnings forecasts for FY19F by 26% and FY20F by 4.5% as we foresee the group requiring a longer time to build its brand awareness and generate revenue from its beauty brand "infinence" and lifestyle related range of products. Also, it takes a longer time to penetrate medicated tonic and non-alcoholic products to younger generation.
Maintain "buy" with a lower target price of RM4.76 (previous target price: RM6.41) after our earnings cut but applying higher price-earnings multiple. Our revised target price is now pegged at 17.5 times financial year 2019 forecasted (FY19F) earnings per share (from 14.3 times), which is at its mean trailing PE.
We continue to favour Hai-O for its: 1) stable profit margin with effective cost rationalisation, 2) strong brand name among Malaysian household, 3) strong balance sheet with net cash, 4) lower risk due to less exposure to foreign market and foreign currency risk, and 5) A better margin as compared to peers (Amway) coupled with better growth prospects. — JF Apex Securities, Sept 27