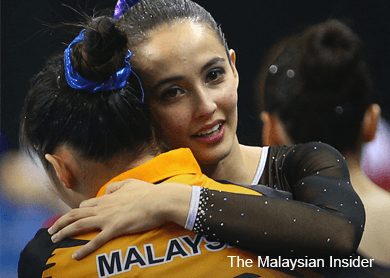 (June 12): Malaysians rallied around gymnast Farah Ann Abdul Hadi after the SEA Games gold medallist was attacked by Muslims for exposing her "aurat".
A full body picture of the 21-year-old in her purple gymnast outfit, which was uploaded on Buletin TV3's Facebook page, along with the caption that the Malay woman has won a gold medal for floor exercise in artistic gymnastic, saw numerous criticism directed at her.
A user with the name of Shinagawa Ann told the gymnast to wear tights to cover her thighs.
"Even if you do not want to wear the tudung, wear a pair of tights so that your thighs are covered, aurat should be covered and not be exposed to men, well, whatever... congratulations on getting the gold medal for the country".
Another user called Sarina Rahman questioned if she is a Malaysian representative.
"Is she really from Malaysia? Don't tell me she can't wear leggings?" she asked.
However, there are equally huge number of Malaysians who congratulated her on her win and told her to ignore the hateful comments.
"Congratulations for making the country proud. Don't worry so much about the idiots. You did us all proud," said Hafidz Baharom.
Siti Kassim said she was proud of Farah's achievements and told her to ignore the negativity.
"A big huge congratulations Farah dear! As a mother, I would be proud to have a daughter like you! Ignore those retards who can't see beyond their limited brain capacity! Keep up the good work! We are proud of you!" she said.
Derek Tang said she had scored a wonderful achievement and lamented the criticism by "small-minded" people.
"Congrats to Farah. Wonderful achievement. Too bad some small-minded people are trying to ruin it for her and other Malaysians who are proud of her. She's a beautiful and talented young lady who just proved she's the best in our part of the world," he said.
The Star reported that the athlete beat Indonesia and Vietnam to the gold by garnering 13.733 points to win the floor exercise routine on Wednesday at the regional games currently held in Singapore.
The English daily said this was Farah's second gold at the Games. She had won the team event on Sunday, followed by a silver in the individual all-around final on Monday and two bronzes in the vault and uneven bars on Tuesday. – The Malaysian Insider