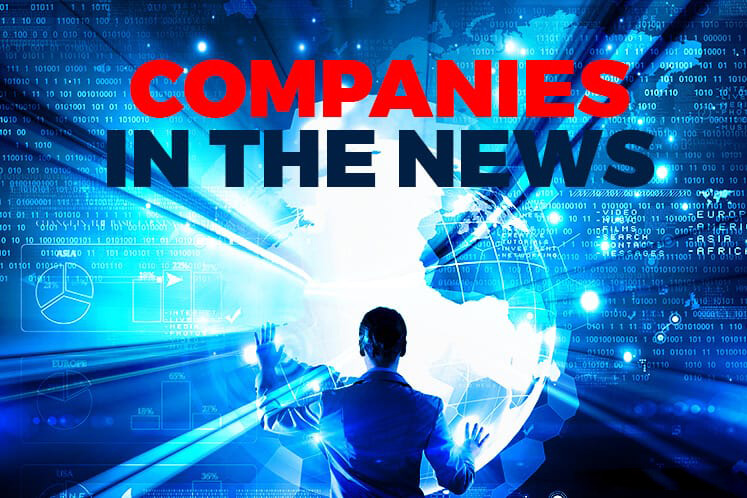 KUALA LUMPUR (April 23): Based on corporate announcements and news flow today, companies in focus tomorrow (April 24) may include the following: GuocoLand (Malaysia) Bhd, IGB REIT, Tenaga Nasional Bhd, Axis REIT, Cycle & Carriage Bintang Bhd, Gadang Holdings Bhd, Priceworth International Bhd, Amtek Holdings Bhd and Pecca Group Bhd.
GuocoLand (Malaysia) Bhd reported an almost six-fold increase in its net profit to RM55.69 million for the third quarter ended March 31, 2018 (3QFY18), from RM8.34 million in the previous year's corresponding quarter, due to the gain — of approximately RM104.8 million — on disposals of its entire interests in JB Parade Sdn Bhd and PD Resort Sdn Bhd to GuocoLand Hotels Pte Ltd.
Its quarterly revenue, however, declined 56% to RM35.83 million from RM81.17 million a year earlier, due to lower contributions from the residential project in Oval and the absence of contributions by PJ City Parcel A Phase 2.
For the cumulative nine months ended March 31 (9MFY18), net profit dropped 52% to RM57.72 million from RM119.42 million in the previous year, while revenue jumped 90% to RM289 million from RM152.31 million.
IGB Real Estate Investment Trust's net property income (NPI) rose 6.7% to RM102.5 million in its first quarter ended March 31, 2018 (1QFY18) from RM96.1 million a year ago thanks to higher rental income and lower operating expenses.
Its quarterly revenue rose 2.3% year-on-year (y-o-y) to RM136.8 million from RM133.7 million, as rental income grew 2.64% to RM109.31 million from RM 106.5 million.
Distributable income grew 8.24% y-o-y to RM91.9 million or 2.61 sen per unit from RM84.9 million or 2.42sen.
It announced an income distribution of 95% of its distributable income for 1QFY18, which amounted to RM87.3 million or 2.48 sen per unit, payable on May 31.
Tenaga Nasional Bhd (TNB) has signed a 21-year large-scale solar (LSS) photovoltaic power purchase agreement (PPA) with Halpro Engineering Sdn Bhd, whereby the latter will design, construct, own, operate and maintain a solar photovoltaic energy generating facility of 30MWac to be located in Mukim Bebar, Daerah Pekan, Pahang.
TNB said the PPA, which has an expected commercial operation date of Dec 30, 2019, governs the obligations of the parties to sell and purchase the energy generated by the facility for a period of 21 years.
Axis Real Estate Investment Trust (Axis REIT) is adding a freehold industrial property in Shah Alam, Selangor for RM87 million to its portfolio, which will raise its asset under management to RM2.64 billion.
Its trustee, RHB Trustees Bhd, inked a sale and purchase agreement with Teraju Sinar Sdn Bhd (TSSB) to acquire the asset, which comprises two adjoining parcels of land on which four warehouse blocks, a double-storey detached office building, a double-storey canteen building, and two guardhouses have been erected.
On completion of the acquisition, the asset will be leased back to TSSB for six years. The acquisition has a starting net yield of 7% before Islamic financing cost and the agreed lease rental of the property has a contractual step up of 10% on year four onwards.
The REIT will finance the buy via debt financing, which will raise the REIT's gearing ratio to 35.26% of audited total assets as at Dec 31, 2017.
Cycle & Carriage Bintang Bhd's financial year 2018 has started with its first quarter (1QFY18) ended March 31 in the red, as the group continues to see its margin hurt by a demand shift to lower-priced models.
It reported a net loss of RM2.7 million in 1QFY18, compared with a net profit of RM312,000 a year ago, as "margins remain highly compressed as a result of demand shifting to the lower-priced models".
This was despite a 10% year-on-year rise in group revenue to RM388.58 million from RM352.73 million, as vehicle unit sales grew 21%, with the sales mix moving from S-Class to C, GLC and E-Classes.
Gadang Holdings Bhd's net profit for the third quarter ended Feb 28, 2018 (3QFY18) experienced a marginal 3% year-on-year decline to RM25.14 million from RM25.79 million, on lower revenue contribution from its construction and utility divisions.
The group's overall 3QFY18 revenue, however, was up 19% y-o-y to RM152.68 million from RM128.05 million.
For its cumulative nine months ended Feb 28 (9MFY18), Gadang's net profit was up a slight 2% y-o-y to RM71.85 million from RM70.39 million, as revenue gained 9% y-o-y to RM412.29 million from RM379.02 million.
Priceworth International Bhd is close to clinching an RMB192 million (RM120 million) deal to supply 60,000 cu m per year of container flooring to Guangdong-based manufacturer Foshan Zhengsen Woodworking Co.
Priceworth's subsidiary Sinora Sdn Bhd had signed a Memorandum of Understanding (MoU) with Foshan Zhengsen on April 21, for the intended supply of container flooring.
Priceworth is expecting to sign a definitive five-year supply agreement with Foshan within six months.
Amtek Holdings Bhd's proposed disposal of its inventories of 'Crocodile' brand apparel and accessories is fair and reasonable as it is deemed to be in the best interest of the group, says the independent adviser for the deal.
The disposal is not detrimental to the interests of the shareholders, said Sierac Corporate Adviser Sdn Bhd in a circular to minority shareholders, urging the shareholders to vote in favour of the deal — which include the disposal of relevant retail equipment, fittings and fixtures.
The adviser said the rationale for the disposal is reasonable as Amtek has been incurring consecutive operating losses of RM2.7 million, RM2.1 million and RM2.8 million for the financial year ended 2015 to 2017 respectively.
The disposal is expected to reduce Amtek's gearing to 0.51 times, from 0.62 times upon completion.
Pecca Group Bhd will see a delay in the utilisation of its initial public offering (IPO) proceeds of about RM2.6 million, while RM6.6 million will see some variation in its utilisation.
The board of directors has approved the variation and extension of time for the utilisation of the proceeds raised. The extension will be for another 24 months from April 19 this year.
Some of the variation and delay of the utilisation of the proceeds included the estimated listing expenses, purchase of new machineries for the production of car leather seat covers, as well as the establishment of a market presence in Thailand.