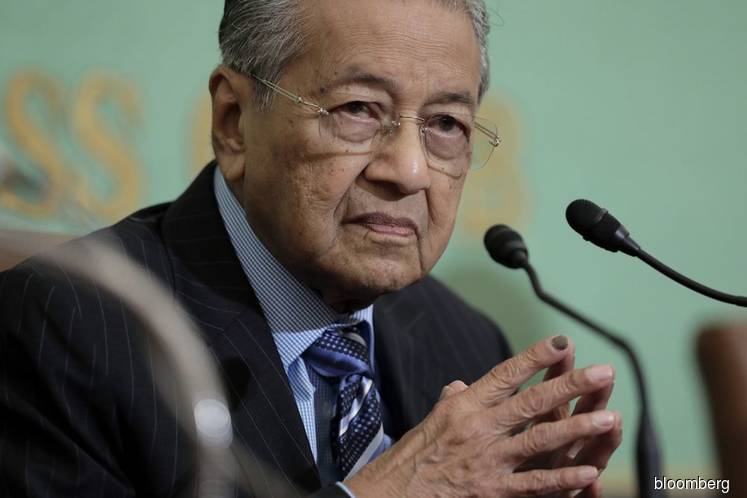 KUALA LUMPUR (Nov 13): The rule of law applies in trials of former prime minister Datuk Seri Najib Razak whether he is guilty or innocent, said Prime Minister Tun Dr Mahathir Mohamad in an interview. 
"If he has to be trialed, he should be trialed. If he's charged and he's found guilty, then the rule of law will apply. If he's found innocent, then the rule of law will also apply," Dr Mahathir told CNBC in an interview published today.
"We believe in the rule of law. Whatever the law says, we accept," the premier reportedly said. 
The latest development underlining the scandal involved an indictment by the Department of Justice in October, accusing Malaysian financier Low Taek Jho and former Goldman Sachs bankers Tim Leissner, and Ng Chong Hwa — commonly known as Roger Ng, of money laundering and corrupt practices related to 1Malaysia Development Bhd (1MDB). 
Leissner has pleaded guilty in federal court in the Eastern District of New York. Ng was arrested in Malaysia and is to be charged in the US, whereas Low has continued to evade arrest. His location is presently unknown.
Back home, Najib is currently facing 38 charges over alleged misappropriation of more than RM2.6 billion ringgit in relation to troubled state fund 1MDB, some of which he was accused of receiving as kickbacks. 
In 2016, Najib was cleared of corruption allegations involving US$681 million in his personal account, which he said was donated to him by a royal Saudi family.
Then attorney-general Tan Sri Mohamed Apandi Ali said he was "satisfied" that the funds were not bribery, although he conceded no reason was given as to why the donation occurred. 
At that time, Saudi Arabia Foreign Minister Adel Ahmed Al-Jubeir repeated the donation claim on the monies in Najib's personal bank account.
In May this year, Najib led Barisan Nasional to its first electoral defeat during the 14th General Election, to Pakatan Harapan, led by its chairman Dr Mahathir. 
In October, Malaysia's foreign minister Datuk Saifuddin Abdullah said Adel Ahmed Al-Jubeir has now claimed during a three-day visit to Malaysia that same month, that the monies "had nothing to do with the Saudi government" .
Dr Mahathir, in the CNBC interview, also admitted "in the previous regime, there was an attempt to fiddle with the judiciary". 
"But we want a free judiciary and we hope that they will not be biased," Dr Mahathir was quoted as saying.