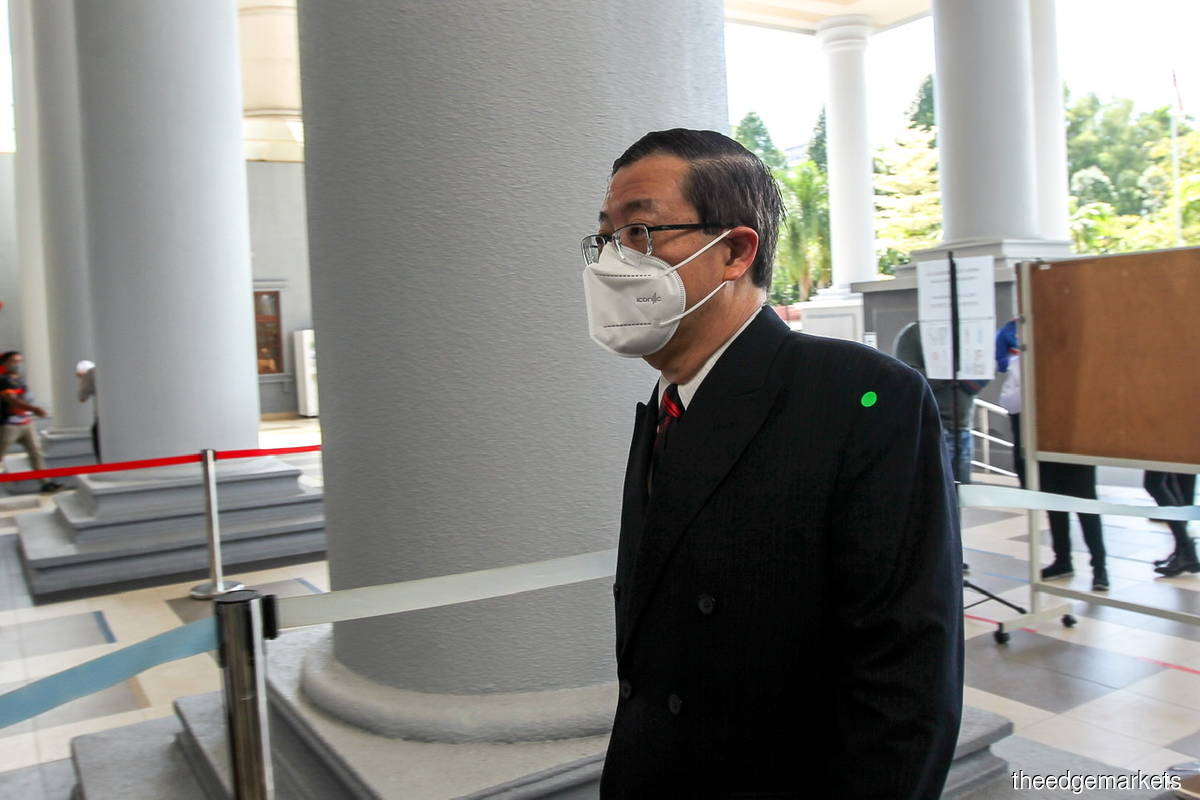 KUALA LUMPUR (Nov 30): The Sessions Court here on Tuesday (Nov 30) heard former Penang chief minister Lim Guan Eng's defence lawyer allege that the late Ewein Bhd founder Datuk Ewe Swee Kheng's final recorded statement was fabricated by the Malaysian Anti-Corruption Commission (MACC) and therefore is not admissible as evidence in the trial.
During defence lawyer Gobind Singh Deo's cross-examination of MACC officer Assistant Superintendent Mohd Nazri Mansor — the 15th prosecution witness in Guan Eng's undersea tunnel graft trial — Gobind claimed that Ewe's recorded statement on Aug 14 this year was tampered by the MACC and did not comply with Section 30(8) of the MACC Act.
Section 30(8) of the MACC Act stipulates that a statement of a person being examined orally shall be recorded in writing by any officer of the commission and the statement recorded shall be read to and signed by the person, and where such a person refuses to sign the record, the officer shall endorse thereon under his hand the fact of such refusal and the reasons thereof, if any, stated by the person examined.
When questioned by Gobind, Mohd Nazri admitted that he did not record Ewe's statement in full.
Gobind highlighted that on the last page of the seven-page handwritten recorded statement, half of the page was seemingly computer-generated, which in particular also included the deceased's signature, even though Mohd Nazri admitted that he did not have a laptop when he was recording Ewe's statement.
"This statement was recorded under Section 30. The question is that the prosecution must show that Section 30 was followed. Even on the face of it, it is implausible the witness said that he did not have a laptop with him — he clearly said that.
"The problem is, if we look at page seven, how do you explain page seven? Page seven [of Ewe's statement] was printed by a computer. It was typed, not handwritten.
"The place where it is signed [by Ewe] is seemingly computerised. How did that happen? The prosecution failed to give an explanation. The statement is supposedly all handwritten, so how can this be? Only if this is a fabricated document," Gobind alleged.
Ewe's statements recorded four times
Prior to this, Mohd Nazri testified on Monday that Ewe's previous three statements which he recorded from July 3, 2020 were typed using computers.
The MACC officer told the court he recorded Ewe's four statements between July 3, 2020 and Aug 14, 2021, during which the witness was willing to cooperate.
Ewe died on Oct 5.
In response, Deputy Public Prosecutor (DPP) Francine Cheryl Rajendram contended that under Section 54(a) of the MACC Act, the evidence is admissible as the witness is deceased.
According to Section 54(a) of the MACC Act, notwithstanding any written law to the contrary, in any proceedings against any person for an offence under this Act, any statement made by any person to an officer of the commission in the course of an investigation under this Act shall be admissible in evidence in any proceedings under this Act before any court, where the person who made the statement is dead.
"Section 30(8) is not mandatory and is up to the compulsion of the court for it to accept the statement under Section 30(8) ," DPP Wan Shaharuddin Wan Ladin added.
Wan Shaharuddin also argued that the defence had failed to challenge that Ewe gave the statement on his own volition and was not forced in any manner.
Sessions Court Judge Justice Azura Alwi fixed Dec 13 to give her ruling on the admissibility of the late Ewe's final recorded statement as evidence.
Guan Eng, 60, is charged in his capacity as the then chief minister of Penang to have solicited gratification to help Consortium Zenith Construction Sdn Bhd secure the undersea tunnel project.
He is also charged with two counts of dishonestly misappropriating RM208.75 million worth of state land to two companies — Ewein Zenith and Zenith Urban Development Sdn Bhd — linked to the project.
16th witness tells court he introduced Ewe to Zarul
Meanwhile, businessman Foo Jee Hai, 49, who is the prosecution's 16th witness, told the court that he knew Ewe for the past 10 years through another businessman, Lee Toong Leon.
He added that he also knew Consortium Zenith BUCG Sdn Bhd director Datuk Zarul Ahmad Mohd Zulkifli and BUCG project manager Lee Chee Hoe in Kuala Lumpur.
"I would at times contact them both to find business opportunities. Sometime in 2011, I contacted Zarul and Chee Hoe to introduce Ewe to them. The meeting was held at a hotel lobby in Penang.
"The purpose of introducing both of them to Ewe was to identify business opportunities. This followed Zarul and Chee Hoe telling me that they were involved in an infrastructure project in Penang and they needed investors," Foo said.
Foo added that he knew Chee Hoe represented a big construction company from China involved with several projects in Kuala Lumpur. Following the introduction, the trio met several times.
The witness said he signed as a witness in a letter of approval for a request for proposal for the construction of the main road and undersea tunnel in Penang.
"I signed the letter on Feb 7, 2013. This is the project that Zarul, Chee Hoe and Ewe discussed," Foo said, adding that he did not accept any payment for introducing Ewe to them.