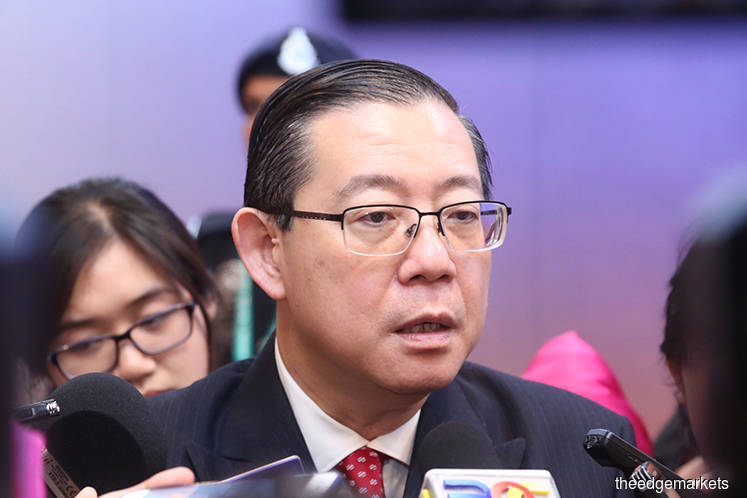 KUALA LUMPUR (Nov 14): Finance Minister Lim Guan Eng said he is surprised that the Public Accounts Committee (PAC) is under the false impression that the RM19.4 billion the ministry claims has gone missing from the goods and services tax (GST) refunds fund is still in government coffers.
"I'm quite surprised but we will get to the bottom of this. We told them it is not there and I think it is clear that it is not there," Lim told reporters today after giving his statements to the PAC on the matter.
"If it is there then I would be having a big celebration, we wouldn't have to take [the RM30 billion special dividend announced in Budget 2019] from Petronas," he added.
Lim reiterated that the government is committed to start paying back to those who have been denied the refunds by next year.
Lim was the final witness in PAC's probe into the missing RM19.4 billion.
Others who testified include former prime minister Datuk Seri Najib Razak, former treasury secretary-general Tan Sri Mohd Irwan Serigar Abdullah and Customs Department director-general Datuk Seri Tholasy Subromaniam.
PAC chairman Datuk Seri Dr Ronald Kiandee said the committee will hold a meeting again soon to come up with a report on the probe as soon as possible.
"We have heard the statements from the finance minister in relation to the RM19.4 billion GST refunds just now. He was the last witness to be called by PAC and hereafter we will have a meeting and come up with the report to be tabled to the parliament," he said.
Kiandee said the PAC has until the end of the current parliament session in December, or early next year, to prepare the report.
In August, the Dewan Rakyat was told that the previous government had not been able to refund companies their tax credit from the implementation of the GST because 93% of the money was not placed in the correct account.
Lim said that as of May 31, the outstanding GST refund stood at RM19.39 billion, whereas there was only a balance of RM1.486 billion in the repayment fund.