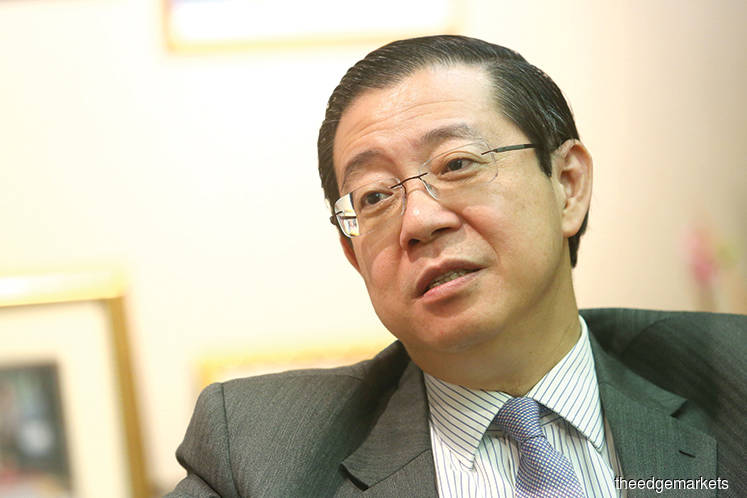 KUALA LUMPUR (Jan 10): Finance Minister Lim Guan Eng has dismissed as "untrue" a report by Nomura Global Research yesterday that Malaysia's 2018 fiscal deficit would deteriorate to 3.9% of gross domestic product (GDP).
In a statement today, Guan Eng said the government is confident of achieving 3.7% and 3.4% of fiscal deficit to GDP in 2018 and 2019 respectively.
"I have checked with the preliminary financial accounts that were closed last year and the government's fiscal position is well within the 3.7% of GDP deficit target for 2018. Nomura's report that the 2018 fiscal deficit would deteriorate to 3.9% of GDP is simply untrue.
"Furthermore, sales and service tax (SST) collections exceeded our initial projection by 34% at RM5.4 billion, compared to the projected figure of RM4 billion," he added.
In its Asean Strategy report yesterday, Nomura anticipated that Malaysia will post a fiscal deficit of 3.9% in 2018 and 3.7% in 2019, which is higher than the government's budget estimate, noting that the fact the crude oil prices have come off from the recent peak and the shortfall of public revenue after the zero-rating of the goods and services tax (GST).
The research firm had also downgraded Malaysian equity market to "underweight" from "neutral" previously, on poor earnings growth prospects, amid higher valuations and on lack of major expansionary reforms so far.
In today's statement, Guan Eng said in contrast to Nomura's opinion, multiple structural reforms announced by the government are already happening.
They include the implementation of zero-based budgeting to increase the efficiency of government spending this year, the comprehensive application of open tender across all ministries since last year to increase transparency and effectiveness of government spending and the ongoing migration from cash towards accrual basis accounting, which will come into force by 2021, to increase transparency in public finance in the medium term.
Others include the reprioritisation of infrastructure projects such as MRT2, MRT3 and LRT3 to increase its financial viability and reduce financial burden on the government, which has resulted in savings of more than RM27 billion.
"The government has been upfront that the fiscal reforms will take three years to complete. More measures will be announced for 2020, in addition to the measures announced during Budget 2019," said Guan Eng.
On Nomura's concern that the fiscal deficit ratio may rise due to crude oil prices, Guan Eng said apart from the one-time RM30 billion special dividend from Petroliam Nasional Bhd (Petronas) needed to partially finance the payments of unpaid GST and income tax refunds, the estimated government's dependence on petroleum income this year is
only 19.5% and this is without GST revenue.
"In contrast, in 2009, the petroleum revenue made up of only 41.3% of government income. This suggests that while petroleum is an important source of revenue, it is becoming less and less important to public finance," the finance minister noted.
"Analysts should take the low energy prices within this context, as well as the fact that the government is introducing new measures like the soda tax and the sales of non-core, non-strategic assets that are not accounted for in the fiscal deficit numbers.
"These additional measures will be enough to function as a comfortable buffer if the average Brent crude oil prices hover within the US$50-US$70 per barrel band," he said.
Guan Eng also deemed Nomura's concern over the political stability of the government as "misplaced and overdone".
"It ignores the recent development that indicates political stability in Malaysia. At present, the ruling Pakatan Harapan is also the only political coalition that can represent Malaysians by demography or geography, from all races, religions and backgrounds whether they are from Perlis, Johor, Sabah or Sarawak.
"Any change in leadership as agreed beforehand will be done orderly within legal and democratic norms. Malaysia is a democracy and debates are part of robust democratic culture. These debates do not distract the government from implementing its scheduled reforms," he said.