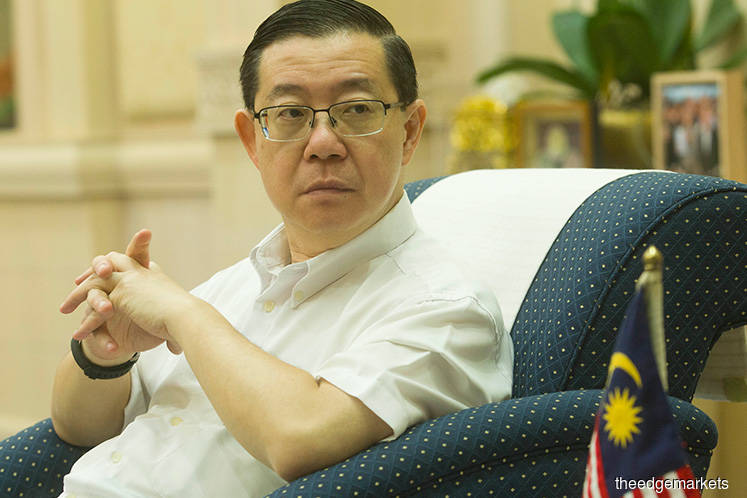 KUALA LUMPUR (Nov 14): The government is concerned that the negative outcome of imposing wealth tax, inheritance tax, capital gains tax and higher corporate tax would outweigh the revenue generated by these taxes, Finance Minister Lim Guan Eng said in a Malaysiakini report.
Lim said this was why the government is not considering implementing these taxes right now.
"That suggestion is not being prioritised by the (tax reform) committee. After we received feedback from various stakeholders, including Bank Negara Malaysia (BNM), the Securities Commission Malaysia (SC) and the finance ministry itself, the concern is that the returns (from these taxes) for the government would not be equal to the negative effects on the capital market and financial situation," he said in Parliament today.
He was responding to a question from Hassan Abdul Karim (PH-Pasir Gudang), who questioned why the government appeared to be "afraid" of imposing or increasing taxes on the rich.
According to Malaysiakini, Lim also said Malaysia is currently facing a challenging fiscal situation and imposing such taxes would shock the capital market.
He added that BNM and the SC are concerned that a capital gains tax and inheritance tax would cause a higher capital output relative to the government revenue from these taxes.
Lim said they are also concerned about keeping Malaysia competitive with its neighbours.
"If you look at our neighbouring countries, our neighbours do not have such taxes, specifically the capital gains tax.
"What we need to do now is not to be too excited until we shock the system. That is why when it comes to controlling the deficit system, the government decided to take three years to do so and not immediately," Lim said in the Malaysiakini report.
"If we do this suddenly, it will shock the system (and) if it is in a state of shock, it will damage the healing process of our fiscal situation," he added.
On the imposition of an excise tax on sugar-sweetened beverages, Lim said this is done internationally as well, to encourage less use of sugar.
The government wants to ensure that sugar is used prudently, he said, and it is also an effort to broaden the country's revenue sources.
"That is the message from the government, that we should move towards decreasing sugar content in our food and drinks," he added in the report.