This article first appeared in The Edge Financial Daily, on March 14, 2019.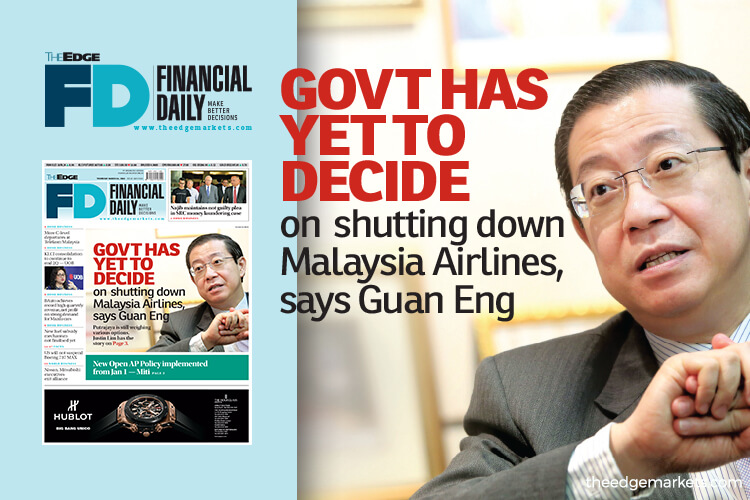 KUALA LUMPUR: As the debate on whether or not to shut down Malaysia Airlines Bhd hots up after Prime Minister Tun Dr Mahathir Mohamad's remark about the government exploring various options, including closing down the national carrier, Finance Minister Lim Guan Eng made an attempt to clear the air that the government has not decided on its options.
Guan Eng stresses that the government is currently weighing various options to plug the losses in the national carrier, it is not the case as interpreted by many that the government has made up its mind to shut down Malaysia Airlines.
Guan Eng was speaking to the press after the launch of Bank Pembangunan Malaysia Bhd's new fund yesterday.
To recap, Dr Mahathir told the media in the Parliament on Tuesday that the government will have to decide on "the fate of Malaysia Airlines soon".
He noted that there were options for the government to explore, including shutting down, or selling off the loss making national carrier, or divesting assets.
Dr Mahathir's remark once again has sparked a heated debate on whether the country needs a national carrier? Or that should the government save the airline at all costs?
Already Malaysia Airlines' sole shareholder Khazanah Nasional Bhd has pumped in RM6 billion, including the privatisation exercise that cost RM1.4 billion, to revive the national carrier in the past five years.
Under the revamp plan, Malaysia Airlines has cut some 6,000 employees and renegotiated most contracts with suppliers to slash costs. It also stopped the long-haul and non-profitable routes to boost bottomline.
Using financial performance as the yardstick, all the efforts made in the past do not seem to yield impressive results to steer the national carrier out of the turbulence.
Sadly, the two air tragedies that happened in 2014 added to the financial woes.
Due to the accumulated losses over the years, Khazanah booked in RM3 billion impairment for its investment in Malaysia Airlines. As a result, this has dragged the national sovereign fund into losses for the financial year ended Dec 31, 2018 (FY18) — the first time since 2005.
Khazanah reported a pre-tax loss of RM6.3 billion for FY18, compared to its pre-tax profit of RM2.9 billion in the preceding year, amid impairment totalling RM7.3 billion — more than triple the RM2.3 billion of impairment seen in 2017. A large chunk of the impairment was on its investment on Malaysia Airlines.
On the domestic economy front, Guan Eng described Malaysia's economic fundamentals are "sound" as he pointed that the various latest country's economic data indicating the strong fundamentals, including gross domestic product growth rate, consumer price index, and export figures.
"Look at our export, we recorded a record level and our trade surplus also reached the highest ever at RM120 billion, if you look at these figures it is very encouraging," he added.