This article first appeared in The Edge Financial Daily, on July 12, 2019.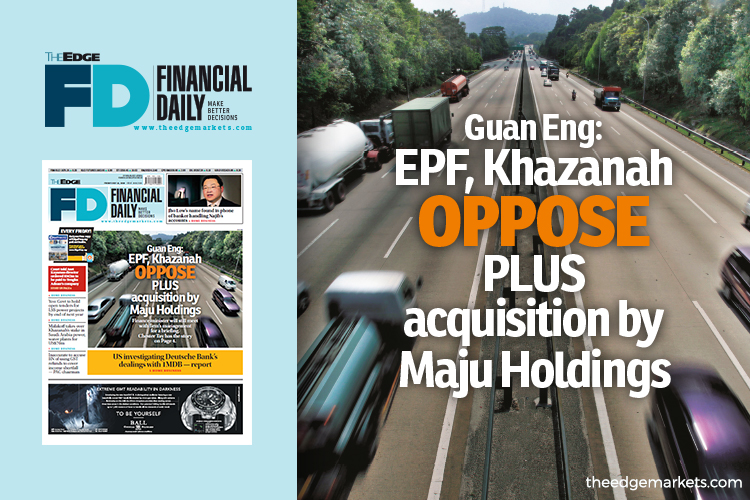 KUALA LUMPUR: The ministry of finance (MoF) has made a preliminary decision to oppose the takeover of highway operator PLUS Malaysia Bhd by Maju Holdings Sdn Bhd after considering the views from PLUS' major shareholders Khazanah Nasional Bhd and the Employees Provident Fund (EPF).
Finance Minister Lim Guan Eng, however, said he will have a meeting with Maju Holdings' management, to be briefed on the latter's new acquisition offer.
"We received many proposals from many parties," Guan Eng told reporters at the Parliament lobby yesterday. "When we make a preliminary decision, it was based on the views of the major shareholders, which are Khazanah and EPF in this case."
"At this juncture, Khazanah and EPF are not agreeable with the takeover. But definitely, the final decision will still be guided by the prime minister.
"So this is a preliminary view by the MoF, but I will still meet with Maju [Holdings], because apparently they will be having a new offer, different from the original one," he said.
Separately, Works Minister Baru Bian confirmed yesterday that the government has received the proposal from Maju Holdings to take over PLUS.
"Yes, we received an official proposal from Maju [Holdings] to takeover PLUS last week," Bian told reporters. "Now we are still at the ministerial level, we will study the proposal, and make a recommendation to the cabinet. To us, this is a business transaction."
"Our role is only to make recommendations on this subject matter. At this juncture, this is the only proposal we have received," he added. Maju Holdings is owned by former merchant banker Tan Sri Abu Sahid Mohamed.
The Edge Malaysia weekly, in its July 1 to July 7 edition, quoted sources as saying that Maju Holdings made a presentation on its proposal to the works ministry.
The Edge Malaysia weekly saw parts of the presentation and learnt that there are four scenarios. The first entails a 25% reduction in toll rates, which would see Maju Holdings getting a 10-year extension to the 2038 expiry of PLUS' concession.
The others entail Maju Holdings offering a 30% toll reduction with an extension of the concession for 15 years, or until 2053; a 33% toll reduction if the concession is extended for 20 years; and a 36% toll reduction for a 30-year extension until 2068.