This article first appeared in The Edge Financial Daily, on December 23, 2019.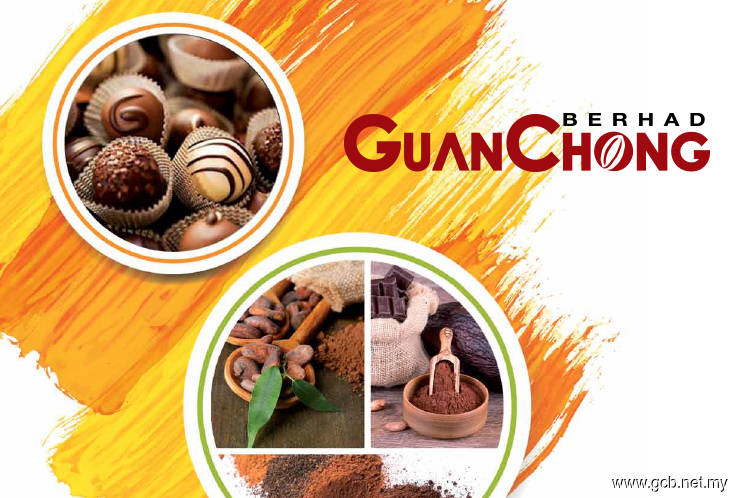 Guan Chong Bhd
(Dec 20, RM2.96)
Maintain buy with an unchanged fair value (FV) of RM3.49: We maintain our "buy" call on Guan Chong with an unchanged FV of RM3.49 per share, pegged at a price-earnings ratio (PER) of 13 times financial year 2021 (FY21F) PER which is at a discount to international peers' average forward PER of 19 times.
We like Guan Chong for its: i) growth potential from expansion plan, ii) its position as the fourth largest cocoa bean grinder, and iii) stable earnings trajectory on the back of experienced management.
Guan Chong announced that through GCB Cocoa Singapore Pte Ltd (GCBCS), it had entered into a sale and purchase agreement with Schokinag Holding BV to acquire the entire registered share capital of Schokinag Holding GmbH (SHG) for a total purchase consideration of €29.9 million (about RM137.8 million). The proposed acquisition is expected to be completed in the first quarter of 2020 (1Q20).
In addition, GCBCS will pay €2.3 million to SHG's free capital reserve for capital funding purposes. The group will also assume a shareholder loan of €1 million.
The purchase price for the acquisition will be funded by internally generated funds, part of which will be reimbursed via banking facilities.
We do not know if the proposed acquisition is earnings-enhancing or if the purchase price is fair. There were no details on the profitability of SHG. Assuming a return on investment of 5%, we estimate that SHG would improve Guan Chong's FY20F net profit by 3.2%.
SHG is engaged in the business of manufacture, sale and distribution of industrial chocolates like chocolate chips, chocolate chunks and liquid chocolates for the food and beverage industry. SHG has an annual bean-grinding capacity of 7,000 tonnes, to grind cocoa beans into cocoa liquor and cocoa mass and industrial chocolate manufacturing capacity of 90,000 tonnes per annum.
This proposed acquisition will expand the group's product range into the downstream industrial chocolate business-to-business market. Currently, Guan Chong's downstream operations are via Carlyle Cocoa which has a 7,000-tonne cocoa cake grinding facilities and up to 40,000-tonne butter melting facilities.
The rationale behind the acquisition is that it is a part of the group's global expansion strategy, to expand its presence to Europe. The acquisition in expected to place Guan Chong in position to target new growth opportunities in the world's largest chocolate consuming market.
The group expects that SHG will require about 40-50% of the supply of cocoa ingredients from its upcoming plant in Ivory Coast. This is to ensure that its oncoming new capacity will be immediately met with demand.
Recall that Guan Chong announced that it will spend €55 million to construct a new bean- grinding plant in Ivory Coast. The construction is estimated to take over one-and-a-half years and is expected to be commissioned and operational by 1Q21.
We are positive on this news for the group's long-term prospects. However, we have not made any changes to earnings forecasts as we believe any direct positive contribution from the acquisition will be offset by higher financing cost. Assuming 30% of the proposed acquisition is funded by borrowings, we estimate its finance cost to increase by about RM1.8 million. — AmInvestment Bank, Dec 20