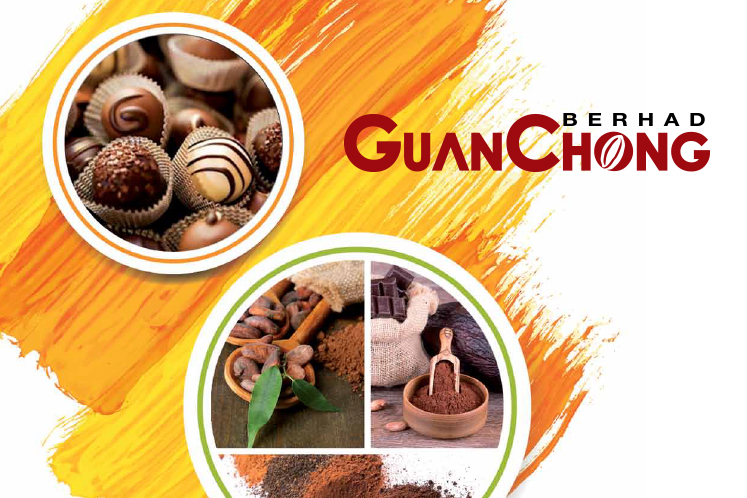 KUALA LUMPUR (Feb 18): Asia's biggest cocoa grinder Guan Chong Bhd's net profit nearly doubled to RM63.02 million or 13.19 sen per share in the fourth quarter ended Dec 31, 2018 (4QFY18), up 92.6% from RM32.7 million or 6.84 sen per share last year, thanks to improved margins.
Quarterly revenue grew 32.5% to RM651.29 million from RM491.44 million a year ago, on the back of higher sales volume of cocoa products, according to the filing with Bursa Malaysia this evening.
Guan Chong also declared a special dividend of two sen per share for the financial year ended Dec 31, 2018 (FY18), payable on March 29.
Guan Chong attributed the higher earnings to rising demand for quality cocoa ingredients in the export markets. The record performance was driven mainly by a 25.6% growth in sales volume of cocoa ingredients from the previous year, especially to the Asia Pacific market.
"We look forward to continued growth in 2019, as we anticipate strong orders and outlook from our customers. Our production would also be supported by our recently expanded grinding facility in Pasir Gudang, Johor, which will ensure we have adequate capacity to fulfil customer demand," said its managing director and chief executive officer Brandon Tay Hoe Lian.
For the full year of FY18, Guan Chong's net profit more than doubled to RM189.25 million or 39.6 sen a share against RM91.05 million or 19.05 sen a share last year, while revenue rose 5.28% to RM2.26 billion versus RM2.15 billion a year ago.
On prospects, the group expects the business environment for FY19 to be less volatile.
"We expect that our overall performance will remain positive as strong growth of global demand for chocolate is projected," said Guan Chong, adding that the group will continue to focus on efforts to explore new markets for its wide range of cocoa ingredients, optimise production according to market conditions and expand overall grinding capacity.
Going forward, Tay said Guan Chong will strive to expand its clientele across Asian markets, where chocolate consumption is on the rise with huge upside potential.
"We hope to capture exciting growth opportunities in this region, leveraging on our market position as the largest cocoa grinder in Asia and top four in the world, with a remarkable track record and competitive strengths in fulfilling the rigorous supply chain demands of leading chocolate companies and consumer brands worldwide," Tay added.
Additionally, Guan Chong said the group's recently-expanded 50,000 metric tonne (MT) grinding facility in Pasir Gudang also came on stream in end-2018.
The facility's expansion followed the group's acquisition of local cocoa processor Koko Budi Sdn Bhd, which is now renamed to GCB Cocoa Malaysia Sdn Bhd, in June 2017 with original annual grinding capacity of 9,000 MT, said Guan Chong.
This brings Guan Chong's current grinding capacity to stand at 250,000 MT, including 120,000 MT in Batam, Indonesia.
Guan Chong's share price has been on a climb since April last year from the low of RM1.38. The stock closed at its historical high of RM3.50, valuing it at RM1.67 billion.
Meanwhile, Guan Chong has also proposed a private placement to issue new shares of up to 10% of the existing share capital, or about 47.8 million new shares, potentially raising up to RM146.21 million at an illustrative issue price of RM3.06.
"The proposed placement will allow us to raise additional funds to increase our working capital, and also to fund planned projects to sustain our long-term expansion," said Tay.
Guan Chong noted that the proposed exercise is expected to be completed by 2QFY19, which would increase the group's share capital to up to RM262.7 million comprising a total of 525.6 million ordinary shares.