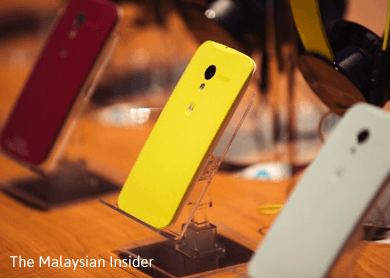 (May 14): Putrajaya's decision to impose the 6% goods and services tax (GST) on prepaid reloads is a betrayal of the people's interests, says a DAP lawmaker, adding that Putrajaya is more concerned with helping "profiteering" telecommunication companies.
DAP national publicity secretary Tony Pua said prepaid reload consumers would still be paying the same amount since April 1, contrary to Communications and Multimedia Minister Datuk Seri Ahmad Shabery Cheek's claim that they would now receive "RM10 for RM10".
"The announcement yesterday is highly deceitful because users no longer receive RM10 of airtime for each RM10 purchase.  Instead, they are effectively receiving only RM9.43 of call services for every RM10 paid," said Pua in a statement today.
"There is no difference at all from the controversial hike in mobile prepaid prices by the telecommunication companies on April 1 where consumers had to pay RM10.60 for RM10 of airtime," he added.
He said the minister was supporting the telcos' "collusion" for a uniform 6% price hike, despite Maxis Communications, Digi Telecommunications and Celcom Axiata each earning more than RM2 billion in pre-tax profits last year.
"Why is the Barisan Nasional government helping these highly profitable companies make an additional estimated RM770 million in profits?
"The above decision makes a complete mockery of the Anti-Profiteering Act which sought to prevent businesses from raising prices unreasonably in conjunction with the implementation of the GST," he added.
Pua accused Prime Minister Datuk Seri Najib Razak's administration of turning a blind eye on "these unscrupulous profiteers", and only targeting petty traders who took advantage of the GST to raise prices.
He added that the prepaid services price hike was in also violation of the competition clauses in the Communication and Multimedia Act 1998, as all the telcos were raising prices at a uniform 6% at the same time.
Yesteday, Shabery announced that GST for mobile prepaid reloads will be imposed based on customers' usage, ending the month-long confusion that started since the implementation of the consumption tax.
He said customers who pay RM10 for the prepaid reload will receive RM10 worth of mobile services value, but will be taxed upon usage.
The announcement came a week after Shabery pledged in an interview on national broadcasting station RTM1 that he would try to ensure consumers received RM10 worth of airtime after paying RM10 for their prepaid credit. – The Malaysian Insider