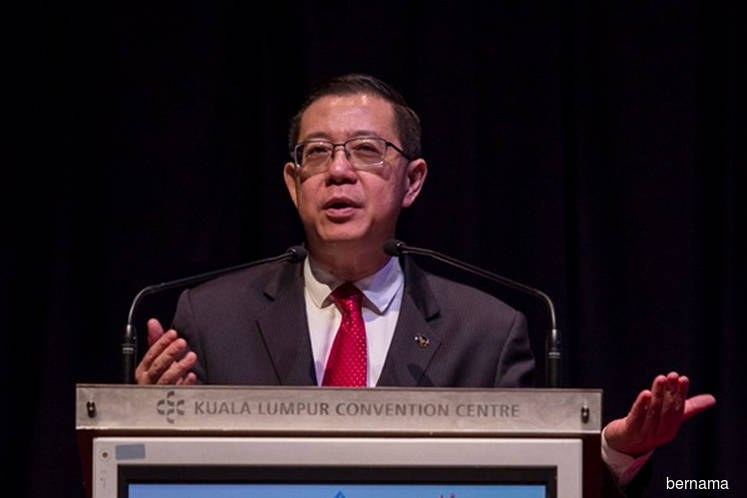 KUALA LUMPUR (Aug 12): Finance Minister Lim Guan Eng has defended the Pakatan Harapan government's decision to remove the Goods and Services Tax (GST) as it hit the poor unfairly, instead of the rich.
"(Datuk Seri) Najib (Tun Razak) forgets that GST has impacted all Malaysians, particularly unfairly on the poor for the first time, when they never had to pay any taxes previously," he said.
This had imposed a heavy financial burden on the ordinary rakyat until they had no choice but to change the government for the first time in 61 years, otherwise the GST will persist and their economic distress will continue, he said in a statement here, today.
He was responding to Najib's relentless campaign in defending the GST, claiming that tax regime was meant only for the rich and with its abolishment, the rich and business people would benefit most.
Najib added that money lost to the rich could no longer be used to help the poor in the B40 group.
In his attacks on Prime Minister Tun Dr Mahathir Mohamad, Najib, who was former prime minister and finance minister, hoped that "the new Malaysia isn't just for the rich and business people."
Lim said the new Malaysia government had delivered its our promise to abolish the GST.
The warning issued by the previous government that Malaysia would go bankrupt without the GST did not materialise, he added.
"Not only did the government did not go bankrupt, but BR1M (renamed as Bantuan Saraan Hidup or BSH) payments were continued even without the GST," he said.
BSH is aimed at helping the B40 group.
"How then can Najib claimed that the poor is not being helped when the final BSH payment is to be made beginning Aug 15, a week before Hari Raya Korban Aidiladha? (About) 4.1 million recipients will be receiving the BSH involving an estimated cost of RM1.6 billion?" asked Lim.
He said the B40 group were further assisted when the new government stabilised petrol prices that were previously allowed by the old government to float based on market rates.
Despite international oil prices going up by 42 per cent from the 2018 Budget estimate of US$52 per barrel to US$74 per barrel, he said RON 95 and diesel prices did not go up but were fixed at RM2.20 and RM2.28, respectively.
This fuel subsidy of around 30 sen per litre costs RM3 billion until the end of 2018.
"Najib is therefore wrong to say that the GST is good or that the new government is not focused on assisting the B40 group.
"Najib should not take out his frustrations at BN's general election defeat on Pakatan and his loss of the premiership to Tun Dr Mahathir, but concedes that the people rejected his leadership, the GST and were fed up of the huge corruption in the RM50 billion 1MDB scandal," Lim added.