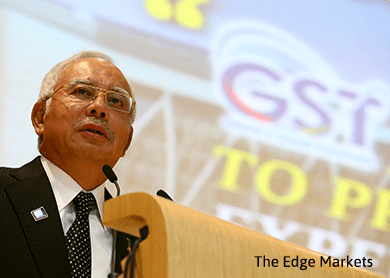 (June 9): The fall in oil prices could have sent Malaysia into an economic crisis had the goods and services tax (GST) not been imposed, Datuk Seri Najib Razak said.
The prime minister said the GST, which replaced the sales and services tax (SST), had helped broaden the country's revenue stream to avoid a high reliance on oil revenues.
The GST is a worldwide tax system which is more transparent and systematic than the SST, he said, adding that the change in the tax system was inevitable.
Najib, who is also finance minister, said with the change, Malaysia now had a more diverse revenue stream and strong fundamentals.
"The business community and foreign investors remain optimistic," he said in his latest blog posting.
The prime minister said the GST would not go into bailing out the government.
"The issue of using GST revenues to bail out failed ventures does not arise," he said, responding to former prime minister Tun Dr Mahathir Mohamed's claim that the government was using the GST to bail out unsuccessful government ventures.
Najib said the government would disclose how the GST revenue would be spent in the coming budget.
"To say that those who are not in the income tax bracket are bailing out the government is nothing short of twisting facts," he said, adding that the bulk of government assistance went to this particular group.
"They are even compensated in the form of 1Malaysia People's Aid (BR1M)," he said.
The government has allocated RM13 billion from 2012 to 2015 for BR1M which had benefited nearly 7.4 million people.
Najib said there had been many successful ventures undertaken by government linked-companies (GLCs).
"For example, our top 20 GLCs have had a total shareholder return of 12.6% per annum from 2004 to 2015, beating the Kuala Lumpur Composite Index's 12.2% per annum.
"Market capitalisation also grew 3.2 times from RM133.8 billion in 2004 to RM431.1 billion in 2015. Total net profit increased from RM9.9 billion to RM26.2 billion from 2004 to 2015," he said.
Najib said the government had continuously improved its financial management, including enhancing the efficiency of GLCs and maximising their returns.
He said the GLCs had made more returns and grown in value more than ever before, with increased transparency, accountability and competitiveness under the GLC Transformation Programme.
"This administration has increased the importance and freedom given to the auditor-general (AG) to audit the National Finances to report on all leakage," he said.
The number of issues highlighted by the AG has reduced steadily over the years, he said, adding, "And I intend to improve on this further." – The Malaysian Insider