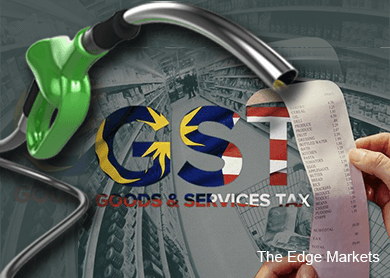 KUALA LUMPUR: Bankers said the upcoming goods and services tax (GST) that will be charged on banking services is likely to impact repetitive transactions such as ATM withdrawals through the MEPS network, but it is unlikely to impact demand for one-off transactions like applications for debit cards. 
"The GST will have an impact but [it is] unlikely to hit the demand for banking products and services requiring one-off fees or charges. Demand for repetitive services will be affected, but not all banking services are your everyday event," says the head of transaction banking of a local bank. 
The banker said he expects debit cards to be more popular with consumers moving forward, despite the 6% charge on the application fee, as their acceptance and usage expand. 
"Debit cards are supposed to replace cash. It is a national agenda. The 6% GST charge to obtain a debit card is unlikely to affect demand. It is not a repetitive charge. It is a one-off application fee. GST will not be imposed every time a consumer swipes and pays with the debit card," he said. 
Malayan Banking Bhd, in a written reply to the The Edge Financial Daily, noted that there is a rising trend of debit card usage as consumers are aware of its features and convenience.  
A Citibank spokesman, meanwhile, said: "Debit and credit cards serve different customer needs and have different economics. We will review customer behaviour as we move into the year. Yes, there will be a 6% GST imposed upon the issuance fee of a debit card." 
According to Bank Negara Malaysia's (BNM) Financial Stability Report 2014, the use of payment cards (debit cards, credit cards and charge cards) has increased by 8.6% and 8.8% in terms of volume and value, from 385.8 million transactions worth RM118 billion in 2013 to 419.1 million transactions valued at RM128.8 billion in 2014. 
Interestingly, credit cards remain the most widely used payment card, constituting 82.5% of the total transaction volume, while debit and charge cards accounted for 16.4% and 1%, respectively.
The central bank is positioning the debit card as a convenient substitute for cash and as a more cost-efficient payment instrument. This resulted in the implementation of a series of measures by BNM to reform the payment card industry, including a higher interchange fee ceiling above the eligible transaction-related costs for credit card transactions.
BNM's Financial Stability Report 2014 noted that while debit card transactions increased 39% year-on-year (y-o-y) to 68.8 million transactions valued at RM14.8 billion, the ratio of debit card transactions to ATM cash withdrawals remained very low at one-to-eight. 
The transaction value of debit cards grew 28.7% y-o-y in 2014 to hit RM14.8 billion from RM11.5 billion. 
According to the Royal Malaysian Customs Department's guide to commercial banking, fees on transactions via ATM or MEPS will be charged GST. 
The GST is expected to be imposed on fees and charges relating to electronic fund transfers, phone banking, encashment facility, annual subscription for credit cards, commission on clearing cheques, commission cost of telegraphic transfers, loan processing, standing instruction services, counting services for coins and currency deposit, maintenance services in relation to buying and selling of shares, supply of ATM cards and saving account books as well as fees for issuance of cheque books. 
This article first appeared in The Edge Financial Daily, on March 26, 2015.