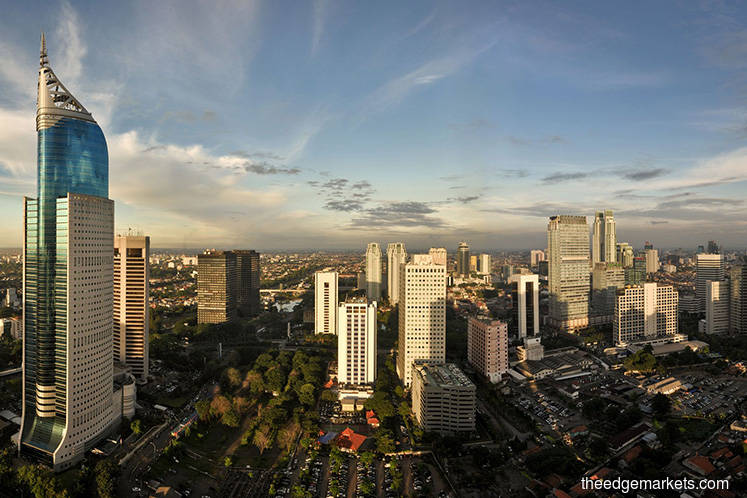 SINGAPORE (Feb 26): The acceleration of the coronavirus outbreak over the past week is putting downside pressure on forecasts for Southeast Asian economies, leading policy makers to unveil support measures.
Economists have slashed this year's growth forecasts for China to about 5.5%, compared with 6.1% last year. With most of Southeast Asia heavily reliant on China-linked supply chains and tourism, that has meant growth downgrades in the region as well: Thailand, for example, is seen slowing to barely above 2% this year, from 2.4% in 2019.
Almost all of Southeast Asia's top six economies have cut interest rates this year, and economists are betting on more to come. On the fiscal side, Singapore has taken the lead with significant support to cushion its economy from the impact of the virus.
"We had previously expected the dovish wave in 2019 to subside, as global growth bottoms out and picked up slightly in 2020," said Edward Lee, an economist for South and Southeast Asia at Standard Chartered Plc in Singapore.
Given the virus outbreak, "we had already seen quite a few economies easing monetary policies and some sanctioning fiscal policies to mitigate the impact," Lee said, with more rate cuts likely in Malaysia, the Philippines and Thailand.
Here's how the growth outlook and policy reaction are shaping up across Southeast Asia:
Indonesia
Southeast Asia's biggest economy hasn't recorded any confirmed coronavirus cases, but is calling on leaders worldwide to brace for a larger-than-expected hit to growth. Beyond trade and tourism, Indonesia is vulnerable to losses in exports of coal and palm oil, for which China is a major customer.
The central bank on Feb. 20 lowered its forecast range for economic growth this year to 5%-5.4%, from 5.1%-5.5% previously.
POLICY RESPONSE: Bank Indonesia cut its benchmark interest rate Feb 20 after three straight holds, with Governor Perry Warjiyo pledging to keep policy "accommodative." The next rate decision is set for March 19.
What Our Economists Say
"Another rate cut at its March meeting can't be ruled out, in our view, especially if rupiah stability can be maintained. Bank Indonesia was already keen to support growth further before the coronavirus outbreak." — Tamara Henderson, Asean economist
Finance Minister Sri Mulyani Indrawati said in a Bloomberg Television interview earlier this week that the government still has fiscal space to act without violating its budget-deficit limit of 3% of GDP. She said the government will increase payments to low-income households and is considering a tax break for companies if the situation turns "severe."
Thailand
Thailand's heavy reliance on tourism, particularly from China, leaves it among the most exposed in the region as travel restrictions weigh on the sector. The government estimates the number of visitors could drop by about 2.8 million compared to last year, to 37 million.
The baht, the strongest currency in the region last year, has plunged so far in 2020. Officials have said they're comfortable with further currency weakness.
POLICY RESPONSE: The Bank of Thailand cut its interest rate to a record low Feb 5, and said it has more room to ease. Its next scheduled meeting is March 25.
Long-awaited budget legislation has been approved by parliament and awaits royal assent, with an expected 400 billion baht (US$12.6 billion) in investment likely to filter through to the economy.
Singapore
Singapore has won praise for its anti-virus strategy, with new cases dwindling after several weeks in which the city-state had the highest number of confirmed cases outside China.
The government last week lowered the midpoint of its 2020 growth forecast to 0.5% from 1.5%, following last year's 0.7% expansion, the weakest in a decade.
POLICY RESPONSE: The Monetary Authority of Singapore, which uses the exchange rate as its main policy tool, said Feb 5 the Singapore dollar had room to weaken, fueling bets the central bank will ease policy. The MAS's next scheduled decision is in April.
The 2020 budget unveiled last week envisions Singapore's biggest deficit since at least 1997. It included S$800 million (US$573 million) in targeted measures to counter the virus, and S$5.6 billion in additional support for households and businesses to shore up the ailing economy.
Malaysia
The virus outbreak has punished the ringgit and threatens to worsen growth in Malaysia, which was already the weakest last year since 2009. A political crisis is stalling a planned fiscal response, further clouding the outlook for the economy.
POLICY RESPONSE: Bank Negara Malaysia cut its benchmark interest rate Jan 22, even before the spread of coronavirus. The bank's chief has said there's more space to act as inflation remains low. The next planned decision is March 3.
Philippines
The Philippines is seeing a significant hit to tourism, with the government estimating about US$445 million a month in losses for the sector. Travel restrictions also have affected work schedules for thousands of Filipinos employed overseas, whose remittances make up about 9% of GDP.
The economy is considered less vulnerable than others in the region, with authorities projecting a 0.7 percentage-point hit to GDP this year if the virus lingers through year-end.
POLICY RESPONSE: The central bank was among the first in the region to cut its benchmark interest rate in response to virus risk, on Feb 6. Officials have said there's "a lot of room" to cut further.
Vietnam
Vietnam is highly exposed to coronavirus risk through its tight supply chain with neighboring China. Schools have been closed, thousands of workers have been quarantined and flights between China and Vietnam have been suspended.
Exports plunged in January as the outbreak was setting in, and government officials have said economic growth this year could slow to less than 6% after reaching 7% last year. For now, officials are maintaining their target of 6.8% growth in 2020.
POLICY RESPONSE: Vietnam's central bankers have ordered commercial lenders to give loan relief to virus-hit businesses. So far there have been few hints of any forthcoming fiscal support.