This article first appeared in Forum, The Edge Malaysia Weekly, on May 6, 2019 - May 12, 2019.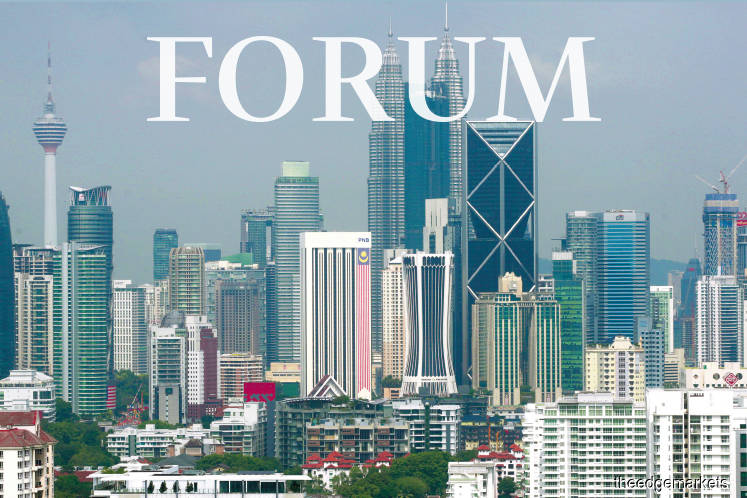 The world's economists have more than once recognised Malaysia's strong fundamentals and diversified economy. The nation has emerged stronger and more resilient after the 2008 economic crisis  and demonstrated leadership by taking a progressive approach to managing the downturn to its advantage. Its solutions have included structural reforms, banking sector stability and other government-linked companies (GLC) transformation programmes. Today, Malaysia has earned its reputation as one of the most promising countries in the region.
Moody's forecasts that every region in the world, Malaysia included, will see slower growth in 2019 and 2020. Global analysts and policymakers are also expecting slower growth, increasing volatility, rising geopolitical risks and, as a result, unfavourable conditions for business and trade. The predominant view is that the global economy, including emerging economies such as Malaysia's, is likely to experience a downturn, although not a recession.
Is Malaysia well-positioned and well-equipped to weather another downturn? Should the impending economic crisis hit the region, will Malaysia continue to remain unaffected? Is adversity on the anvil? If yes, how are Malaysia and its businesses positioned to remain resilient? How can they tap the hidden opportunities within a crisis?
According to a Boston Consulting Group (BCG) study, "Advantage in Adversity: Winning the Next Downturn", on how companies responded in the last five downturns, businesses' reactions to downturns have often been defensive, delayed and insufficient. Companies often prioritised short-term action over longer-term initiatives during the downturn of 2007 to 2009. As a result, their revenues, profit margins and total shareholder returns declined, with a threat of investor activism.
But downturns also present opportunities, especially when companies go beyond their defensive stance and become proactive in taking mitigation actions well before the crisis hits. Companies can then gain a competitive advantage in the volatility. Investment opportunities become cheaper. With better preparedness and planning, companies can strategically gain competitive as well as growth advantages from the downturn. BCG's analysis of impact patterns and success factors in downturns has identified 10 ways leaders can take advantage of the next downturn.
Prepare for the next downturn, not past ones: With lessons from the past, as analysts' views suggest, Indonesia managed the 2008 financial crisis far better than the meltdown of 1998. However, while businesses can fall back on historically proven solutions, there is a need to tailor strategies to the unique and dynamic business environment of today. For instance, corporate profits today are stronger and cash positions are also at high levels. The ability to navigate a downturn, therefore, will not be dependent so much on the cash, but more on how it is invested in the right opportunities. Similarly, companies will need to continue pursuing their long-term digital agenda to successfully navigate disruptive shifts from technology or downturns. Additionally, in view of the less stable political and social environment during a downturn, businesses will need to keep an eye on creating social as well as economic value, playing a proactive role in shaping key social and political issues to keep the game of business going.
Anticipate a wide range of scenarios: The nature of uncertainties today is wide-ranging, including trade tensions, political shocks and the dynamism of complex and interconnected financial markets. The impact of these uncertainties, similarly, can also be far-reaching. Therefore, it will be important to demonstrate resilience in a range of scenarios, more so than working with a single point forecast and plan. Businesses can stress-test their plans to gauge their preparedness, as well as identify the biggest potential risks, and create rapid-response options where necessary. Scenario-based approaches, strategy games and counterfactual thinking can guard them against the risk of disruption.
Act early: Businesses must be able to anticipate the impact of the impending downturn and take survival-focused defensive actions, such as a reduction in the cost base, which will put them at an advantage when it is time for eventual recovery. This pre-emptive approach to anticipating and making fundamental changes means responding to early warning signs of disruption and actions before major financial or competitive deterioration.
De-average reactions across business portfolio: In harsh environments during the downturn that threatens the viability of businesses, companies need to economise resources by cutting costs and preserving capital. But these actions should not necessarily be taken indiscriminately across the business. Instead, budgets must be preserved to invest in businesses that still have attractive growth opportunities. In other words, it would be important to both rationalise and reinvest within the same business.
Adopt a long-term, competitive perspective: By threatening short-term performance and survival, downturns present an operational challenge. Companies must attend to short-term concerns to ensure viability, but those that are also able to focus on the long run will have most success.
Use the downturn to accelerate large-scale change: Even when companies recognise the disruptive threats and the need to transform, they often underestimate the full scope of changes that are necessary. Downturns can shine a spotlight on the long-term viability of the business — which farsighted leaders can leverage to ensure the change effort is sufficiently ambitious. This is likely to pay off in the long run.
Invest in growth engines: Defensive actions may be necessary for some companies to survive the downturn — but to thrive, leaders need to also consider the top line. In the last two downturns, the most successful companies pursued efficiencies and improved their profit margins. To successfully grow over the long term, companies need to invest in research and development and innovation, and maintain a balanced "portfolio of bets" across multiple timescales. A downturn should not undermine the capacity for long-term growth.
Articulate a compelling investor story: Because downturns, on average, reduce total shareholder return (TSR) and profitability, it is important for businesses to manage investors' expectations and maintain credibility. This involves "thinking like an activist" — optimising financial policies and current performance while also building strong relationships with major investors and ensuring that the long-term strategy is understood. Formalised, publicly announced transformation programmes are often one component of a compelling story. Internally, such programmes can build support for change throughout the organisation.
Opportunistically pursue mergers and acquisitions: During downturns, because investments become cheaper, M&A can be a part of companies' overall strategy to improve cash positions and achieve long-term growth. The most successful turnaround deals involve companies of the same sector and with similar cultures, more ambitious synergy targets and a rapidly-initiated turnaround programme after the closure of the deal.
Structure your downturn response across three levels: To prepare for a downturn, leaders should consider their response across three levels ranging from defensive to offensive moves.
(i)    Companies need to make sure their business remains viable in the event of a downturn — for example, by reducing inventory and managing receivables and payables more aggressively to protect cash flow; streamlining the core business to increase efficiency and flexibility; and reassessing the long-term viability of businesses, divesting or closing some if necessary.
(ii)    To perform well in unpredictable conditions, leaders must build resilience in their businesses — for example, by keeping financial buffers to be able to respond to unanticipated opportunities or threats; shrinking planning cycles to increase adaptiveness; and hiring talent with a range of backgrounds and laying an inclusive foundation to promote a diversity of ideas.
(iii)    Companies need to increase their vitality, the ability to explore new options and grow sustainably in the long run — for example, by assessing competitors' vulnerability and capitalising on weaknesses by investing in new capacity or M&A; implementing metrics to measure the company's capacity for future growth; and adopting a forward-looking, long-term agenda to win in the 2020s.
In conclusion, companies need to assess their preparedness as well as their capabilities to tap the hidden opportunities in a downturn, and manage its impact in favour of business growth.
What leaders must do is take a long-term view and scout for high-potential and strategic investment avenues. The idea is to carve out new growth approaches, transform and achieve new competitive advantages. Together, these will set up Malaysian businesses to weather the upcoming downturn.
---
Davids Tjhin is a partner and managing director with Boston Consulting Group, and the leader of BCG's Strategy practice in Southeast Asia. Dr Mir Salim is a principal with BCG.