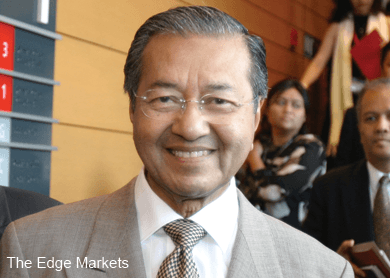 (June 19): A civil society group, which grabbed headlines recently with a RM1 million reward offer to anyone willing to expose Tun Dr Mahathir Mohamad's hidden wealth, now wants the former prime minister to undergo a polygraph test, as he seemed to "exhibit traits of a compulsive liar".
The Citizens for Accountable Governance Malaysia (CAGM) said that Dr Mahathir has to take the lie detector test before his proposed debate with Prime Minister Datuk Seri Najib Razak.
"Only by undergoing a polygraph test and passing it can Dr Mahathir make the public trust his words," CAGM chairman Md Zainal Abidin said in a statement today.
"CAGM has studied dozens of video footage on Dr Mahathir and concludes that he clearly exhibits the traits of a 'compulsive liar' when answering the media on sensitive and delicate questions."
Zainal also claimed that the retired statesman also exhibited "selective amnesia", as was seen during the Royal Commission of Inquiry into lawyer V.K. Lingam's video clip scandal, adding that it was willing to pay for the test.
"CAGM is willing to bear the cost of acquiring a polygraph test machine and is prepared to pay the fees for a local or foreign expert in this field to carry out the test on Dr Mahathir at a time and date that is convenient for him," he added.
"Only if Dr Mahathir passes this test can the public trust him and only then he will have the credibility to take on Najib Razak in a televised debate. We hope Dr Mahathir will accept our humble request."
Earlier today, Dr Mahathir issued a challenge to Najib to a live debate on television, saying he was prepared to answer questions about his 22 years as prime minister.
In a closed-door meeting with Umno-linked non-governmental organisations yesterday, Dr Mahathir was recorded in a video saying that Najib could ask him anything about his tenure as Malaysia's longest-serving prime minister, and that he could also ask Najib about anything.
CAGM had previously said that it was prepared to offer RM1 million to anyone who could expose information on Dr Mahathir's wealth and assets.
However, critics have questioned the timing of the offer, saying that it came as Dr Mahathir upped his attacks against Najib and called for his resignation over a myriad of issues.
Detractors have also questioned how the NGO, formed only in April, could come up with such a large fund to reward whistle-blowers.
In an interview with The Malaysian Insider later, Zainal said the group has almost 2,000 members who have each contributed RM500 to RM1,000 to the cause and denied any political interference in its set-up. – The Malaysian Insider